5 Best Cryptocurrency To Buy At Cheap Prices October 2021 Week 2
Despite bitcoin's (BTC) recent jumps, the cryptocurrency market as a whole is actually down. Its total value sits at around $2.4 trillion, a 0.4% decline over the past 24 hours, according to CoinGecko. Altcoins are largely responsible for the overall slide, with some of the biggest falling by as much as 10% in the past day. However, while this might incline may investors to choose BTC over alts, it offers a great opportunity to buy coins at a discount. Accordingly, we've put together a list of the 5 best cryptocurrency to buy at cheap prices right now.
5 Best Cryptocurrency To Buy At Cheap Prices
1. Shiba Inu (SHIB)
SHIB is the best-performing major coin over the past day, week and month. At $0.00003123, it has jumped by just over 14% in the past day. It's also up by 135% in the last week and by 364% in the past month. Amazingly, it's up by 30,578,945% in the last 12 months.
Elon Musk is the main reason for SHIB's continuing rise. Having tweeted a picture of his own Shiba Inu dog, he sent the SHIB market into overdrive. The coin's 30-day moving average (red) has sailed past its 200-day average (blue), while its relative strength index is flirting with overbought territory.
Floki Frunkpuppy pic.twitter.com/xAr8T0Jfdf

— Elon Musk (@elonmusk) October 4, 2021
Given its status as a 'meme coin,' it's possible that SHIB's rally loses steam at some point in the not-too distant future. However, it shows no sign of slowing down yet, while it's possible that its currently rally may help raise its status permanently.
For instance, Coinbase listed the coin on September 16, on the back of previous Musk-inspired price rises. As such, this current surge may prompt over exchanges to follow suit, which in turn could boost SHIB's price even further.
2. Avalanche (AVAX)
In contrast to SHIB, AVAX is having a bad day. It's down by just over 9%, to $53.36. This represents an 18% fall over the past week, as well as a 20% rise over the past fortnight.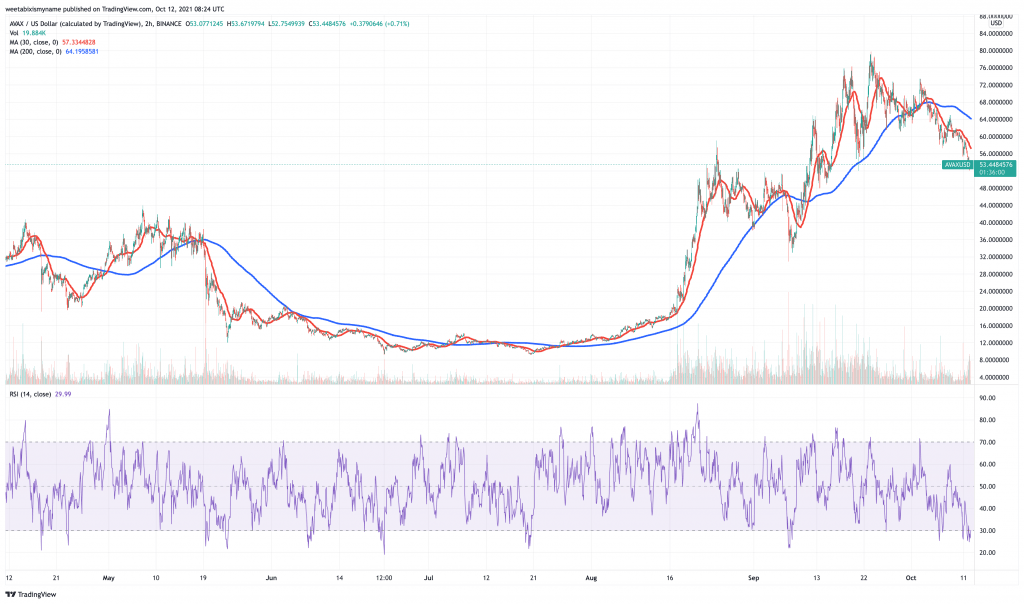 There seems to be no particular reason why AVAX is falling. It hasn't suffered an outage, it hasn't suffered an acrimonious hard fork, and it hasn't failed to meet deadlines. Indeed, its fundamentals remain as strong as they were when it was rallying.
For this reason, its fall from an all-time high of $79.31 (set nearly three weeks ago) provides a great opportunity to buy it at a discount. This is particularly the case when its RSI has just dropped below 30, indicating that it's in oversold territory.
Looking at Avalanche's performance as a blockchain, its total value has risen to $5.35 billion in recent weeks. This figure stood at only $2 billion as recently as the beginning of September, showing just how far the platform's ecosystem has grown.
Such growth has attracted big investment: in the middle of September, Polychain and Three Arrows Capital invested $230 million in the platform. Such funding will help Avalanche continue growing, and also help AVAX bounce back strongly from its current slump. This is why it's one of our 5 best cryptocurrency to buy at cheap prices.
📢 BIG News 📢@Polychaincap and Three Arrows Capital led a $230M investment in the #Avalanche ecosystem to support growth of the platform.https://t.co/T141NFEoIG

— Avalanche 🔺 (@avalancheavax) September 16, 2021
3. Terra (LUNA)
LUNA is in a similar situation to AVAX. After enjoying a strong period of growth recently, it has fallen in the past few days and weeks. It's down by 7.5% in the last 24 hours, as well as by 20% in the last week.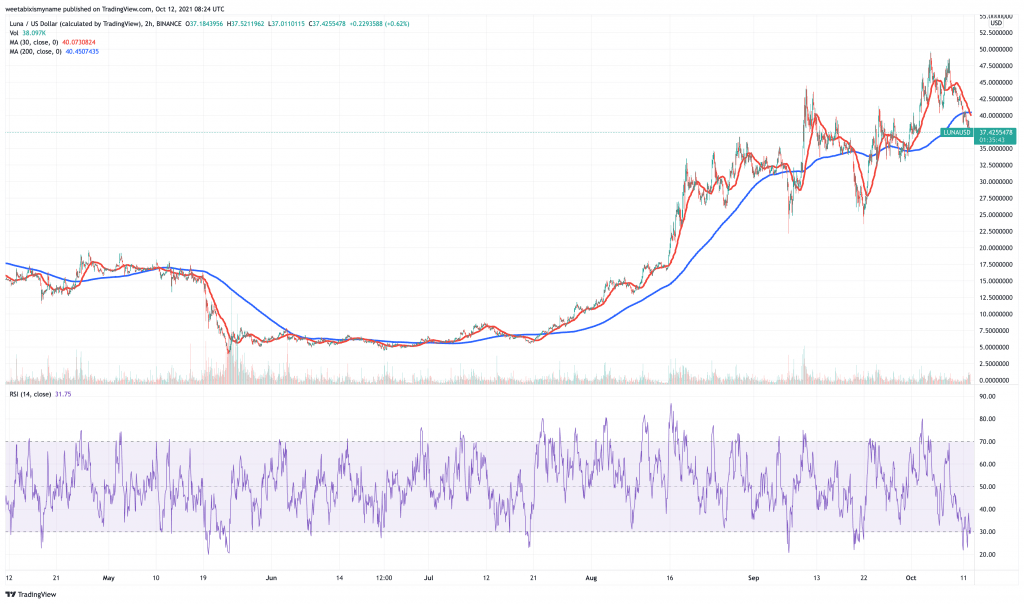 As with AVAX, LUNA's RSI has dropped decisively into oversold territory. Again, this is despite the fact that nothing has changed with the Terra platform, which remains as healthy as ever.
In fact, Terra has welcome plenty of good news in recent weeks. For instance, it successfully implemented the Columbus-5 mainnet upgrade at the end of last month. This provides it with performance upgrades, increases in LUNA staking rewards, and also burns all seigniorage from minting Terra stablecoins.
1/ Columbus-5 is now officially live as the new Terra mainnet!

Welcome to the future of Terra 🌕https://t.co/EFnQnFr2lB

— Terra (UST) 🌍 Powered by LUNA 🌕 (@terra_money) September 30, 2021
This upgrade contributed to the significant growth Terra experienced in recent weeks. Most notably, its social engagement has more than doubled in the past three months. This highlights its rapidly expanding community, and shows why this fall is a great opportunity for anyone to enter its market.
Terra 🚀🌝

Social Engagement is up 136.8% on 900.7 million🌋 engagements with price +471.8% to $48.30 over the last three months.https://t.co/ZVTI5KtBSs #terramoney $luna pic.twitter.com/MFHyVKO6qC

— LunarCRUSH 🚀 Social Listening for Crypto (@LunarCRUSH) October 8, 2021
4. Cardano (ADA)
ADA is down by 4.5% in the past 24 hours, having sunk to $2.13. It's also down by nearly 3% in the last week and by around 18% in the past month.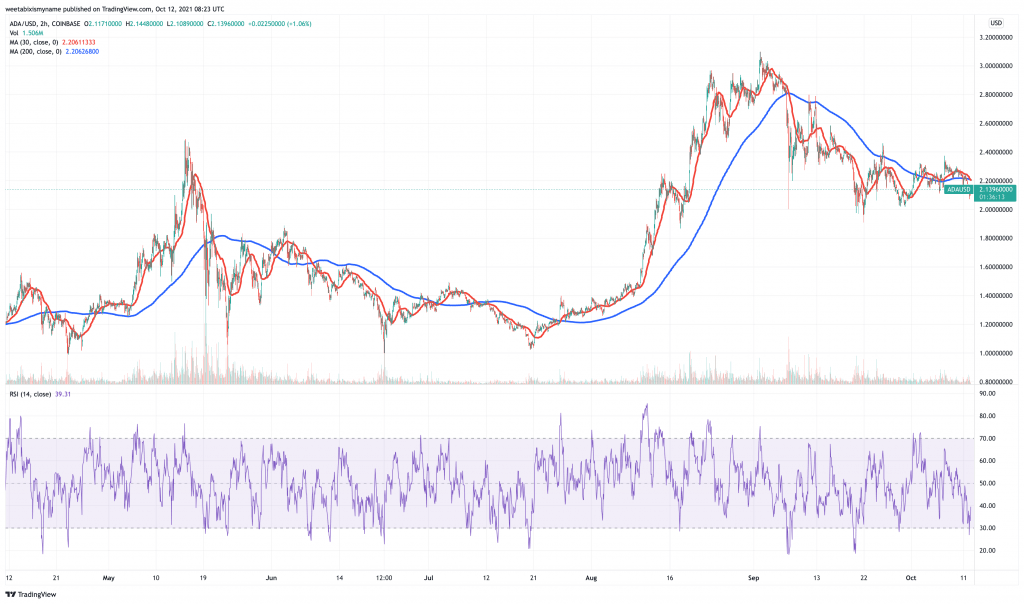 ADA is another coin that's being oversold right now, indicating that its current price is likely a steep discount. This suspicion is supported by the possibility that, having implemented smart contracts, Cardano is on the cusp of big growth as a platform.
Recent announcements corroborate this view. For example, the Cardano-based COTI payment provider has announced the launched of new stable coin called Djed. This uses smart contracts to ensure price stability, while it will also help provide the Cardano ecosystem with greater liquidity.
ICYMI 👇
'The #Djed stablecoin could be a game-changer in the crypto space, appealing to an entirely new audience at a time when the industry is already experiencing astronomical growth' @IOHK_Charles on Djed & collaboration with @COTInetwork https://t.co/ifm9S6WAz6

— Input Output (@InputOutputHK) October 3, 2021
Cardano has also recently announced a new partnership with US-based telecoms group Dish/Boost Mobile. Together, they will develop and trial blockchain-based services for the group's customers.
ICYMI: We've formed a strategic collaboration with @dish and @boostmobile to explore customer solutions using the #Cardano #blockchain across the Nasdaq-listed US satellite television and cellular network group. https://t.co/4upCxKnh31

— Input Output (@InputOutputHK) September 30, 2021
More generally, it continues to witness steady development, with its community of coders steadily contributing new improvements to its base. This is why it remains one of our 5 best cryptocurrency to buy at cheap prices.
Mid-week repo update: #Cardano code forges continue to burn bright with 2,535 GitHub commits this week & counting…

To follow the latest code commits, bookmark the excellent https://t.co/Tj4EbfUuGU #Cardano $ADA #SmartContracts @Cardano pic.twitter.com/ciYeNP3i3C

— Input Output (@InputOutputHK) October 6, 2021
5. Polygon (MATIC)
MATIC is down by 7% in the past 24 hours, at $1.20. This price also represents an 8% drop in the past month.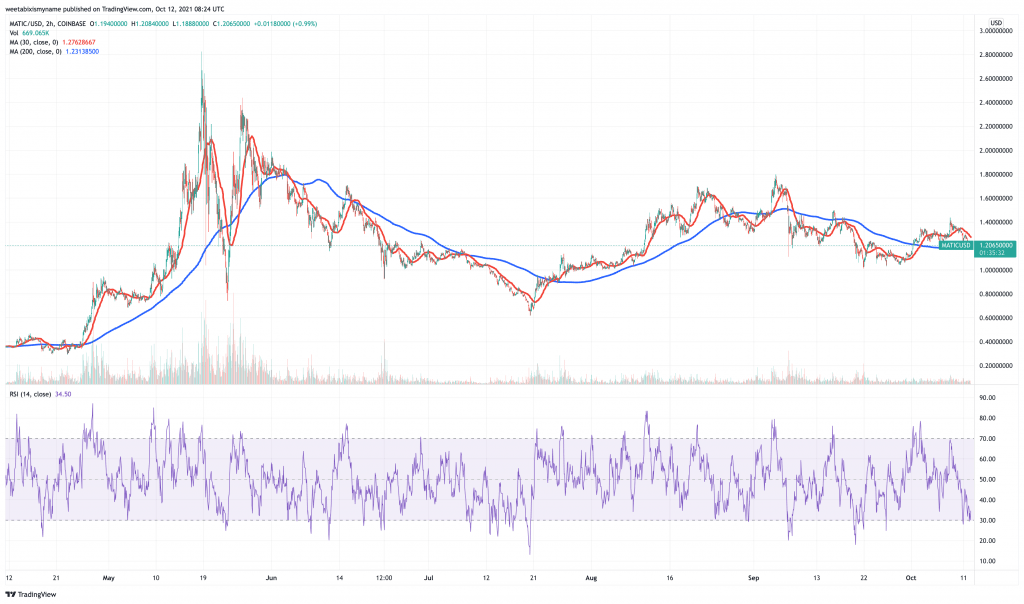 As MATIC's RSI of 30 shows, it's yet another coin in oversold territory. Rather than falling because of negative news, it's likely part of an offloading of altcoins by the market, which is currently gravitating towards BTC once again.
Of course, the shedding of altcoins lowers their prices, meaning they can now be bought more cheaply. And MATIC's fundamentals are something that make its currently low price pretty attractive. Its user numbers are certainly impressive right now, having overtaken those of Ethereum at the end of last month.
Yesterday $MATIC eclipsed $ETH in daily active users for the first time.@0xPolygon: 351k DAU@ethereum: 326k DAU pic.twitter.com/iJQERDzAmR

— Raphael (@RaphaelSignal) September 28, 2021
Likewise, Coinbase announced on August 31 that it will integrate Polygon as the exchange's first scaling solution for Ethereum.
"We plan to integrate Polygon as our first scaling solution for Coinbase"

Polygon PoS mainnet support is coming to @coinbase https://t.co/1iXrWCpNKF pic.twitter.com/4TYxqemMbS

— sanket (@sourcex44) August 31, 2021
And more recently, Polygon announced a partnership with multinational accountancy firm EY, again proving its credentials.
1/9 Another big day for @0xPolygon! 🦄💫

We have started collaboration with EY, a global professional services and technology firm, on building Ethereum scaling and enterprise solutions!

As part of this collaboration, we will work on Polygon Nightfall, a privacy-focused Rollup! pic.twitter.com/HlJ6drA2kS

— Polygon | $MATIC (@0xPolygon) September 14, 2021
Thanks to such expansion, Polygon now accounts for some $4.34 billion in total value locked in, up from $100m at the start of April. This is why it's one of the 5 best cryptocurrency to buy at cheap prices.
67% of retail investor accounts lose money when trading CFDs with this provider.
Related news:
How to buy cryptocurrencies
Investing in Avalanche
How to buy Cardano