5 Best Cryptocurrency to Buy for Long Term Returns October 2021 Week 2
The crypto market is picking up where it left off in May with premier digital assets retesting the $55,000 mark earlier on in the week. At press time, the nascent industry is up 0.47% with total value locked (TVL) standing at $2.31 trillion. Following this significant rally, several investors are searching for the best cryptocurrency to buy for long-term returns. This article explores some of the best crypto assets for growth potential.
1. Bitcoin (BTC)
Since its market debut in 2009, Bitcoin has remained the best cryptocurrency to buy for long-term returns to date. Bitcoin has averaged a total amount of nine million per cent increase from its 2009 opening price of $0.08 to $65,000 in April 2021.
Also, given its peculiar deflationary tendencies, more institutional investors are adding it to their balance sheet as it is considered a great store of value. Controlling close to 50% of the total market cap for the emerging industry, Bitcoin is also the most widely adopted crypto asset as even countries are already weighing up the idea. At press time, the world's oldest decentralised currency is making a heading for a new all-time high (ATH). Bitcoin has rallied significantly in the past week after a lacklustre performance in the closing days of September.
The premier digital asset is up 1.13%, and trades at $55,231.26, with a weekly gain of 23.33%. On the trading chart, Bitcoin is showing bullish potential as it trades above the 20-day moving average (MA) support price of $46,385.49. This rally has been spurred by the recent announcement by Soros Fund Management, an asset management company owned by famous billionaire investor George Soros, that it holds BItcoin in its portfolio. The CEO Dawn Fitzpatrick told Bloomberg that the family office owns "some coins … but not a lot."
Besides the Soros family, popular Shark Tank star investor, Kevin O'Leary, recently admitted that his crypto allocation now outweighs his investment in commodities like gold.
2. Ethereum (ETH)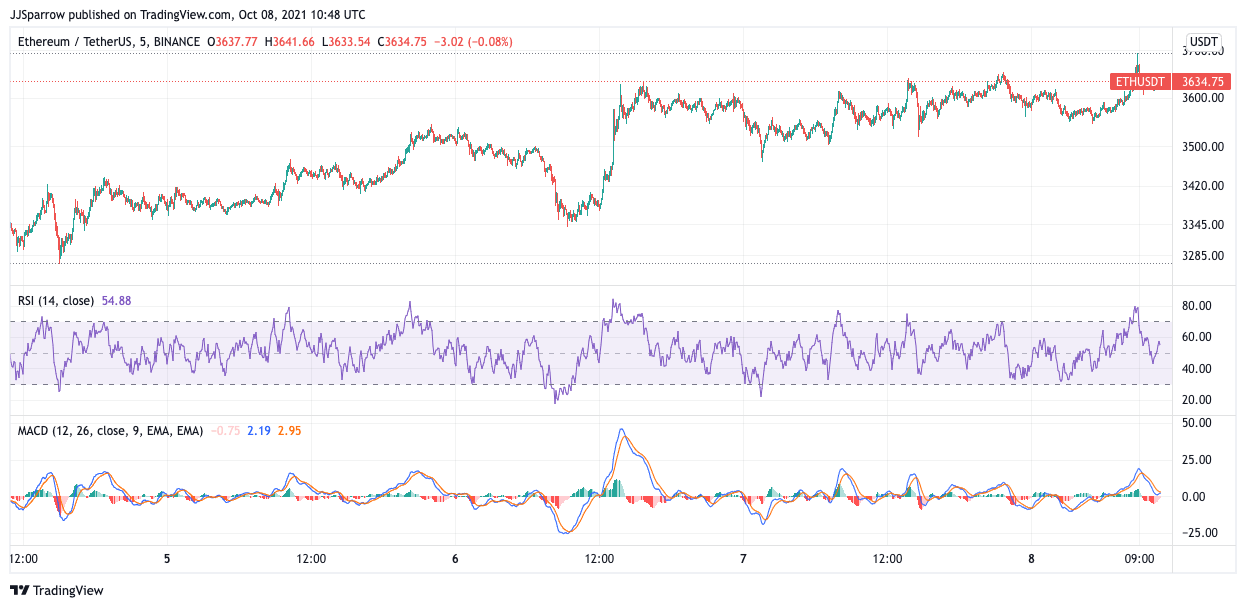 The second most valuable crypto asset by market cap, the Ethereum network is another top cryptocurrency to buy for long-term returns. The Ethereum protocol is seen as a mega blockchain platform for the near future. This growth is supported by its pivotal role in the fast-growing decentralised finance (DeFi) and non-fungible token (NFT) sub-sectors.
The network is currently transitioning to a proof-of-stake (PoS) consensus protocol from the ancient proof-of-work (PoW) mining process. However, this has not deterred the ETH token from snapping up double digits. Serving as the de facto currency for accessing the DeFi and NFT ecosystems, ETH has grown more than 1,000% year-to-date (YTD).
The digital asset hit a record value of $4,350 during the April crypto boom. Although more laid-back in gains, ETH is still a major contender for the prize of the top cryptocurrency to buy as all top decentralised applications (dApps) protocols are hosted on the platform. One of such is the blockchain-based gaming platform Axie Infinity. Axie records over 1 million daily active users and recently recorded over $2 billion in NFT sales.
ETH's gains are still more modest compared to BTC's. The digital asset currently trades at $3,658.89, up 1.85% in the last 24 hours. Weekly gains are up 17.73% as the broader crypto market turns the corner.
Publishing on Mirror is Now Open to All 📝

Connect your wallet and start a decentralized blog in seconds.https://t.co/fWQgr0Ssc4

— Mirror (@viamirror) October 5, 2021
Adoption-wise, the Ethereum blockchain is not too far behind. In a recent press release, Europe's premier automotive financial partner Auto1 FT launched smart contracts on Ethereum for its manual processes. In addition to this, blockchain-based blogging protocol Mirror recently opened its doors to the public.
3. Solana (SOL)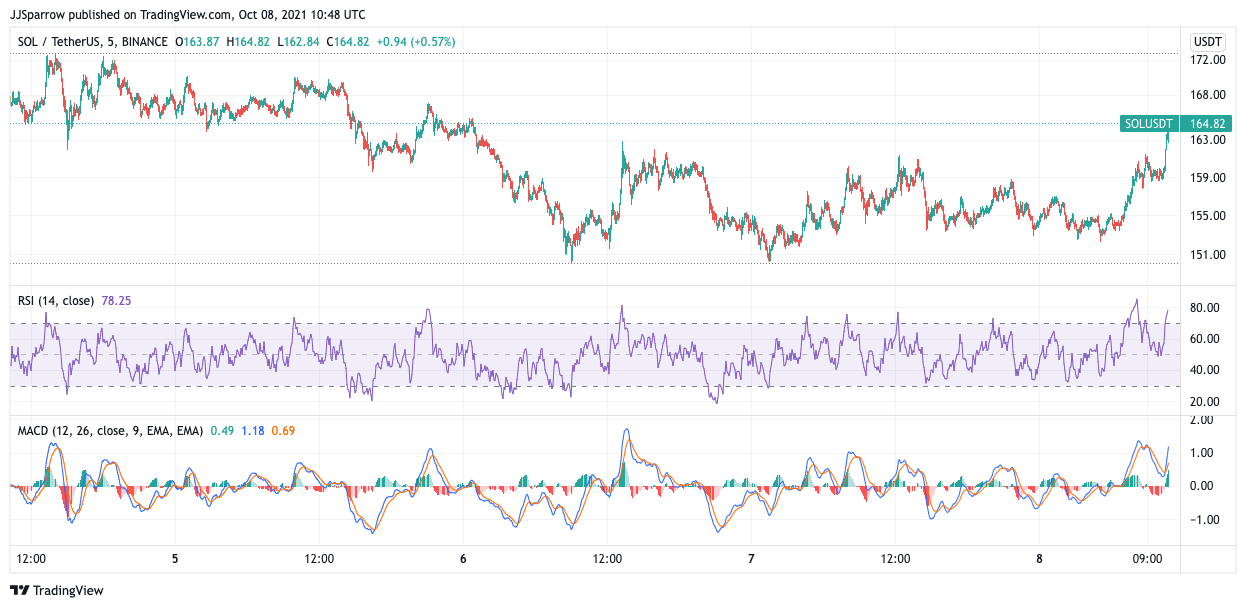 Pegged at the 7th position on the most valuable cryptocurrencies by market cap, Solana is one of the top cryptocurrencies to buy for long-term gains. The popular 'Ethereum killer' has been on a tear in recent months, increasing by 386% between August and September.
This rise has largely been due to a number of key integrations with other dApp platforms in the DeFi ecosystem. Given its low-cost, energy-efficient, and scalable network, the Solana blockchain is seen as a key rival to Ethereum's dominance of the DeFi and NFT sub-sectors. This propelled the value of the SOL token to an ATH of $214 in early September as the market recorded little gains. At press time, SOL is experiencing an uptrend and trades at $160.89, up 1.12% on the last day. Weekly gains of 11.89% show that SOL is a major cryptocurrency to buy as more investments pour into the crypto sector. The Solana blockchain has recently played host to more adoptions.
Hey everyone! We're delighted to share our project more widely with the #solana community. We're Dialect, & we're building a new standard for web3 messaging & notifications. https://t.co/CyRowVVQrk. 1/

— dialect (@saydialect) October 7, 2021
In an announcement, makers of Skrill and Neteller, Paysafe, mentioned that SOL can now be purchased or sold directly against fiat from the Paysafe cryptocurrency platform. In addition, Web3.0 messaging and notifications platform Dialect launched on the Solana blockchain in a bid to provide users with a more secure and authentic communication tool.
4. Polygon (MATIC)
Although a layer-two protocol on the Ethereum blockchain, the Polygon Network has proven to be a shrewd investment choice for many. Created to lift most of the transaction weight off the shoulders of the parent protocol, Polygon has exploded in 2021. This follow's the protocol's rebranding efforts early this year.
The multi-chain solution is reputed to see more active user addresses than the Ethereum network itself and many investors consider it a vital cog in the long-term success of the popular dApp facilitator. Trading currently at $1.363, governance token MATIC is seeing a sizable 5.12% surge on the daily chart. Weekly gains of 13.03% show that MATIC is a top cryptocurrency to buy as it goes for a bargain. Polygon's remarkable successes have led to a recent launch of an index token tracking the performance of the layer-two protocol. The product of Amun protocol, the Polygon Ecosystem Index (PECO) will track the best native projects on the Polygon network.
Amun is excited to announce the launch of the Polygon Ecosystem Index (PECO)—a single token that captures the best native projects on @0xPolygon.

We are celebrating the launch with a pre-sale event starting today. Learn more 👇https://t.co/YTFVYoa3SJ

— Amun (@Amun) October 7, 2021
Also, popular digital asset management firm Osprey Fund recently add Polygon to its investment hedge fund. Called Osprey Polygon Trust, investors will now be able to invest in the ERC-20 token in a cost-effective manner.
5. Cardano (ADA)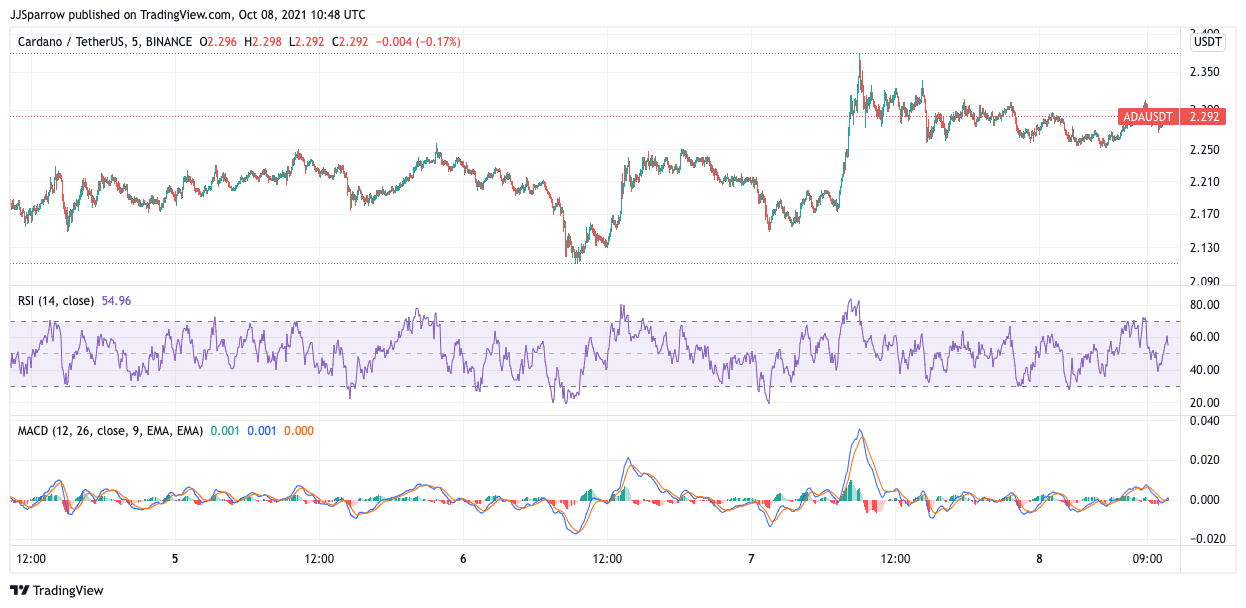 Rounding up our best cryptocurrency to buy list is another ETH killer, the Cardano network. The PoS blockchain protocol has garnered a lot of investor interest since the year began with its native on-chain token ADA, growing more than 587% YTD.
Aiming to provide a more cost-effective and scalable platform for users to interface with the evolving DeFi and NFT ecosystems, the Cardano network has been scientifically building out its protocol for a number of years. Its low energy promises have seen several ESG-minded investors plug into the network. A recent addition being telecom giant, Dish Network set to partner with Cardano to provide digital identity services for its customers.
Also, Fintech platform COTI is partnering with payment processing company Simplex to offer bank accounts and Visa Debit Cards on the Cardano blockchain. However, these twin announcements have not had a major effect on the ADA token yet as it trades slightly above the 20-day MA at $2.289. It is, however, up 6.14% in the last week.
Read more:
How to buy Cryptocurrencies
How to buy Ethereum