5 Next Cryptocurrency to Buy For 10x Returns – October 2021 Week 2
Large-cap cryptocurrencies like Bitcoin have paved the way for the crypto industry. However, their colossal market valuation means they have little room for more growth.
But if you are looking for the next Bitcoin or Ethereum, this article should come in handy. We will explore the five next cryptocurrency to buy for 10x returns.
1. Axie Infinity (AXS)
Axie Infinity is a star in the crypto market, and this is deserved given the gaming platform's meteoric rise this year. Starting the year as a dark-horse candidate for blockchain gaming, Axie Infinity has more than tripled its value ever since then.
The protocol integrates tokenised in-game characters called Axies with blockchain tech, allowing players to collect, breed, raise, battle, and trade their Axies for real cash.
Axie Infinity is a cryptocurrency to buy for 10x returns as the digital asset aims to bring blockchain to all gamers. A recent release confirmed that the Axie community had crossed 2 million daily active users. Several investors have recognised Axie Infinity's astonishing growth, with popular investment firm Andreessen Horowitz leading a $152 million Series B funding for the asset in early October.
All these have borne fruit on AXS price, with the digital token increasing by 5,000% year-to-date (YTD). This saw it surge to $136.55 on October 5 from $90.52 a month earlier. Although AXS has since lost some momentum, the blockchain-based token has continued to trade within the $100 range. It is currently down 2.50% in the last 24 hours and trades at $120.15. Meanwhile, it is trading above the 20-day moving average (MA) price of $104.19, which shows strong bullish potential in the short term.
2. Polkadot (DOT)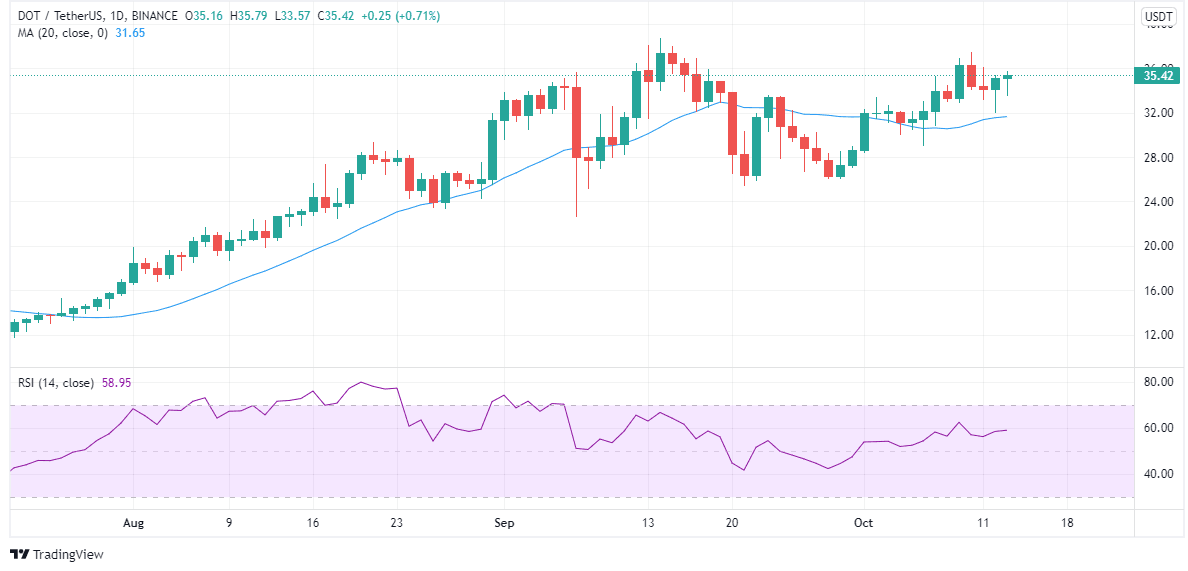 Polkadot is another top cryptocurrency to buy for 10x returns. Although the project is currently under development, Polkadot is one of many blockchain protocols with strong fundamentals and real-world use cases. Meant to be an interconnected ecosystem of blockchains, Polkadot allows blockchain to transfer assets and data seamlessly.
Regarding adoption, Polkadot recently got listed on the popular social trading platform eToro. This is following a growing interest in the heterogeneous protocol as its parachain auctioning draws near.
We've added $DOT & $FIL to eToro! 🎉

(Not currently available in the USA)

— eToro (@eToro) October 5, 2021
Alongside this, the premier decentralised blockchain interoperability solution Wanchain has recently launched a bridge to the Polkadot platform. This will allow Ethereum, Wanchain, Avalanche, Moonriver, and several others to integrate Polkadot's DOT token into their decentralised applications (apps). DOT has been one of the silent gainers in price movement as it has largely traded between $30 and $50. However, it surged to a whopping $49.35 on May 15 before the crypto market meltdown. This saw DOT lose more than 50% of its gains, and it dipped to as low as $15 before picking up.
DOT is currently up 5.64% daily trading chart. 1 DOT changes hands at $35.42, and it is up 21.17% in the last seven days.
3. Solana (SOL)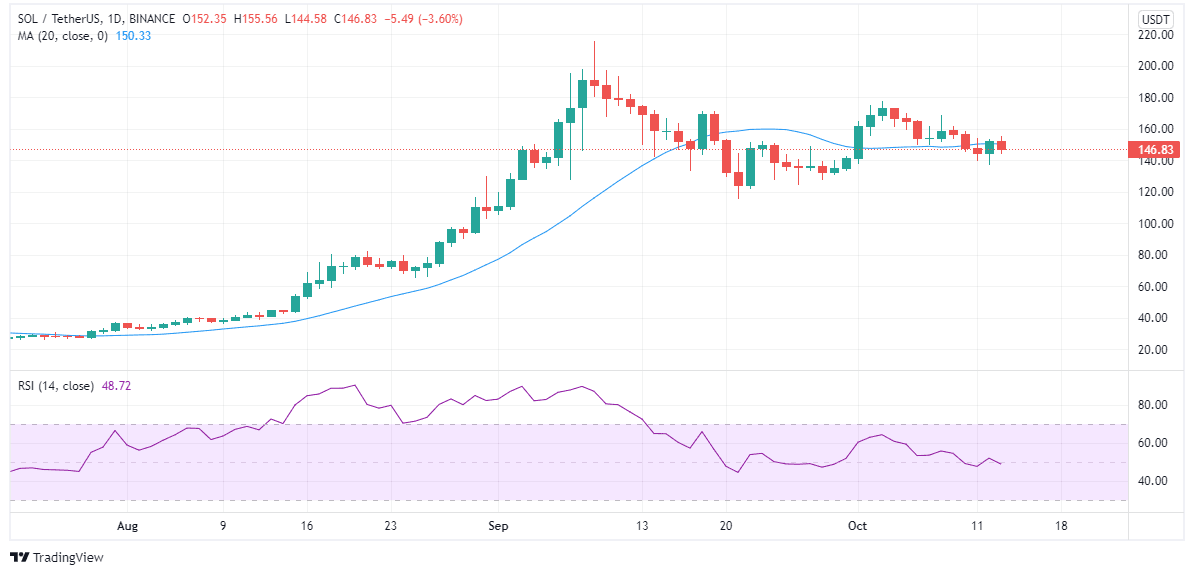 The Solana blockchain makes the list of cryptocurrency to buy for 10x returns. In early August, the asset largely took the world by storm after breezing into the top 10 most valuable crypto protocols. Meant to enable DeFi and NFT solutions on its platform, Solana is a top-performant blockchain.
This has been largely due to major integrations and adoptions of the network. Solana averages a transaction speed per second of 50,000, with the protocol still aiming for 700,000 in the coming months. This has made it an ideal solution for dapps protocols looking to build on an energy-efficient, low-cost, and highly scalable network.
Given its meteoric adoption, the SOL token has largely outperformed many of its rivals in the DeFi race. The digital asset surged to an all-time high (ATH) of $214.46 on September 4 and has largely been trading on an uptrend. SOL has continued to post good returns despite a lull in its price gains, and today has been no different. As Bitcoin loses steam, SOL is picking up the slack and is up 2.73% in the last 24 hours.
For $146.83, the digital asset is trading slightly below its 20-day MA price of $150.29. However, recent fundamental news shows that SOL is preparing for a major breakout and is a great cryptocurrency to buy for 10x returns. Crypto exchange FTX.US recently added support for Solana NFTs on its platform.
"We're providing these tools so that these pioneers can go and set the frontiers of innovation further and further."
#Chainlink Labs' @EidJohann and #Solana's @aeyakovenko explain how @chainlink and @solana will enable next-level #DeFi applications. https://t.co/LgzjitlCEl

— Chainlink Today (@ChainlinkToday) October 12, 2021
Also, decentralised oracle network Chainlink is planning to launch on the Solana mainnet in Q4.
4. Polygon (MATIC)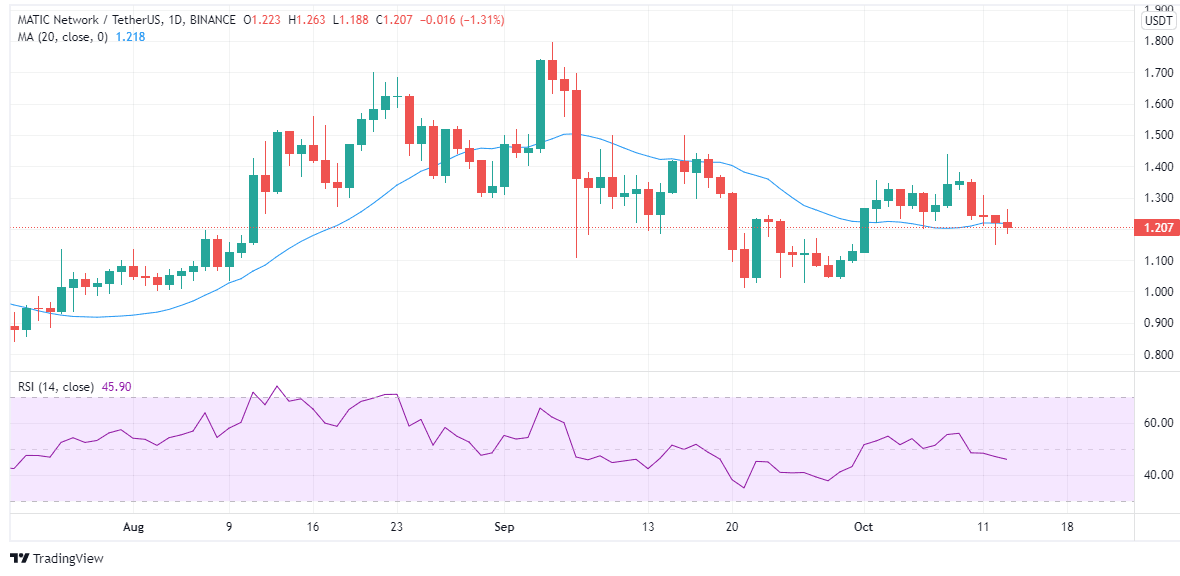 Built as a layer-two protocol for the Ethereum network, Polygon is a top cryptocurrency to buy for 10x returns. Polygon was developed to shoulder some of the transaction burdens of the Ethereum network and ensure high scalability and low cost. To a significant extent, the zero-knowledge rollup has been a huge success.
Since rebranding in early March, several protocols have integrated with the multi-chain solution to tap into Ethereum's ecosystem. A recent addition is 88mph which launched on the Polygon network.
88mph is now 88 MPH faster on Polygon ⚡️!

With @0xPolygon, 88mph's users can benefit from low cost and high-speed transactions to get fixed yield rates on their favorite crypto assets.

Get started: https://t.co/urTymOnwKE pic.twitter.com/2BTxP0Ig4R

— 88mph 🛹 (@88mphapp) October 8, 2021
Also, Amun protocol is launching the Polygon Ecosystem Index (PECO), which will monitor projects on the Polygon network.
Price-wise, Polygon's MATIC token has been on a tear, hitting a high of $2.445 in May. Although it has since retraced in value, MATIC is up 3.56% daily and trades at $1.207. With its unique role in the Ethereum ecosystem, Polygon is one of the best cryptocurrencies to buy for long-term gains.
5. Avalanche (AVAX)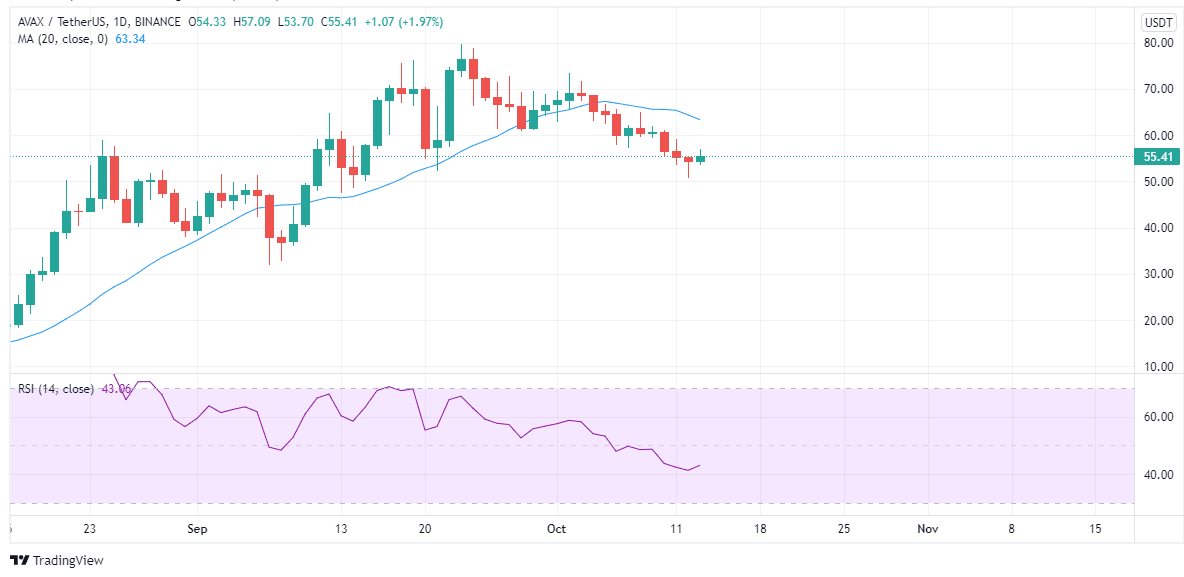 Another major Ethereum rival, the Avalanche blockchain has seen massive growth in the last ten months. Meant to enable DeFi adoption and blockchain penetration in financial transactions, the Avalanche protocol has been steadily rising due to its high-speed, low-energy demands and low cost of deploying dapps on its platform.
This has seen the likes of lending protocol Aave and CurveFinance integrating with the protocol. Also, the popular US crypto exchange Coinbase added support for the AVAX token given customer demand.
🚨 Big News Update 🚨 $AVAX is now available to transfer to @CoinbasePro! Trading is expected to begin tomorrow, Sept. 30, on or after 9AM PT. This listing increases the accessibility of #Avalanche to a broader set of users, including those in the US 🔺https://t.co/Bh8pCys1ma

— Avalanche 🔺 (@avalancheavax) September 29, 2021
The AVAX token has been on a tear in the last three months shows strong growth potential even as the crypto market contracts. AVAX surged to a mid-term high of $76.93 on September 23 before tailing off. It has continued to show strong growth potential and hit $68.72 in early October. Although it is down following a lull in the broader market, AVAX is rallying once more and is up 7.68% at the moment of writing. AVAX is trading at $55.41, with more uptrend expected.
Read more:
How to buy cryptocurrencies
Investing in Avalanche
How to buy Polkadot