5 Next Meme Coin Cryptocurrency to Explode October 2021 Week 2
While Bitcoin is the most popular cryptocurrency, other digital assets like Dogecoin and Shiba Inu have been hugging the headlines. These so-called "meme coins" are increasingly popular given their setup and growing use case. Although Dogecoin leads the ranks, others have also shown promising starts. This article rounds up the five next meme cryptocurrency to explode this month.
1. Dogecoin (DOGE)
Dogecoin tops our ranks of the next cryptocurrency to explode. Gaining major support from billionaire entrepreneurs Elon Musk and Mark Cuban, Dogecoin surged to a record value of $0.74 before the May market correction. At press time, DOGE is trading at $0.2213, down 4.77% in the last 24 hours. The popular joke cryptocurrency has also not been able to pick up the slack on the weekly chart and is down 7.07%.
Turning to its technical indicators, DOGE is trading slightly below the 20-day moving average (MA) support price of $0.2244, indicating the onset of a bearish trend. However, a bullish trend in the broader crypto market could offset this negative price action. The relative strength index (RSI) shows that DOGE purchasing figures are dropping drastically as investors cash out. The RSI stands at 44.12, which is above the oversold region.
DOGE's poor performance is not peculiar to it as even popular decentralized applications (dApp) facilitator Ethereum and several altcoins are currently biting the dust.
On the fundamental front, Dogecoin is joining the ranks of most adopted digital assets. In a tweet, movie exhibition giant AMC CEO Adam Aron announced that DOGE can now be used to purchase AMC digital gift cards.
Also, Dallas Mavericks owner Mark Cuban has reportedly beefed up his DOGE holdings with more purchases in the past week. The Mavericks are well-known DOGE supporters and accept payments with the parody coin for season tickets.
2. Shiba Inu (SHIB)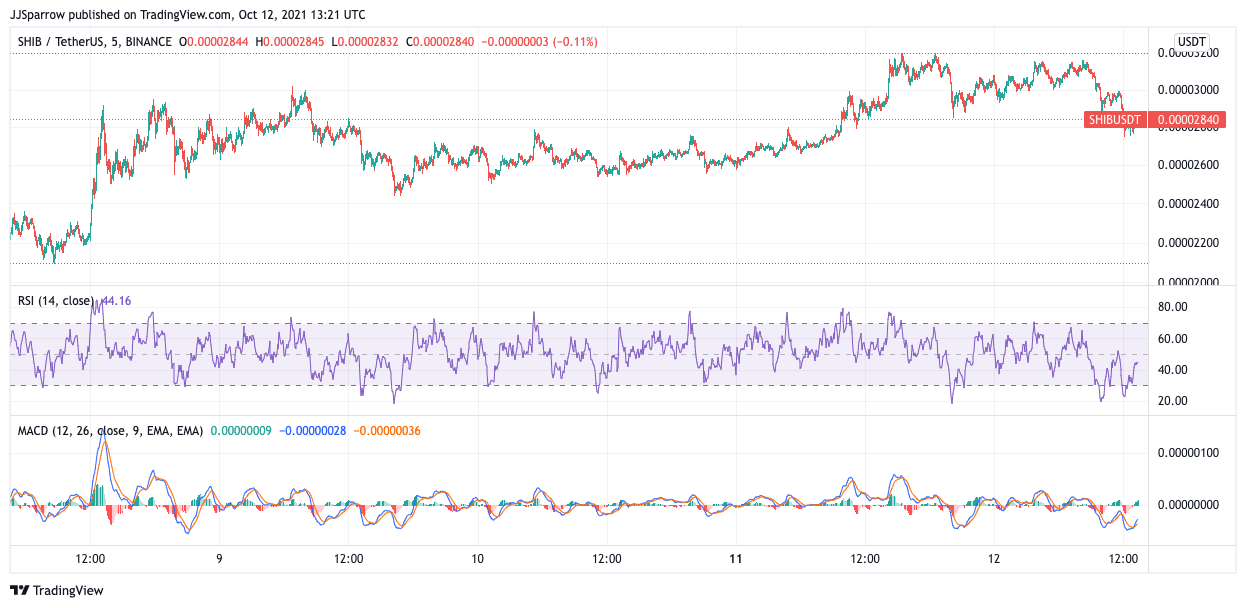 Self-billed the 'Dogecoin killer,' Shiba Inu has seen remarkable growth in the past few days. At the moment of writing, SHIB is up 14.37% and trades at $0.00003135. Weekly gains are through the roof and SHIB has averaged over 200% in the past week with more uptrend on its monthly figures.
Looking at the technicals gives us a clearer view of the uptrend. SHIB is trading well above the 20-day MA support price of $0.00001537. The relative strength index (RSI) figure of 77.41 shows that SHIB is one cryptocurrency to explode in the coming weeks.
The moving average convergence and divergence (MACD) show the green trendline is leading the upward charge, indicating a buy signal. Shiba Inu's remarkable form of late has been largely due to a slew of fundamental performances. Popular crypto exchanges Bitpanda and WhiteBIT recently added support for the
Dogecoin copycat. Another has been the anticipated launch of the NFT-powered game Shiboshi which will see more use cases for SHIB, BONE, and LEASH. The last has been integration with NowPayments.
3. Dogelon Mars (ELON)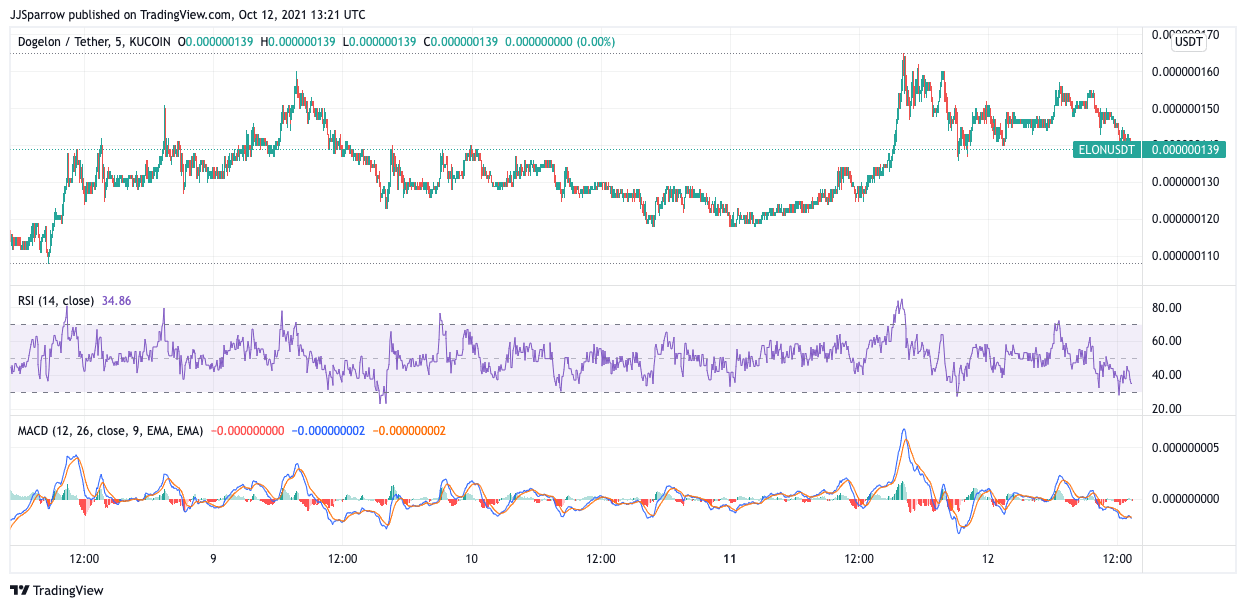 Dogelon Mars is another cryptocurrency to explode in the coming weeks. A Dogecoin fork, ELON is up 16.41% in the last 24 hours, and it trades at $0.000000146. Weekly gains stand at a whopping 115.87%, with more uptrend anticipated.
ELON's bullish momentum is seen as it trades well above the 20-day MA price of $0.000000087 as more investors pile in to buy the popular meme coin. Compared to its parent meme coin, ELON has seen exponential growth due to its lower margin of entry and potential upside.
The relative strength index (RSI) figure of 71.48 shows surging interest in the meme coin, but this is poor compared to the investor purchasing index a few days earlier. ELON's RSI figure stood at a whopping 86.35.
Despite no recent fundamental news, Dogelon Mars' remarkable surge in the last week shows that the bulls are paying close attention to it.
4. Tiger King (TKING)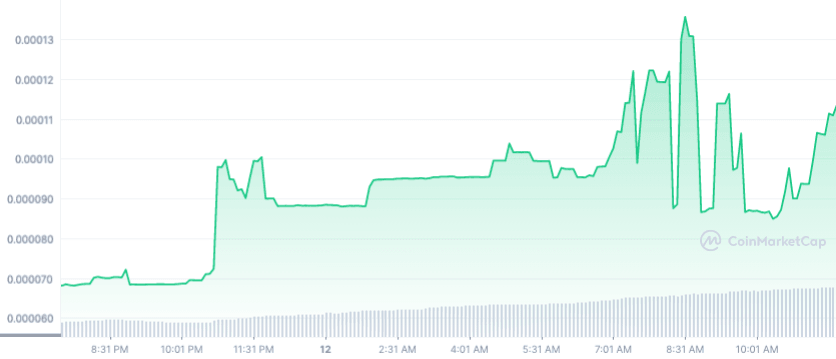 Tiger King is another remarkable cryptocurrency making the rounds in the last few hours. Serving as a deflationary meme coin on the Ethereum network, TKING is an adaptation of a Netflix special of the same name.
Tiger King has been on an impressive upward push in the last 24 hours and is up 96.64% so far. It trades at $0.0001059 and sports a weekly growth of 127%.
Turning to the asset's technical performance shows it is trading above the 20-day MA support price of $0.00067 with more uptrend expected. Weekly gains stand at 294.08% as the meme coin mania picks up in the market.
Other supporting metrics show that TKING's RSI is at 58.41 with the oscillator pointing towards an uptrend. While the MACS is also pointing to an uptrend with the green line rising higher than the orange line.
Tied to the popular and controversial Joe Exotic of the Tiger King cast, Tiger King is gaining momentum after court documents went public demanding that he be resentenced, per local news outlet. According to the report, the appeal court discovered a miscalculation in his prison term. A revisit could see Joe Exotic working out free sooner than later.
5. Safemoon Inu (SMI)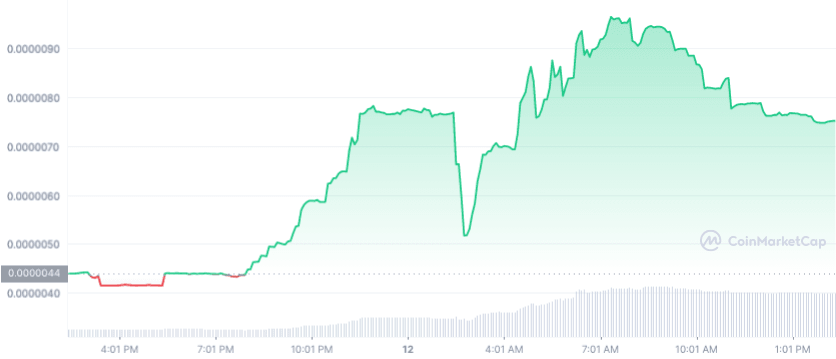 Rounding up our top meme coin cryptocurrency to explode is Safemoon Inu. The crypto asset functions mainly as a community-focused asset and gaming token.
At press time, SMI is up 74.36% and trades at $0.000007514. Its growth is even more pronounced on the weekly chart as SMI is up 520.5924%. Like all meme coins, SMI has seen sporadic peaks and dizzying dips. The digital asset shot to $0.00001051 on October 7, increasing more than 10,000% in one week. A drastic drop followed this, and SMI slumped to $0.00000004116 the following day. The protocol is gearing up to launch its play-to-earn gaming platform soon.
Related news:
How to buy cryptocurrencies
How to buy Dogecoin