5 Best Coins for 100x Gains November 2021
Bitcoin has boomed more than 100,000 from its 2013 price of $67.81. Even though it is currently trading at an all-time high (ATH), the chances of it exploding 100x is slim. However, alternative currencies (altcoins for short) present potential for exponential returns.
In this article, we will explore the best coins for 100x gains to invest in right now.
1.UniSwap (UNI)
Starting off our best coins for 100x gains is the popular decentralized exchange (DEX) platform UniSwap. Based on the Ethereum network, UniSwap enables the seamless exchange of digital tokens by decentralized finance (DeFi) users. Given that it is a DEX, UniSwap does not require users to register before they carry out transactions on its platform. This makes it an ideal solution for users who may be trading cryptocurrencies in restricted regions.
Aside from this, it also serves as a liquidity pool with DeFi users investing their assets in exchange for returns. With DeFi kicking up in the past months, UniSwap's governance token UNI has seen an exponential surge in its value. It previously jumped to $42.51 during crypto summer before tailing off.
However, the ERC-20 token is making a queue for more growth in the future as it has become a hotspot for most token swaps in the robust Ethereum ecosystem.
At press time, UNI is trading for $27.29, up 7.29% in the past 24 hours. The digital asset is trading above the 20-day moving average (MA) price of $25.91 with more uptrend reflected in its 200-day MA price of $25.50.
Also serving as a DEX launchpad for new tokens, UniSwap has recently announced the launch of Carnomaly's CARR tokens on its DEX platform.
2. Avalanche (AVAX)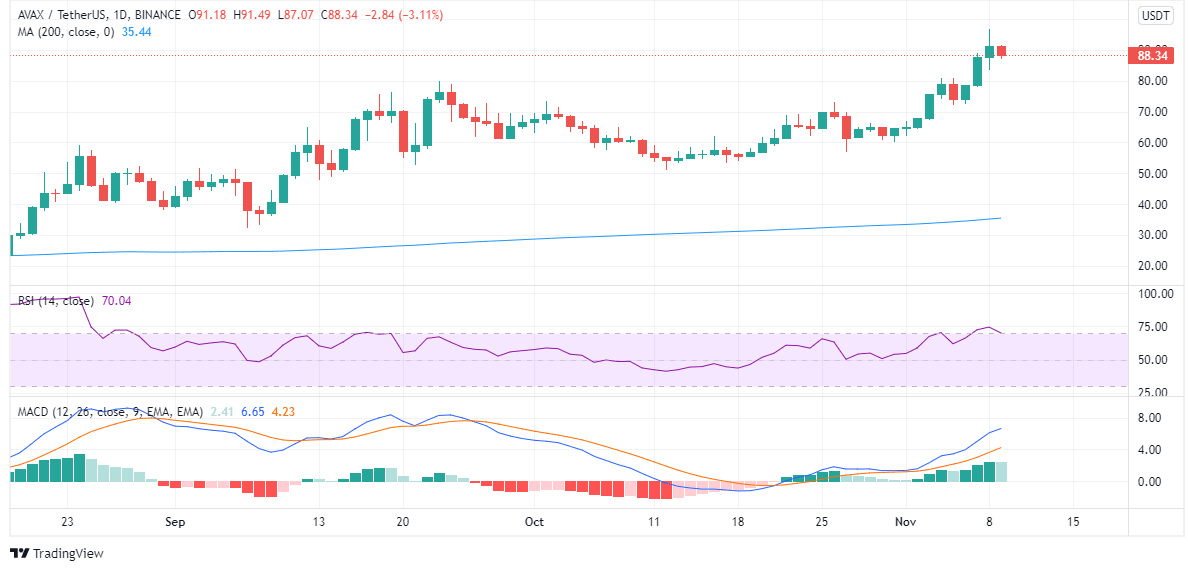 Avalanche is a quiet DeFi giant and definitely one of the best coins for 100x gains due to its strong value proposition. For starters, the Avalanche blockchain aims to make DeFi more accessible for the average user. Boasting phenomenal transaction speed, low cost, and scalability, the protocol is increasingly catching on with development teams looking for alternatives to Ethereum's high transaction cost and network issues.
After making a false start in February to $55.91, Avalanche's AVAX token faltered in its performance. However, Etheeum's increasing popularity and DeFi boom presented an opportunity for Avalanche to gain market share.
With its clean protocol combined with high throughput and low cost, many decentralized applications (dApps) are now flocking to the Avalanche protocol. Given this, AVAX has caught some of its earlier strong form and recently touched the $96.55 mark today. Currently pegged at $88.42, AVAX is still in an uptrend despite falling 7.57% from its record value. This is evidenced in its 20-day MA price of $71.74 and 200-day MA price of $35.62.
With so much growth potential, Avalanche is one cue to be one of the best coins for 100x gains in the coming months.
To boost its developer ecosystem, Avalanche recently launched a $220 million crypto growth fund to attract more dApps.
3. Polygon (MATIC)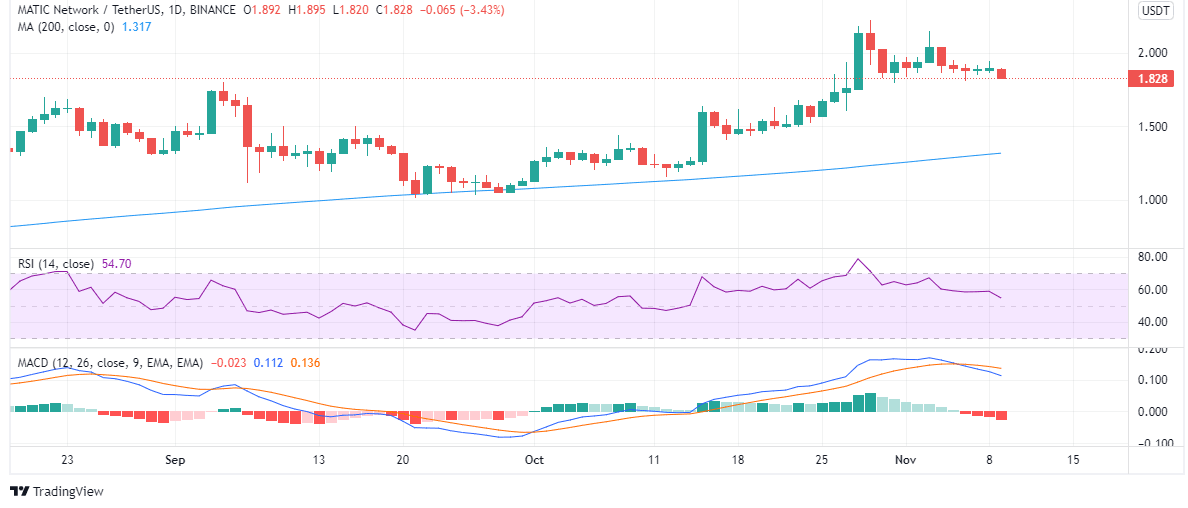 Although a layer-two Ethereum scaling solution, Polygon has proven to be a shrewd investment choice for many early investors. With a 65,000 throughput (horsepower if you are more comfortable with that), Polygon bundles transactions on the Ethereum network and validates them off-chain and subsequently adds them back to the parent network.
Given its rapid block finality time and economical network fees, Polygon has since become a major portal into the Ethereum ecosystem.
Price-wise, Polygon has been on a roller-coaster ride so far this year and has largely traded below the $3 mark. It briefly apexed at the $2.4 price range in mid-May before falling off the high altitude. It currently sits at $1.828 and is slightly down from its 24-hour high of $1.90 by 2.90%. 
Despite this, many investors still consider Polygon as one of the best coins for 100x gains due to its fundamental performances so far this year.
The multi-chain solution recently acquired zero-knowledge (ZK) rollups network Hermez in a $250 million move. Aside from this, it has also penned a deal with Alchemy Pay to create a synergistic platform for seamless fiat and crypto interactions.
4. Tron (TRX)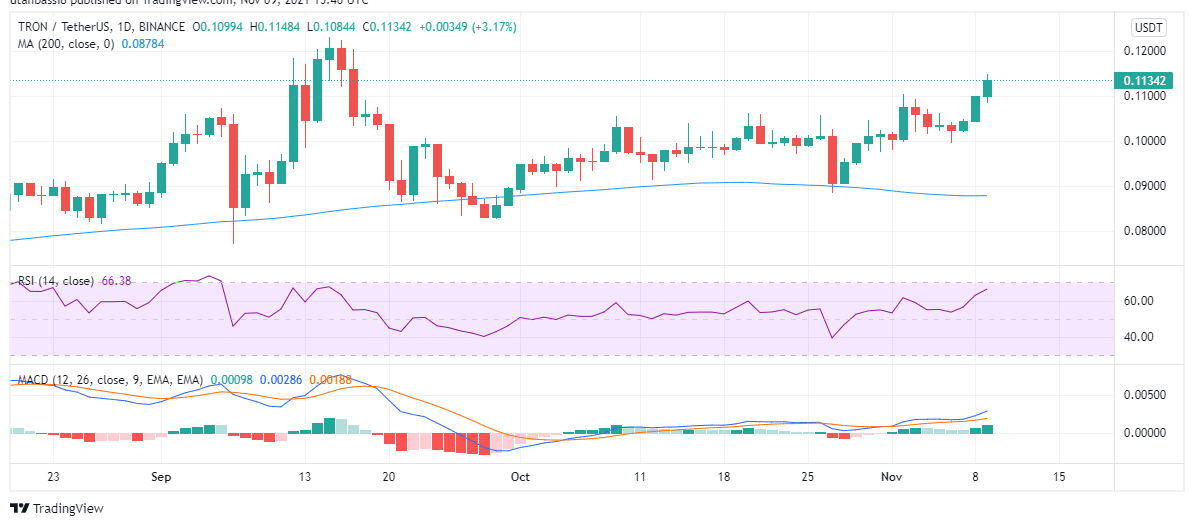 Tron has been a silent competitor to the Ethereum network with a particular focus on positively impacting the content distribution space. On a mission to decentralize the web, the Tron network is a delegated proof-of-stake (dPoS) network and currently boasts of a standard transaction speed of the conventional payment processing rails of 2,000 TPS.
Tron is another project worth looking at for best coins for 100x gains largely for its cost-friendly platform. Despite never touching the $1 mark, Tron's ecosystem has remained one of the top-ranking spaces for DeFi-centered products and services.
At press time, Tron's TRX is maintaining a positive outlook and is up 5.68% and trades at $0.11342. It is also soaring above the 20-day MA price of $0.101 and 200-day MA of $0.08.
Tron's strong technical performance could be attributed to its recent liaison with Binance Smart Chain (BSC) for easy cross-chain for users on both ecosystems.
5. Fantom (FTM)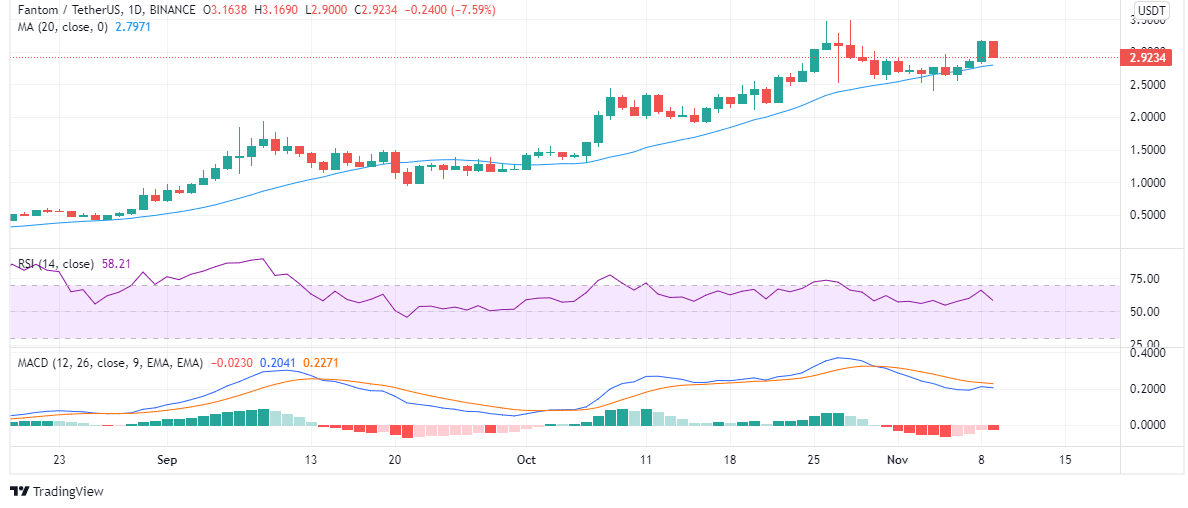 Like Avalanche and Tron, Fantom is a key player in the DeFi and non-fungible token (NFT) ecosystems. The protocol is supported by renowned developer of yield farming protocol Yearn.Finance's Andre Cronje and so far has kept up to its hype.
This has seen it secure major integrations with popular protocols recently including the likes of automated market maker (AMM) Dfyn. 
Price-wise, Fantom's FTM has kept a modest return coming in after shooting to a record figure of $3.46. It is currently trading at $2.92, down 6.4% from its all-time high. However, this has not impacted its bullish stance as it is trading above the 20-day MA price of $2.804 with more uptrend denoted by the 200-day MA price of $0.8805.

Leaning into its strengths of interoperability at low cost and higher transaction throughput, Fantom is definitely one of the best coins for 100x gains in the coming months.
Capital at risk
Read more:
How to buy cryptocurrencies
Investing in Avalanche