5 Best Cryptocurrency to Buy at Low Prices November 2021 Week 1
The cryptocurrency market has risen over the past 24 hours. With a total cap of nearly $2.8 trillion, it has appreciated by 2.7% compared to yesterday. For the most part, smaller altcoins are driving this modest rally, buoyed by
MANA's 30-day moving average (in red above) has shot above its 200-day average (blue). If nothing else, this indicates it has reached a new long-term level. Even if it momentarily comes down from its current price, it's likely to remain more or less in the same area. And over time, it should continue to post significant gains, even if they won't amount to 300% in a week.
Facebook is the primary reason for MANA's dizzying ascent. On Thursday, the social giant announced it's changing its company name to Meta. It intended this change to signal a shift in focus to building a virtual metaverse. Needless to say, this is something Decentraland had already been doing for quite some time.
As such, the market has reasoned that Facebook's shift will help draw public interest towards Decentraland. Some have even speculated that Facebook may one day buy Decentraland (although this could potentially risk MANA being regarded as an unregistered security). Either way, MANA is one of the market's hottest coins right now. And with many of the major cryptocurrencies being quiet at the moment, it seems to be attracting new money.
This truly goes to show who Facebook fear the most as the #1 competitor.

@Decentraland 👀

— jasonX (@DCLjasonx) October 29, 2021
2. Polkadot (DOT)
At $49.82, DOT is up by 12.3% in the past 24 hours. It set a new all-time high during this period, reaching $50.87 some 14 hours ago. It's also up by 12% in the past week and by 54% in the past month.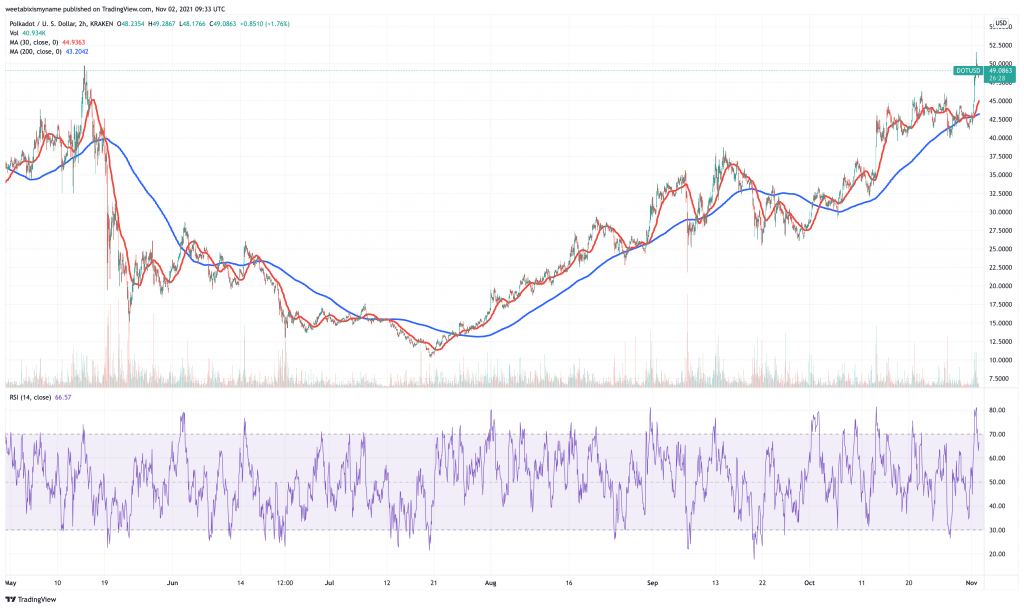 DOT's 30-day average is beginning to break free from its 200-day average. In other words, technical indicators suggest it's on the brink of an upsurge.
More fundamental news supports this suspicion. Yesterday, Polkadot announced that its community had indeed approved November 11 as the date for its much-awaited parachain auctions. These will decide which projects get to launch side chains connected with the main relay chain. They're open to the public, who can stake DOT with their projects of choice in order to win a parachain slot.
The motion to enable parachain registration and crowdloans has passed Polkadot's council and gone to a public referendum. If passed, parachain teams will be able to register their parachain and open their crowdloan on Nov. 4, 2021 at approx. 19:15 CET. https://t.co/5ouDWBmnvc

— Polkadot (@Polkadot) November 1, 2021
Basically, this means DOT is likely to experience increased demand in the coming days and weeks. It will be needed not only to participate in auctions, but it will also be needed to bond with the central Polkadot relay chain. On top of this, its use for fees and staking suggests that, once more projects launch on Polkadot, DOT could become scarcer.
This is why it's one of our 5 best cryptocurrency to buy at low prices. Although it may not be priced low for long.
3. Axie Infinity (AXS)
AXS is another coin that benefitted from Facebook's name change. It's up by 2.9% in a day, by 6.3% in a week and by 30% in a month. It set a new all-time high of $162 on Friday, although it has since climbed down to $142.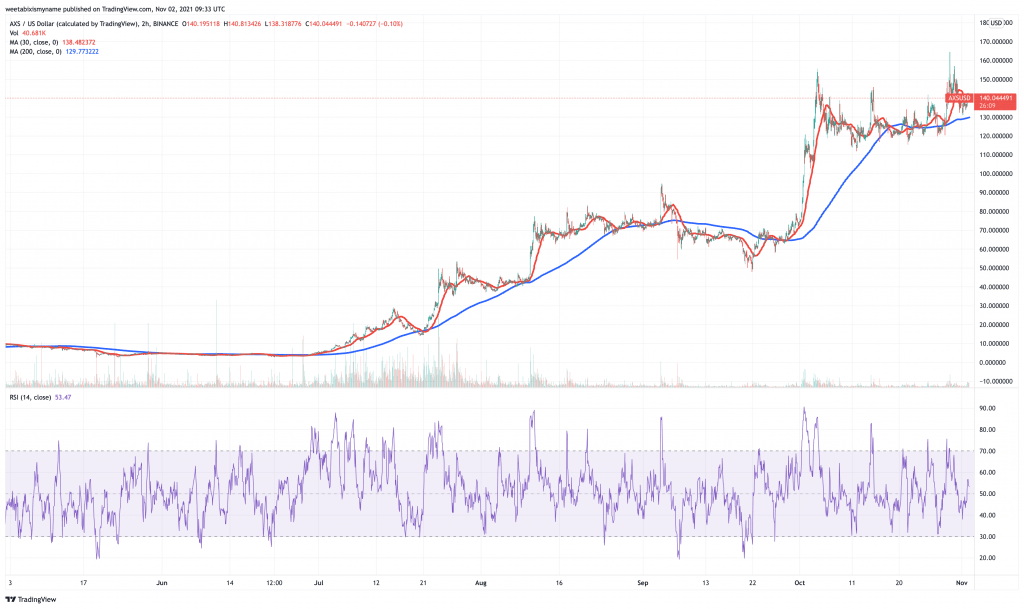 AXS's 30-day average remains above its 200-day. Not only that, but its fundamentals remain strong. As the native token of the very popular Axie Infinity NFT-based game, it continues to attract investors and users alike. Indeed, Axie Infinity now claims 2.27 million daily active users, having stood at only 61,125 at the end of May. This equals over 3,000% growth in under five months, as well as 12% growth since the start of October.
The NFT-based game also exceeded $2 billion in total transaction volume to date at the end of September, as well as $10 million daily volume. This is impressive insofar as AXS went public only as recently as November 2020.
#SalamatAxie
✅ $2B Tx Volume
✅ $10M + Dollars 24H Vol.
✅ Axie Esports
✅ Ronin DEX
✅ AXS Staking
✅ Soulbound Axies (Free-to-Play)
✅ Land Game Play
✅ Software Dev Kit (SDK)
✅ Proven Team
✅ The Most Amazing Community pic.twitter.com/76OG6g3EZT

— Kookoo✨🎮🤝 (@kookoocryptotv) September 29, 2021
Capping this growth, Andreessen Horowitz led a $150m Series B funding round in early October for the game's developer (Sky Mavis), valuing the firm at some $3 billion. This is why AXS is one of the 5 best cryptocurrency to buy at low prices. Although, at $142, its days of being low-priced are likely numbered.
Crypto scoop: NFT game Axie Infinity valued at $3 billion in a new round led by Andreessen Horowitz. The valuation reflects the *tremendous* growth in sales on the multiplayer NFT game. https://t.co/MJkxc5CsQ6 w/@hgmiller29

— Kate Clark (@KateClarkTweets) October 4, 2021
4. Avalanche (AVAX)
AVAX is currently priced at $66.10. This represents a 3.5% rise in the past 24 hours. However, the coin is actually down by 5% in the past week, and by a similar percentage in the past 30 days.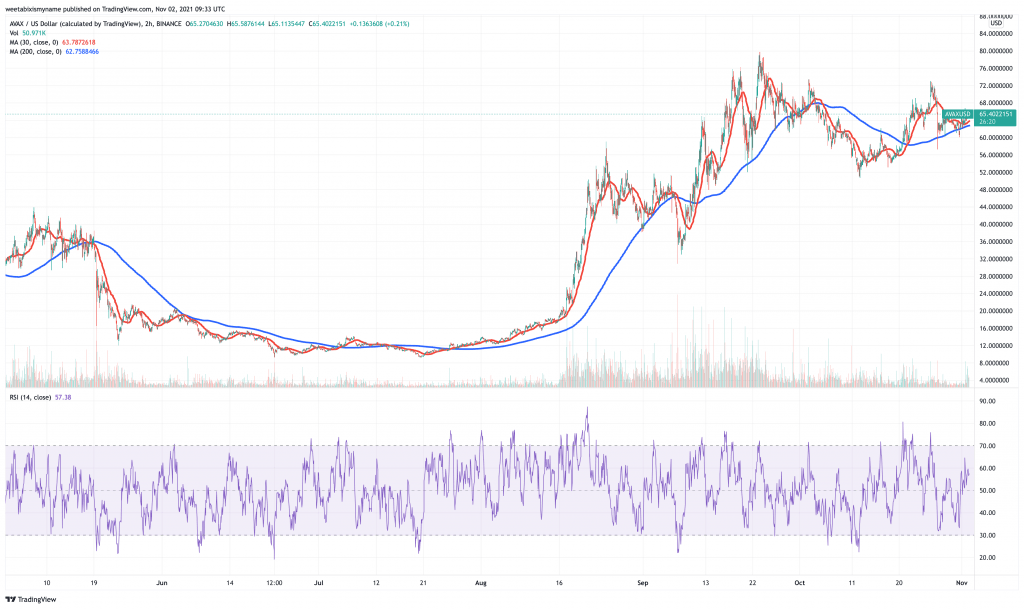 The market is currently neglecting AVAX, which puts it in a good position as far as new investors are concerned. Its relative strength index (RSI) is sited at around 60, suggesting that it has space to grow.
As a platform, Avalanche's total value locked in has risen to $8.7 billion in recent weeks. This figure stood at only $2 billion as recently as the beginning of September, as well as $4 billion at the beginning of October.
Some stats on 🔺

– 1093 validators
– 16,776 delegations
– Max daily TPS consistently between 100-350 tps
– Daily active addresses surpassed 70K

and, finally (this is *very* important), the usage metrics are there without any observable spam (too expensive to spam). Organic.

— ./kevinsekniqi 🔺 (@kevinsekniqi) October 26, 2021
Big investors are paying to such organic growth. In mid-September, Polychain and Three Arrows Capital invested $230 million in Avalanche, providing a very big vote of confidence. On top of this, the venture capital will help Avalanche to grow even further as a platform.
📢 BIG News 📢@Polychaincap and Three Arrows Capital led a $230M investment in the #Avalanche ecosystem to support growth of the platform.https://t.co/T141NFEoIG

— Avalanche 🔺 (@avalancheavax) September 16, 2021
So while AVAX may be around 17% down from its ATH of $79.31, its long-term prospects look very good.
5. Shiba Inu (SHIB)
Four days after flipping dogecoin (DOGE), SHIB remains the market's meme coin of choice. At $0.00007114, it's up by 0.7% in the last hour, but down by 1.6% in the past day. That said, it's up by 68% in a week and by a whopping 700% in 30 days.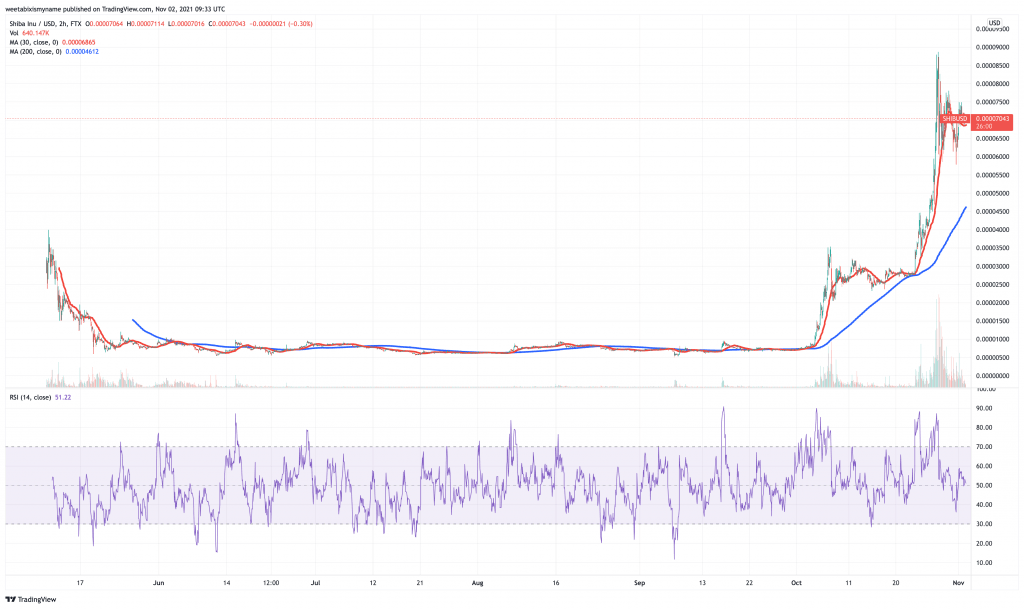 Given that it has nothing going for it other than being a popular 'meme', it's hard to tell when the SHIB party will end. Nonetheless, it continues to be a source of strong volatility, for better and for worse.
Several factors have combined to give SHIB momentum. The current climb began with SpaceX/Tesla CEO Elon Musk tweeting a picture of a Shiba Inu dog (Musk has since stated that he owns only BTC, ETH and DOGE).
Floki Frunkpuppy pic.twitter.com/xAr8T0Jfdf

— Elon Musk (@elonmusk) October 4, 2021
On top of this, reports indicate that a number of 'whales' have been buying SHIB in large quantities, causing its price to rise even further. Of course, this suggests that such whales may dump SHIB after some time.
🐳 #ShibaInu is back up to $0.00002885 while the spotlight is back on #Bitcoin and its close-in on its new #AllTimeHigh. But keep an eye on $SHIB's whale transactions exceeding $100k. When these transactions come in bunches, price rises generally follow. https://t.co/oeGN85BpXS pic.twitter.com/G9kJopNTHE

— Santiment (@santimentfeed) October 18, 2021
Still, SHIB has one of the strongest community of supporters in the market. Coinbase listed the coin on September 16, while a community-led petition urging Robinhood to list the coin has attracted over 460,000 signatories.
ROBINHOOD SAID TO LIST SHIBA INU TO ITS PLATFORMS: SOURCE

— First Squawk (@FirstSquawk) October 18, 2021
This all suggests that, despite a lack of real fundamentals, SHIB may continue to provide some big gains. This is why it's one of our 5 best cryptocurrency to buy at low prices.
Capital at risk
Read more:
How to buy cryptocurrencies
Investing in Avalanche
How to buy NFTs
Buying Shiba Inu
How to buy Polkadot