5 Best Cryptocurrency to Buy for the Recovery – October 2021 week 1
September is over, and investors are now looking for the best cryptocurrency for recovery in October. With the new month finally here, it's time to get into the thick of things. What are the top cryptocurrency for recovery in the first week? Take a look:
1. Bitcoin (BTC)
Bitcoin is the world's largest and most popular cryptocurrency. Due to its position alone, the coin remains a major hit for investors. So, it is one of the top cryptocurrency for recovery in the first week of October.
The past week was a pretty challenging one for Bitcoin. The asset had been trying to break past the $50,000 mark, but successive bearish cycles and China's recent crackdown on all cryptocurrency transactions has held it down. Beijing's new regulation has been especially devastating, with companies now leaving China and many Chinese crypto investors selling off.
Now that the fallout from the Chinese ban seems to be clearing, Bitcoin is looking to rise once more. The asset trades at $43,018, up 1.55 percent in the past day but down 2.76 percent in the past week.
Bitcoin is still underwater technically. The coin is trading below all of its moving average (MA) indicators, save for its 100-day MA of $41,596. But, with a relative strength index (RSI) of 46.60, the coin is still underbought and will be ripe for investment.
2. XRP (XRP)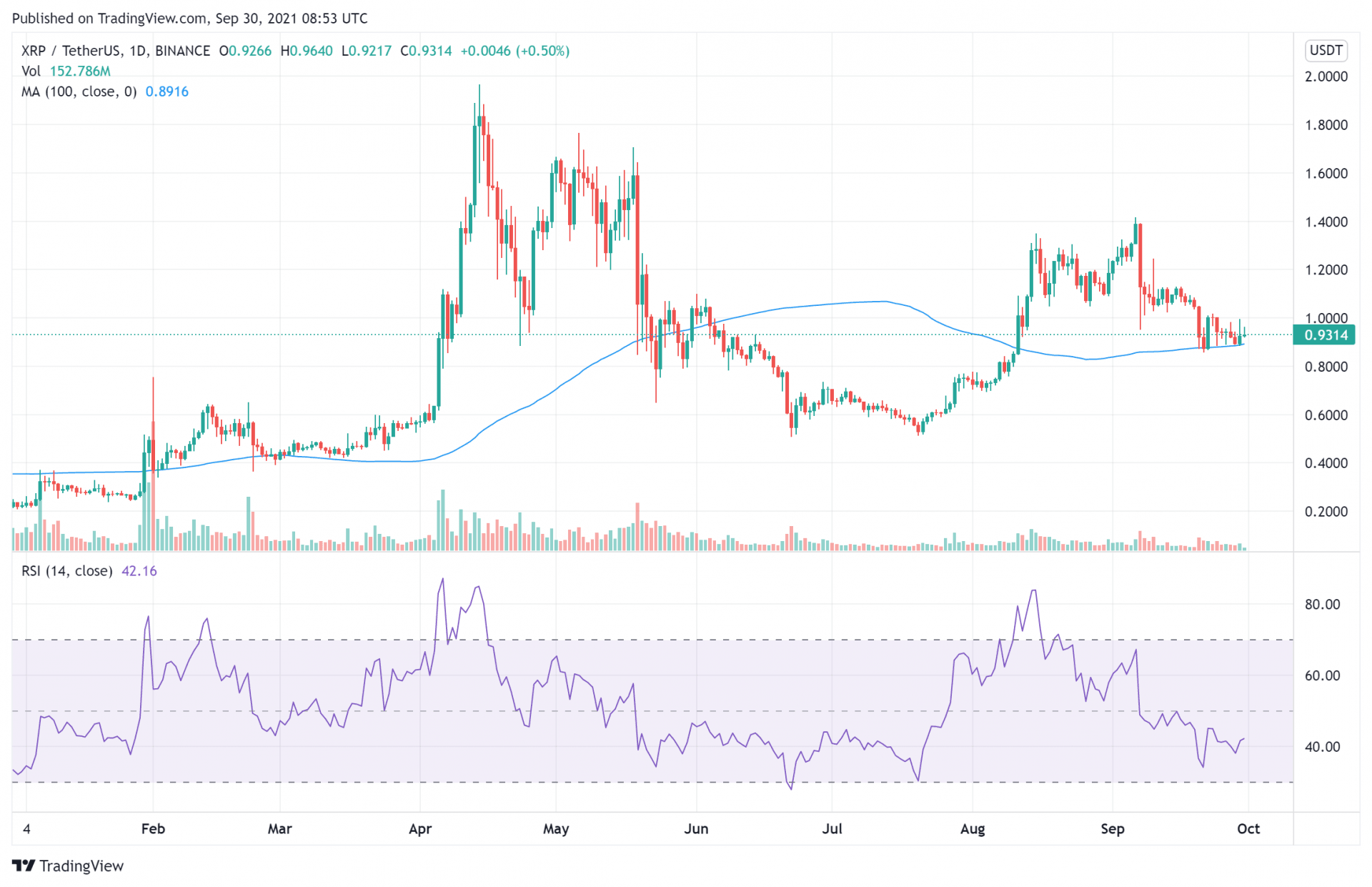 XRP is the industry's standard for cross-border payment facilitation. The coin has fallen off the CoinMarketCap rankings this year, but it is still a strong buying option nonetheless.
While Ripple Labs is still fighting a legal battle with the Securities and Exchange Commission (SEC), XRP continues to look strong. The asset reached a yearly high of $1.96, showing much upside.
Recently, Ripple Labs has been making moves to improve its standing in the industry. The company recently launched a $250 million fund to support projects in the non-fungible token (NFT) space. The funds will be used to support projects that launch on the XRP Ledger, meaning that Ripple is now putting itself as a possible "Ethereum killer."
Increased adoption from the NFT space should definitely boost XRP's price as well. The asset now trades at $0.93 – up 0.87 percent in the past day, but down 6.11 in the past week. Short-term investors won't be happy to see XRP below its short-term MA indicators, although its price is still above the 10-day and 200-day MAs.
XRP's RSI is 42.55, so the coin is ripe for a purchase.
3. Ether (ETH)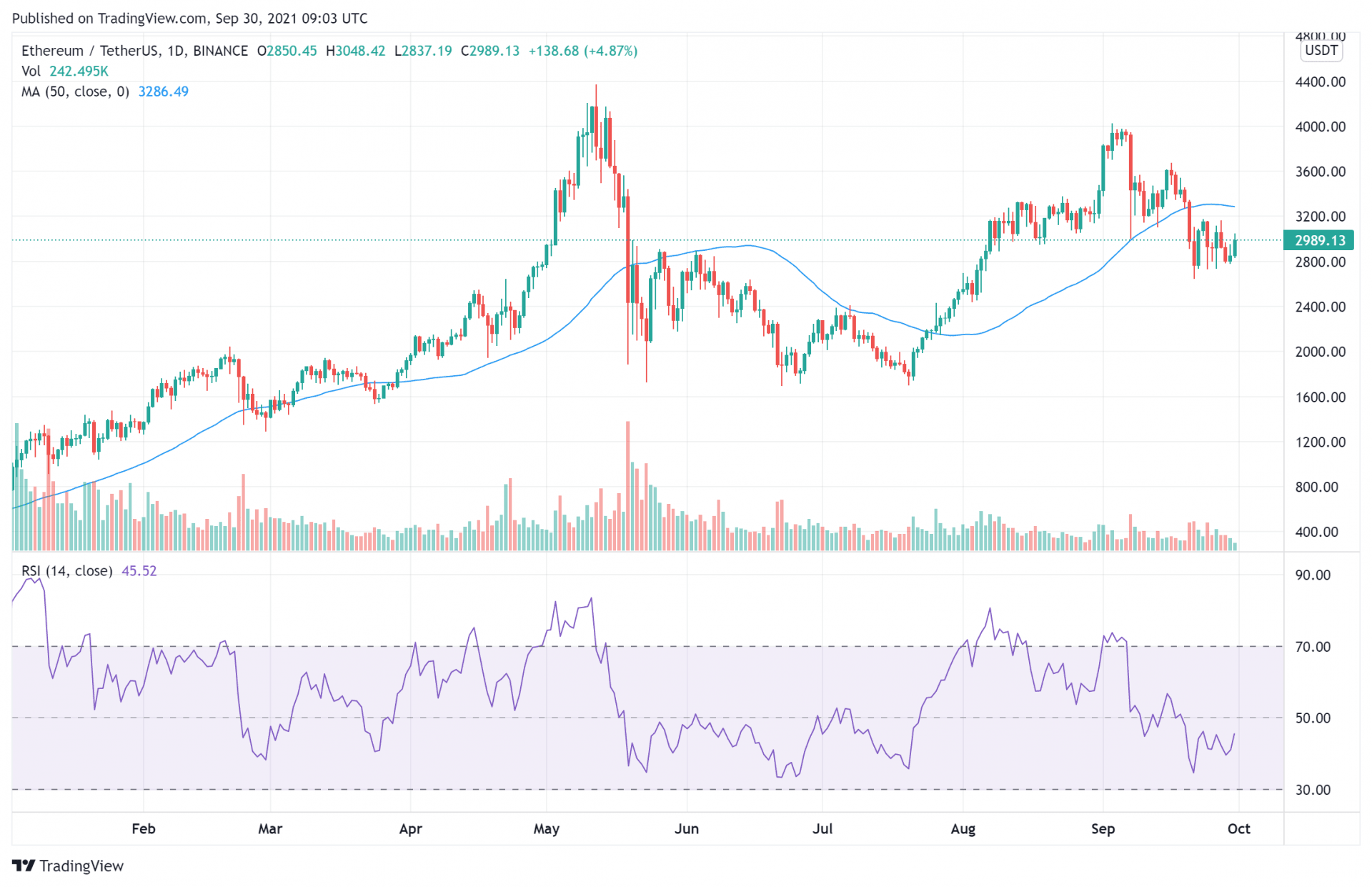 The silver to Bitcoin's gold, Ether is another top feature on our list of cryptocurrency for recovery. The coin tends to move in tandem with Bitcoin, so its price plays a major role in setting the tone of the market. Sadly, this also means that negative news for the industry – much of which was experienced in September – will affect Ether as well
For now, Ether looks to be supporting Bitcoin as the market tries to set a rally. The coin's price stands at $2,966 – up 1.66 percent in the past day, but down 5.07 percent in the past week. Like many other large-cap coins, ETH is trading below its short-term MA Indicators but beating its long-term metrics. It is also highly underbought, with an RSI of 46.24.
Ether will get a boost from recent developments with the Ethereum blockchain, which is taking one step closer to its ETH 2.0 transition. Following the successful London hard fork, Etheruem devs have set Altair – the first upgrade to the Beacon Chain – for October. The upgrade is set to add light client support to the core Ethereum consensus while also improving the beacon state incentive accounting.
4. Binance Coin (BNB)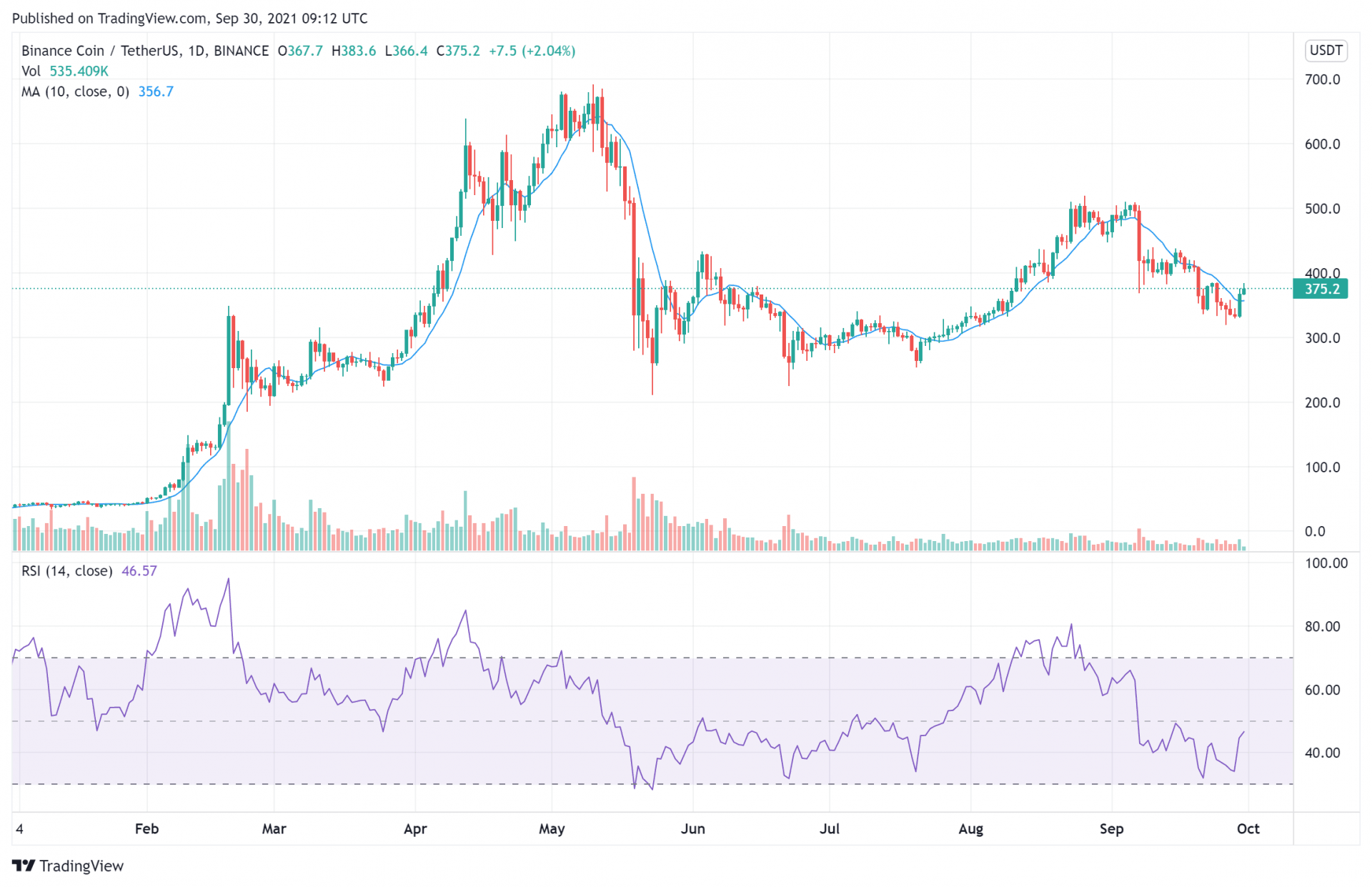 BNB has set the standard for exchange tokens and what they can be. While issues with Binance and regulators continue to heat up, we still believe BNB to be among the top cryptocurrency for recovery this month.
To be fair, BNB took a beating in September. The asset lost 18.9 percent of its value, dropping from $462.4 to its current price of $374.8. But, this week has seen the coin post impressive numbers. Its current price is a 7.98 percent jump in the past 24 hours, although still a drop of 1.45 percent in the past week.
In fact, no other coin in the top 60 CoinMarketCap rankings has posted BNB's returns in the past day. That's quite impressive.
The asset's 24-hour performance has taken it above its 10-day MA of $358.90, although it is still trading below the other short-term MA indicators. As expected, BNB is comfortably ahead of its long-term MA metrics.
With an RSI of 46.71, BNB is very much underbought.
As for fundamentals, rumors have started to circulate that Binance US – Binance's American arm – is working on a fundraising round. Binance CEO Changpeng Zhao recently teased the possibility of an initial public offering (IPO) for the American arm, and a fundraising round could see its value rise even further.
5. Chainlink (LINK)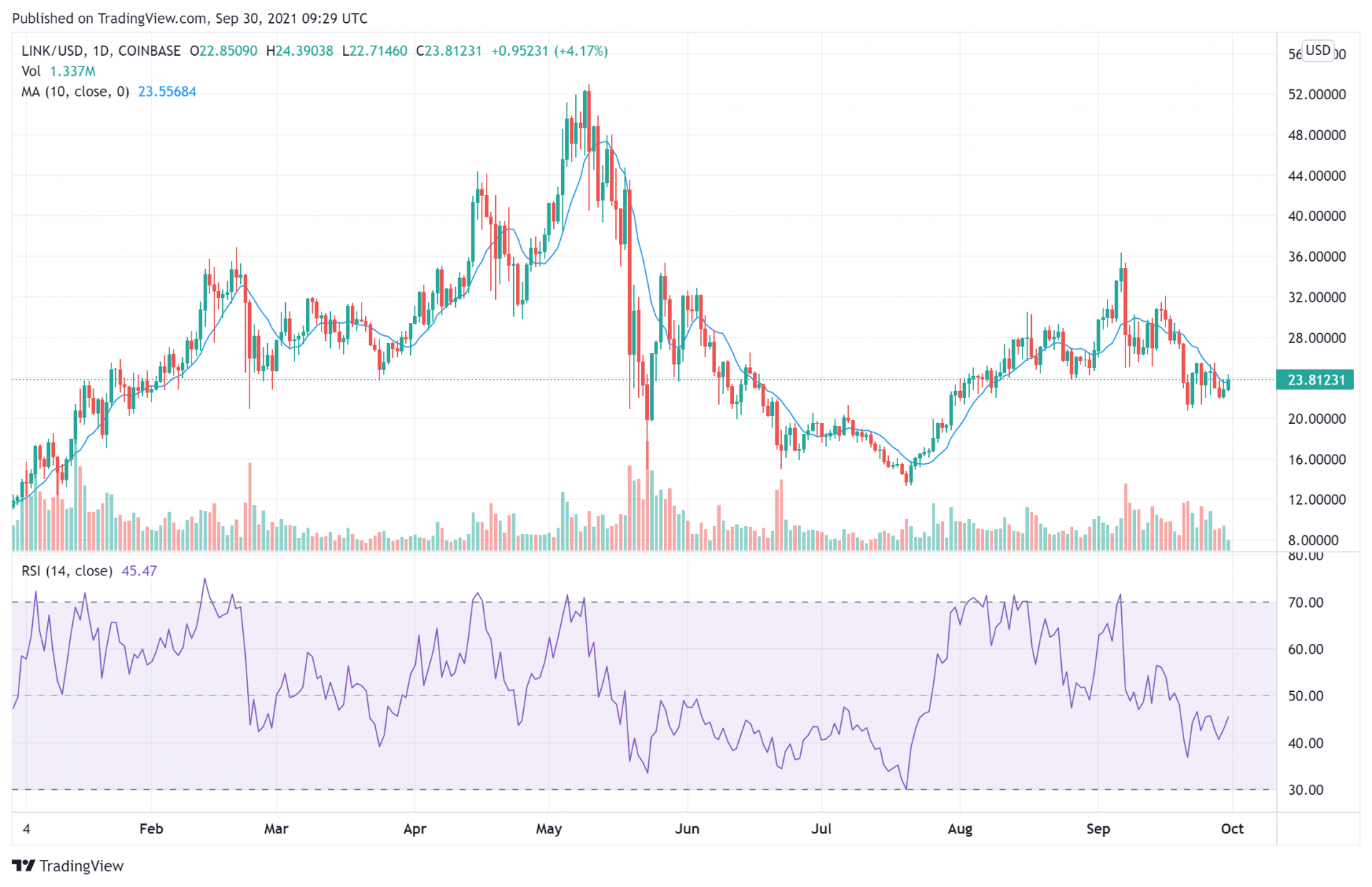 Last but not least on our ranking of cryptocurrency for recovery is LINK. The token is native to Chainlink; the largest blockchain oracle service available. Chainlink has become too essential, thanks to the rise in decentralized finance (DeFi) protocols and NFT projects launching. Many blockchains and protocols use it to get off-chain data, leveraging its speed and efficiency.
As expected, LINK features on our list thanks to its recent performances the coin is up 2.37 percent on the day, although its $23.73 price is down 3.54 percent in the past week. Its daily performance has helped it to cross its 10-day MA of $22.4, but other short-term MA indicators are above it.
But, LINK is ripe for long-term traders as it traded above its 100-day and 200-day MAs. The coin's RSI of 45.73 shows that you can get in now as it is underbought.
Gains in the prices of coins like Bitcoin and Ether should see LINK rise even higher. It also helps that Chainlink remains in high demand. The Cardano Foundation recently announced a partnership with Chainlink to offer oracle services to its blockchain. This means that when developers come to build on Cardano, Chainlink will be there to help them.
Read more:
How to buy Cryptocurrencies
How to buy Bitcoin
How to buy Ethereum