5 Best Cryptocurrency to Buy for the Weekend Rally October 2021 Week 1
The cryptocurrency market has rebounded after a mostly difficult week. Buoyed by the news that Visa is developing a multi-currency "Universal Payment Channel" for cryptocurrencies and CBDCs, its total value has risen to $2.06 trillion. This represents a 4% rise over the past 24 hours, with major coins rising by similar or bigger percentages. Accordingly, we've created a list of the 5 best cryptocurrency to buy for the weekend rally. This covers coins with both short- and long-term potential.
5 Best Cryptocurrency to Buy for the Weekend Rally
1. Ethereum (ETH)
ETH has jumped by 5% in the past 24 hours, to $3,120. Despite the rise, this price does in fact represent a 1.2% decline over the last week, as well as a 9% fall in the past month.
Yesterday's Visa news is particularly bullish for ETH. Because while the payments giant is developing a network for multiple cryptocurrencies and digital assets, reports suggest it's building this channel on Ethereum. Basically, this would result in much greater Ethereum adoption and use over time. By extension, it would also indicate more demand — and a higher price — for ETH.
Visa just announced that they are building an Ethereum-based layer 2 payment channel network.

— sassal.eth (@sassal0x) September 30, 2021
More generally, traders have become more bullish about ETH because, ever since the London hard fork of August 5, Ethereum has been burning a portion of transaction fees. In fact, it has burned just over 340,000 ETH to date. This works out at a little over $1 billion in today's prices.
9.17k $ETH were burned yesterday

Since the deployment of EIP-1559, a total of 342.9k ETH has been burned.

Check out the new #Ethereum supply metricshttps://t.co/Kk7UslZUPc pic.twitter.com/ySoIfpb8bu

— IntoTheBlock (@intotheblock) September 22, 2021
Because of this, ETH's daily issuance recently dropped below bitcoin's. And the more popular the DeFi and NFT sectors become, the more this deflationary trend will accelerate. This is why it's one of the 5 best cryptocurrency to buy for the weekend rally.
Update: First full day of $ETH being deflationary

More ETH was burned in the past 24 hours than issued pic.twitter.com/mhY7NA69kd

— Lucas Outumuro (@LucasOutumuro) September 4, 2021
2. Terra (LUNA)
LUNA has been one of today's best performers among top-20 coins. It has risen by 9% in the last 24 hours, to $37.76. This is also a 3.6% rise in the last week, as well as a 19% rise in the past month.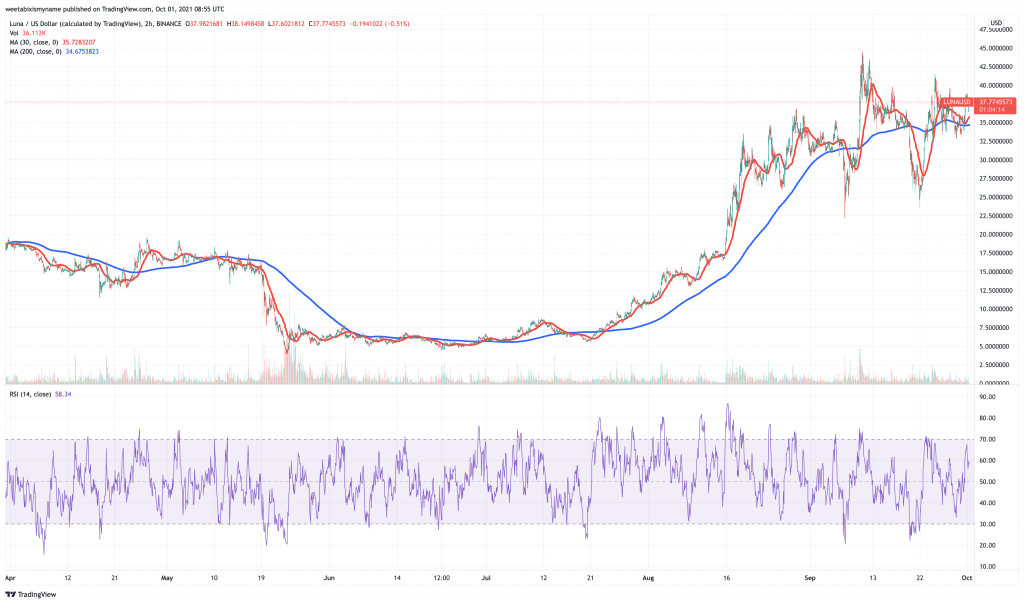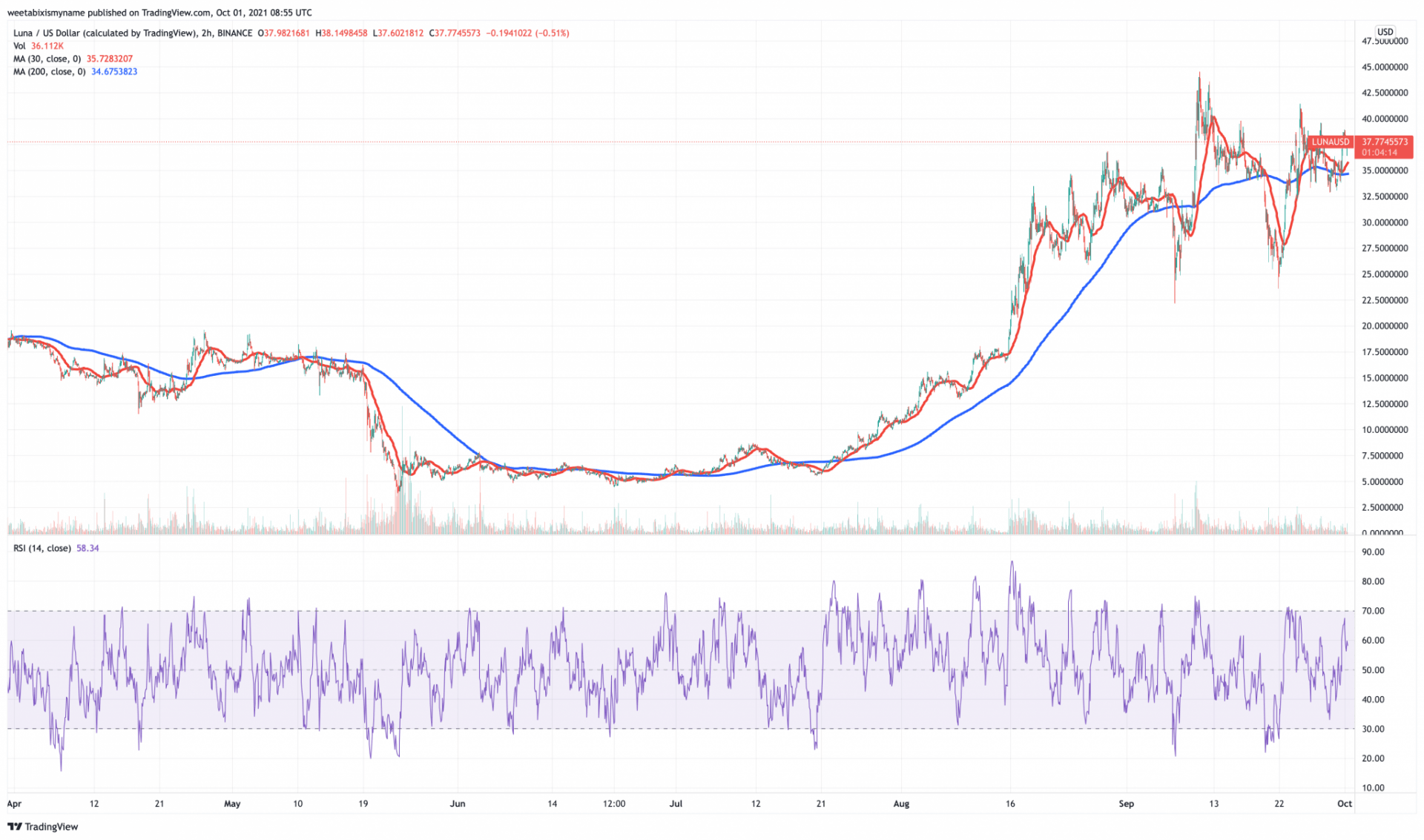 It's worth pointing out that LUNA's 30-day average has indeed overtaken its 200-day, forming a 'golden cross.' As the chart above reveals, its 30-day average has in fact been ahead of its 200-day consistently (with a couple of exceptions) since the beginning of August.
The main cause of this sustained growth is the launch of the Wormhole protocol on August 9. This is a cross-chain bridge enabling transfer of tokens between Terra and Ethereum, Binance Smart Chain and Solana. It has greatly increased activity within Terra's ecosystem.
1/Today we're incredibly excited to announce Wormhole: a generic cross-chain messaging protocol. Wormhole will launch with support for the thriving @Ethereum, @Solana, @Terra_money, @binancechain ecosystems. https://t.co/pEKdeOW821

— Wormhole (@wormholecrypto) August 9, 2021
Terra is a platform which hosts stablecoins pegged to different national currencies. Its largest, UST, has expanded its supply from $2 billion to $2.66 billion in a couple of months. This is highly bullish for LUNA, since Terra burns LUNA in proportion to the quantity of UST it issues.
#Lunatics – biweeky updates for ecosystem map are out @ https://t.co/HUhAAx5ZMn

updates:
@CoinbasePro lists $UST $wluna
@krakenfx lists $Luna
@CoinMetro on/off ramp
@terraworld_work new project on Terra
@TerraRoll – new project/live (use caution/likely unaudited) pic.twitter.com/KAJty6LwPk

— Smart Stake (@SmartStake) August 22, 2021
More impressively, Terra's total value locked in is now $8.5 billion. It had been just under $3 billion at the start of June, indicating a 180% rise in just over three months.
Given this growth, LUNA is comfortably one of the 5 best cryptocurrency to buy for the weekend rally.
3. Bitcoin (BTC)
If you expect the cryptocurrency market as a whole to rise over the weekend, it's virtually always guaranteed that BTC will rise too. Indeed, it has risen by just over 4% in the past 24 hours, to $45,000. Much like ETH, this current level isn't an improvement compared to a week ago, while it's also nearly a 5% drop across the past month.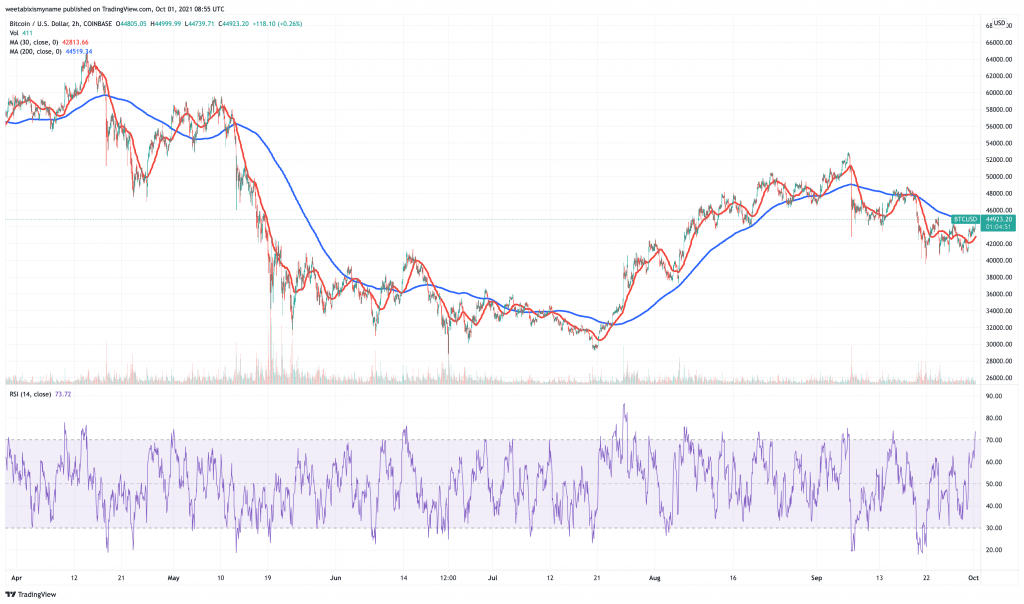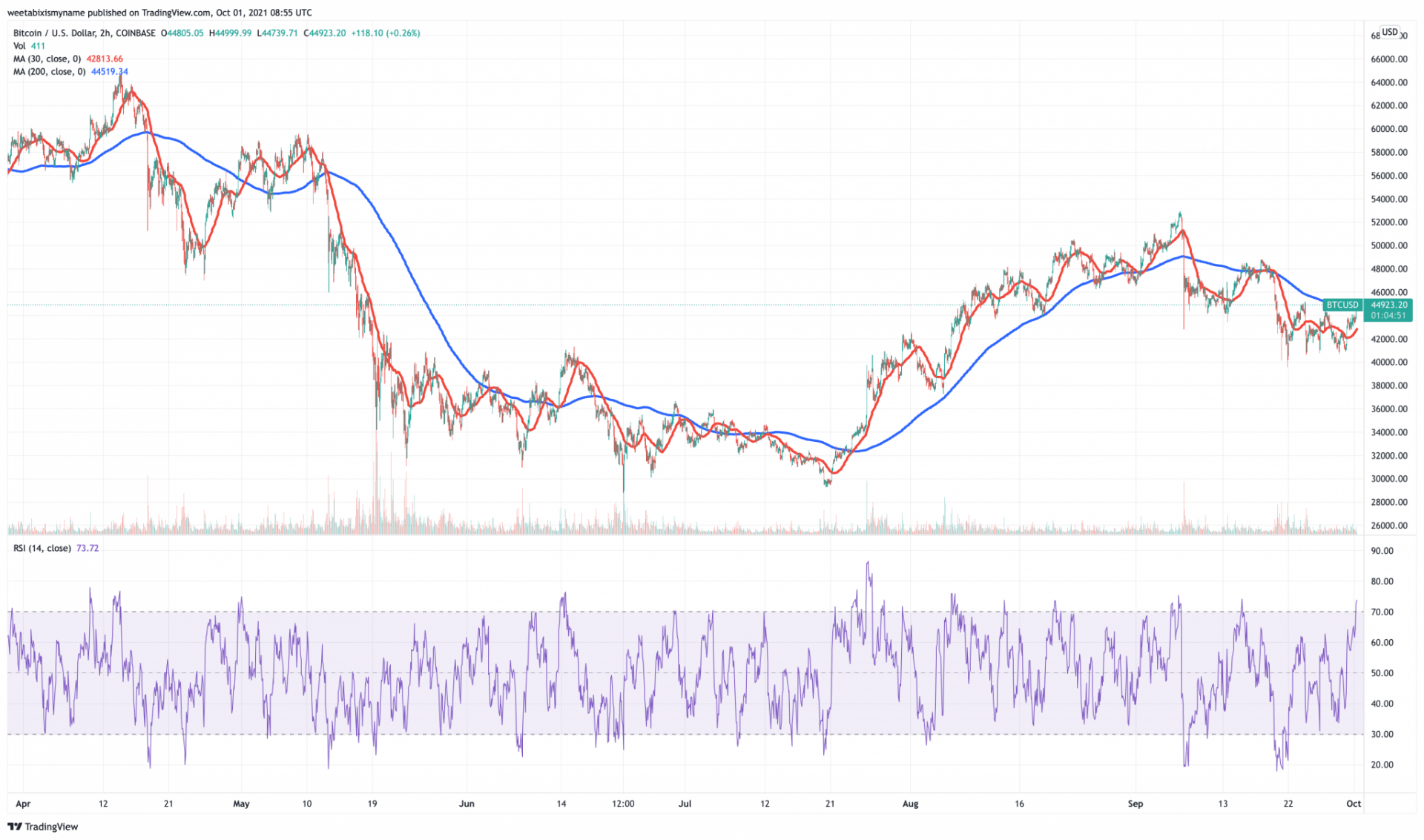 BTC's relative strength index — currently at just over 70 — indicates some very strong buying momentum. While this may be a sign that the coin is overbought relative to previous levels, it could also be the sign of a new breakout. The possibility that its 30-day moving average is about to overtake its 200-day average strengthens this suspicion.
Needless to say, the stock-to-flow model — which measures the current stock of BTC against its issuance — would suggest that it's due to rise vigorously very soon. It sets a target of $63,000 for the end of October, $98,000 for the end of November, and $135,000 for the end of the year.
Aug>47k
Sep>43k
Next targets: Oct>63k, Nov>98k, Dec>135kpic.twitter.com/C45nfQkQSC

— PlanB (@100trillionUSD) October 1, 2021
And with El Salvador now having adopted BTC as legal tender, and other nations possibly following suit, BTC could rally strongly over the coming weekend and weeks ahead.
4. Solana (SOL)
SOL is up by 5% in the past 24 hours, rising to $143.93. This means that while it has sunk by just over 4% in the past week, it remains 32% up in the last 30 days.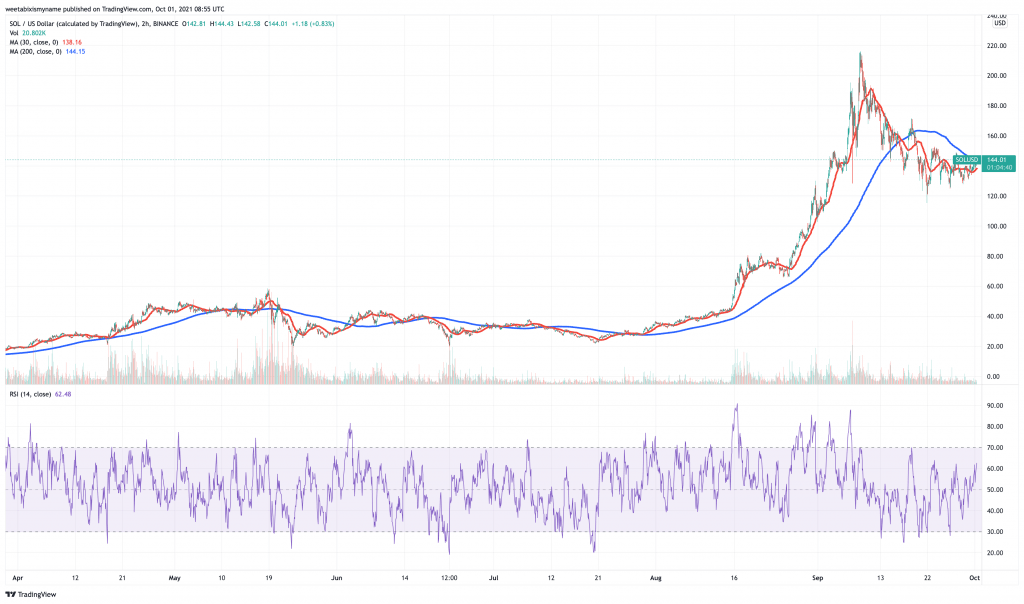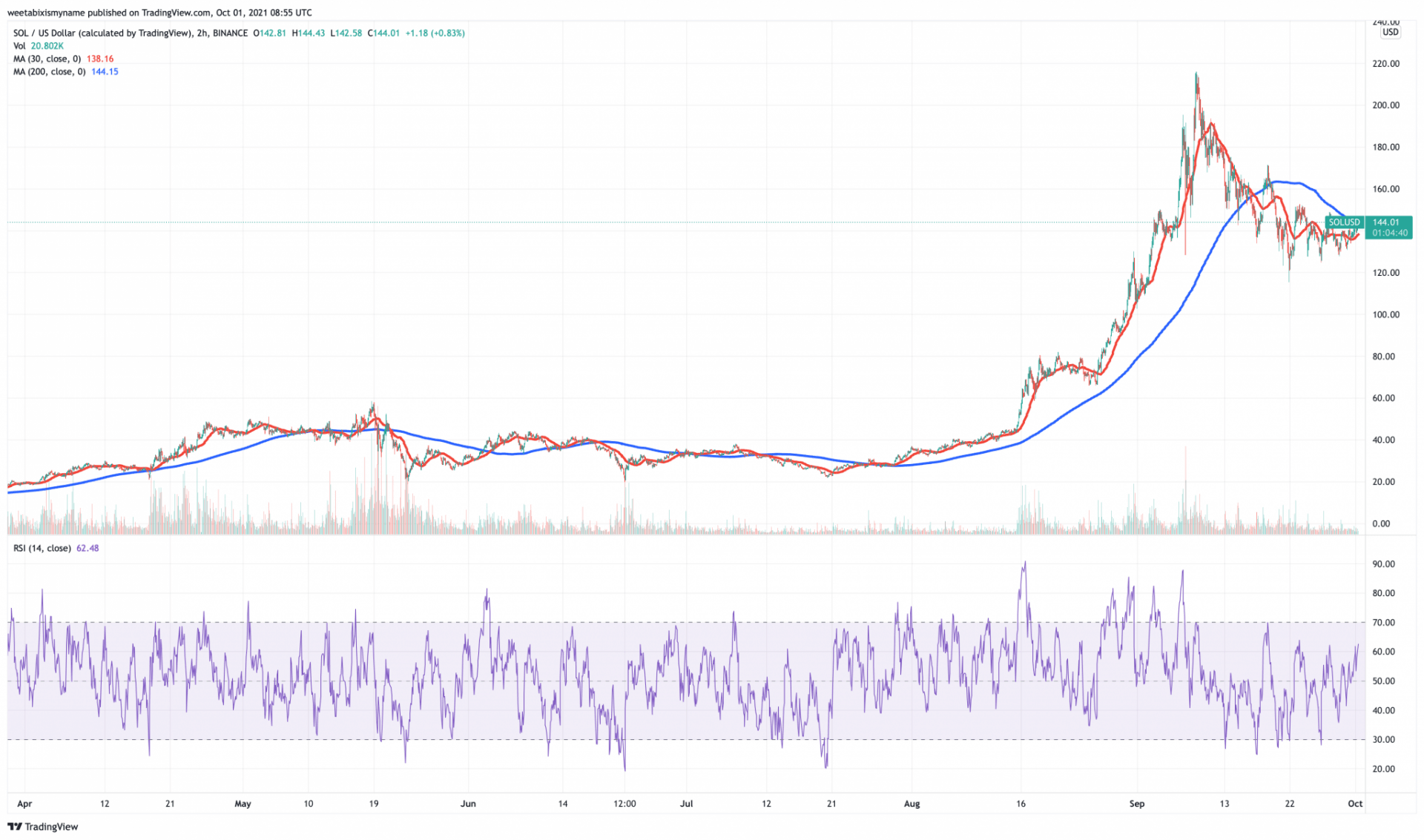 SOL is also on the cusp of seeing its 30-day average overtake its 200-day. Its RSI also shows rising momentum, without indicating that the market is overbuying it.
As we wrote in a recent article, Solana is a blockchain that aims to deliver superior scalability via its unique "proof-of-history" consensus mechanism. Its total value locked in stands at $9.67 billion, having risen from only $1.3 billion at the start of August. Solana's NFT and DeFi ecosystems are the main drivers of this growth, having expanded strongly in recent weeks.
For example, the Solanart NFT platform launched only two months ago. Nonetheless, it succeeded in passing one million SOL in volume by the end of August.
Almost two months ago, we launched https://t.co/tPritDMeeN, first #NFT marketplace on #Solana
Today, we broke 1,000,000 SOL in volume, and as $SOL breaks $100, that's over $100,000,000 traded on our platform
Thank you for making us number one
New features coming soon pic.twitter.com/wjA0EFtTqf

— Solanart – NFT Marketplace (@SolanartNFT) August 30, 2021
A few days ago, the platform's Solanart NFT marketplace enjoyed the successful launch of the Galactic Gecko Space Garage range of NFTs, which saw an explosion in sales volume within hours.
100K volume on @SolanartNFT within 5 days of launch
Less than 10% geckos up for sale
3300 unique holders & over 2600 wallets holding 1-5 geckos
Floor up 13x from mint

GGSG valiantly pushes forward to explore the depths of the Geckoverse. This is only the beginning! pic.twitter.com/2aie5djWh9

— Galactic Gecko Space Garage (@galacticgeckosg) September 28, 2021
Likewise, the DeFi- and NFT-focused wallet app Phantom has now reached 400,000 weekly active users. Again, this all reinforces the sense of a platform enjoying enviable growth, and shows why SOL is one of the 5 best cryptocurrency to buy for the weekend rally.
It's only been 6 months since we launched Phantom and we just crossed 400,000 weekly active users with no sign of slowing down! You all have been incredible and we can't wait to show you what's next! #Solana pic.twitter.com/FUqcvfAMBx

— Phantom (@phantom) September 17, 2021
5. Polkadot (DOT)
At $29.88, DOT has jumped by just over 7% in 24 hours. On the other hand, it has fallen by 10% in the past week and by 5% in the last month.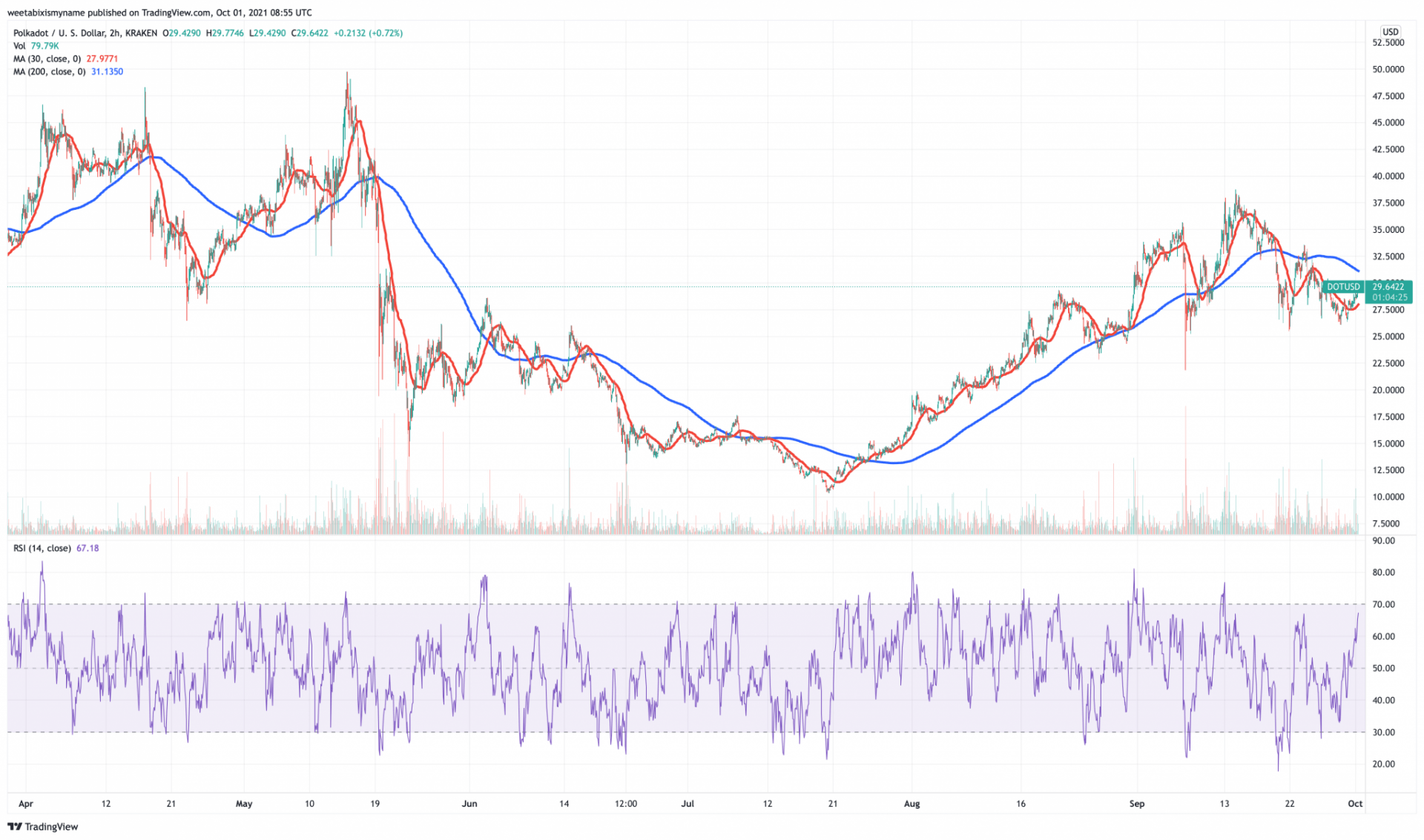 Such falls may be disappointing, but they indicate that DOT has more room to rebound. Its RSI is nearing 70, indicating mounting momentum along with its 30-day average.
Most bullishly, Polkadot founder (and Ethereum co-founder) Gavin Wood has recently said that parachains are set to launch on the network very soon. These are essentially the sub-chains that will connect with the main Polkadot relay chain. They will deliver the apps and functionality we ordinarily associate with blockchains, such as DeFi and NFT services.
Indeed, Wood has said the launch of parachains could be a matter of days rather than weeks. All that needs to be done is conduct an audit of parachains on the Kusama testnet, and then vote through the launch.
Speaking in an interview, he said, "We need to fix any of the issues that come from the audit. As far as I know these are relatively small issues, nothing huge. And then after that, it's really just up to the governance of Polkadot."
67% of retail investor accounts lose money when trading CFDs with this provider.
Related news:
How to buy cryptocurrencies
8 hottest NFT tokens
How to buy Polkadot
Buying Ethereum
How to buy Bitcoin