5 Best Cryptocurrency To Buy For The Weekend Rally September 2021 Week 4
The cryptocurrency market is showing some signs of rejuvenation after this week's selloff. Its total value has climbed to $2 trillion, up from a one-month low of $1.78 trillion on Wednesday. This represents a rise of roughly 12% in two days, led by a combination of big coins such as BTC and by emerging altcoins such as AVAX. Given that global markets have stabilised after

30-day average (red), 200-day (blue), relative strength index (purple).
BTC has regained just over half of the value it has lost since Monday, when fear surrounding Evergrande began to mount. It had stood at around $47,300 on Monday morning, before falling to a seven-day low of $40,500 on Wednesday morning. In other words, it lost around $7,000 in value, and has regained nearly $5,000.
There's every chance that it could regain more of its value over the weekend. In fact, as we've noted before, the stock-to-flow model — which compares — forecasts an end-of-year price of around $100,000.
So what will #bitcoin Dec closing price be?
– S2F model says $100K
– Time model (logarithmic regression) says $30K
Next couple of months will be Interesting.
My money is on S2F, of course. pic.twitter.com/ancKQ3FdEZ

— PlanB (@100trillionUSD) September 22, 2021
More generally, a growing number of nations are entertaining legislation which will either legalise bitcoin or even make it legal tender. Following El Salvador, this includes the likes of Ukraine and Panama, which are considering making the cryptocurrency legal tender. It also includes numerous US states and Cuba, which have recently passed legislation making various crypto-related activities legal. Assuming such a trend of acceptance continues, we could witness increasing momentum behind bitcoin.
In July, a panel of 42 cryptocurrency executives and researchers produced an average end-of-year price forecast for BTC of $66,284. This was based on two arguments: 1) that bitcoin is undervalued; and 2) that BTC is increasingly assuming the role of 'digital gold', not least because inflation remains relatively high, in the US, the UK and the Eurozone.
This is why we think BTC is one of the 5 best cryptocurrency to buy for the weekend rally. It tends to be in the thick of market-wide rallies, and we don't think the next rally will be an exception.
2. Avalanche (AVAX)
AVAX is one of the few big coins to have avoided this week's climbdown. It has fallen by 3.8% in the past 24 hours, to $74.41. However, this price level represents a 10% jump in the past week, as well as an 81% surge in the last fortnight. AVAX has also risen by 33% in the past month. Even better, it hit its all-time high of $79.31 only yesterday, indicating that momentum is well and truly still behind it.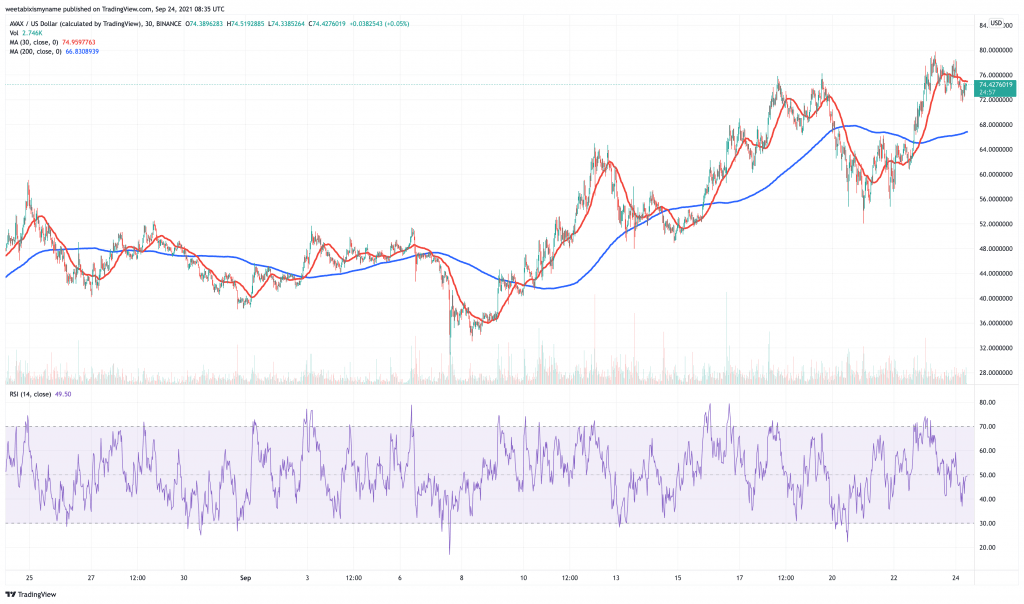 It's worth pointing out that AVAX's 30-day moving average has now comfortably eclipsed its 200-day average, forming a 'golden cross.' This suggests its momentum has become even more positive in recent days. Interestingly, its relative strength index (RSI) is still hovering around 50 (the average), indicating that it isn't yet overbought.
Avalanche has, unlike much of the rest of the market, benefitted from some very good news recently. It announced a $230 million investment led by Polychain and Three Arrows Capital last week. Such an investment will be used to support the platform's growth, while it also shows that the big money is now betting on Avalanche.
BIG News @Polychaincap and Three Arrows Capital led a $230M investment in the #Avalanche ecosystem to support growth of the platform.https://t.co/T141NFEoIG

— Avalanche (@avalancheavax) September 16, 2021
More broadly, Avalanche's incoming venture capital is backed up by some promising growth. Its total value locked in has risen to $2.6 billion in recent weeks, having stood at $1 billion as recently as early August.
1/ Couple of quick stats on the Avax ecosystem:

– TVL has just peaked ATH at $2.6b since the parabolic run-up when Avalanche Rush was announced
– TVL has increased ~10x since the announcement and continues to climb. pic.twitter.com/WMyZ2h4Csl

— Wangarian (@0xWangarian) September 16, 2021
If this isn't bullish enough, it's also worth remembering that Avalanche burns transaction fees And because AVAX has a fixed maximum supply of 720 million, the coin is likely to become (more) deflationary over time. This is why it's one of the 5 best cryptocurrency to buy for the weekend rally.
3. Cosmos (ATOM)
ATOM is another coin that has performed better than most in the past few days. It currently sits at $40.52, which is basically flat over the past 24 hours, but up by 11% in the past week. ATOM is also up by 50% in the past 14 days and by 104% in the last month.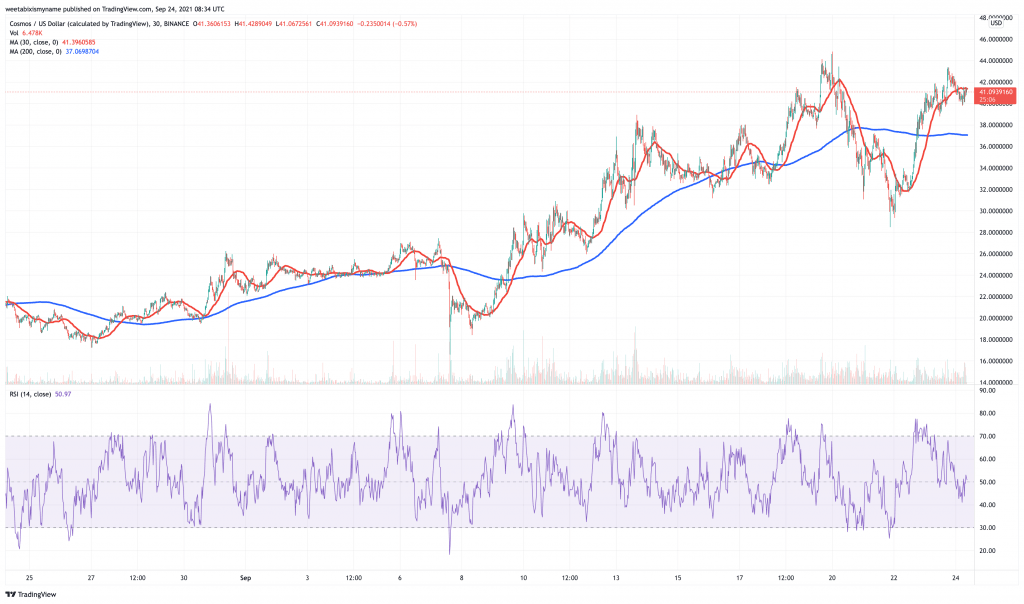 ATOM has also seen its 30-day average jump comfortably clear of its 200-day average, indicating a strong upwards pull. It has a number of causes to thank for this snowballing of bullishness.
Going back to February, it rolled out Stargate, an upgrade that enabled its Inter-Blockchain Communication (IBC) protocol. The IBC permits communications between the separate chains comprising the Cosmos Network, a key ingredient in its functionality and longer term success.
Cosmos, a 5 year journey into Stargate!

The Stargate Launch coming on Cosmos Hub on Feb 18th gives birth to the Internet of Blockchains and the start of a new paradigm into the crypto space.

Cosmos, we are Stargate ready!

Mark the date Thursday 18th Feb 6AM UTC pic.twitter.com/lLZ9EdELCP

— Cosmos – Internet of Blockchains (@cosmos) February 16, 2021
Cosmos also rolled out Emeris in mid-August. This is a cross-chain DeFi protocol that effectively lets any app on any blockchain interoperate with Cosmos, providing another key ingredient in its growth.
Also, we've seen a number of Cosmos-based apps grow their users to impressive levels. For example, Cosmos-based wallet Keplr recently celebrated passing the 100,000 milestone.
On September 12, 2021, a quiet Sunday morning, Keplr wallet surpassed the 100k user mark.

No cut corners. No underhanded deals. This is the long game.

A big "Thank You" to the community for your awesome support – let's keep going! #keplrwallet #milestoneachievement #100k pic.twitter.com/ZulvUDIpfy

— Keplr Wallet (@keplrwallet) September 16, 2021
Likewise, the IBC protocol processed nearly 1 million transactions in a month, despite still being under development. This indicates strong adoption, as well as future growth for ATOM.
The Inter-Blockchain Communication protocol, #IBC, is live in production for 5 months, registering in the last 30 days a total number of 950K transactions, according to stats provided by @MapOfZones.

Watch how the Internet of Blockchains is expanding https://t.co/wXoiU57jMB pic.twitter.com/26SzZwpAqI

— Cosmos – Internet of Blockchains (@cosmos) September 23, 2021
4. Ethereum (ETH)
ETH has actually been flat in the past 24 hours. Nonetheless, it has risen by 13.5% since hitting a seven-day low of $2,742 on Wednesday. At $3,111, it has fallen by 13% in a week though, and by 9% in 14 days.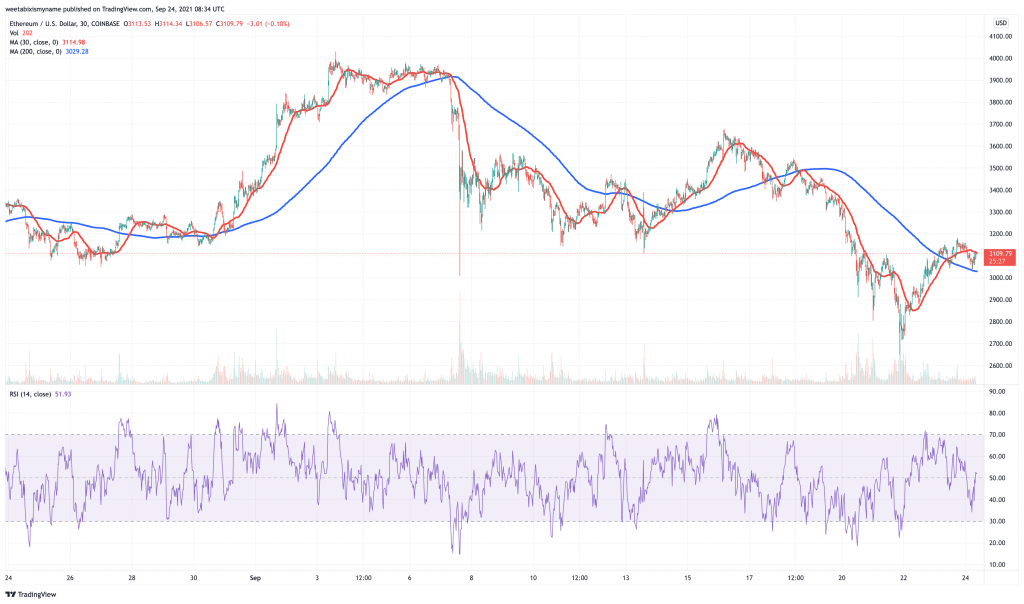 Despite this, ETH remains one of the most bull-friendly coins in the top-2o. Following the successful London hard fork of August 5, Ethereum burns a portion of transaction fees. According to con-chain data, it has in fact burned morn than 300,000 ETH to date. This equates to nearly $1 billion in today's ethereum prices.
9.17k $ETH were burned yesterday

Since the deployment of EIP-1559, a total of 342.9k ETH has been burned.

Check out the new #Ethereum supply metricshttps://t.co/Kk7UslZUPc pic.twitter.com/ySoIfpb8bu

— IntoTheBlock (@intotheblock) September 22, 2021
As a result, ETH's daily issuance has now fallen below bitcoin's. The popularity of DeFi and NFT has accelerated this trend, with a higher number of transactions resulting in a higher burn count.
Update: First full day of $ETH being deflationary

More ETH was burned in the past 24 hours than issued pic.twitter.com/mhY7NA69kd

— Lucas Outumuro (@LucasOutumuro) September 4, 2021
5. Cardano (ADA)
ADA is flat over the past 24 hours, at $2.25. This is a drop of 7% over the past week, and of 17.8% over the past 30 days. On the other hand, ADA is up by 81.4% in the last 90 days.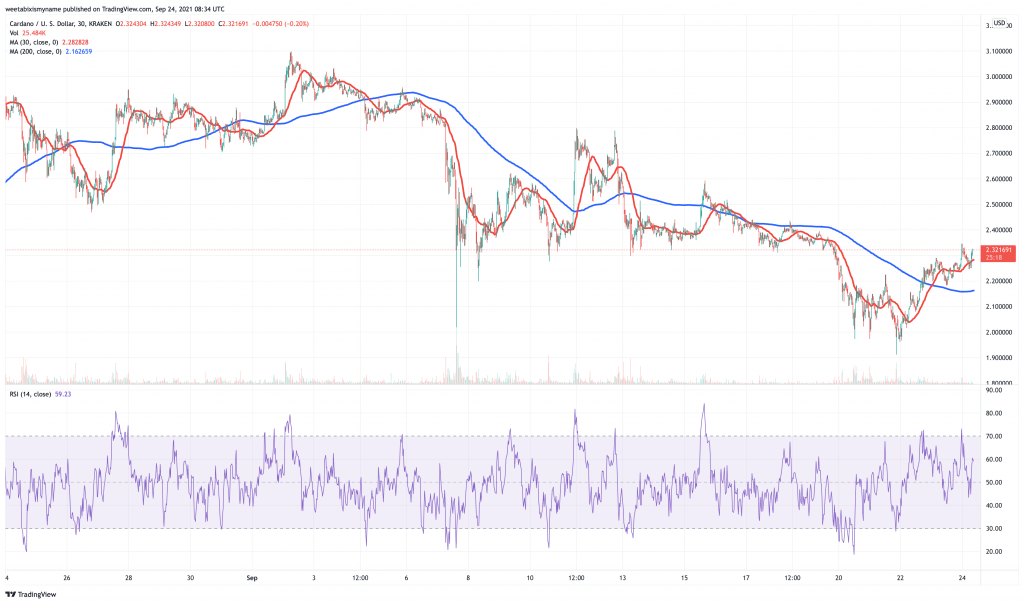 ADA has begun climbing over its 200-day average again, while its RSI is nearing the 60 mark. This suggests rising momentum, something supported by the fact that ADA is still waiting for a significant post-Alonzo rally. That is, since rolling out smart contracts on September 12, ADA hasn't witnessed a significantly big bump, which is what you'd expect from growing usage and adoption.
Data suggests that Cardano will enjoy such usage in the coming weeks and months. A recent update found that 100 projects had joined the ecosystem in the three months leading to August 31. What this means is that, as these projects begin utilising smart contracts more and more, more and more ADA will be required. In turn, this will result in a higher price.
#Ecosystem

Aug 2021 VS May 2021

In just 3 months, Cardano has integrated 100 more projects spanning from DeFi to NFT.

Next target for $ADA should be $10

Retweet if u believe Cardano ecosystem will bomb like Big Bang explosion! #Cardano #ADA $ADA pic.twitter.com/zMLPF1LfVS

— Cardians (@Cardians_) August 31, 2021
So while ADA may not be rallying right now, it remains one of the most well-positioned coins to rally in the near future. That's why we've added it to the list of the 5 best cryptocurrency to buy for the weekend rally.
67% of retail investor accounts lose money when trading CFDs with this provider
Read more:
How to buy cryptocurrencies
Buying Cardano
How to buy Ethereum
How to buy Bitcoin