5 Best Cryptocurrency to Buy on Low Prices November 2021 Week 2
The cryptocurrency market has surged to a new high. At just over $3 billion, its total cap has risen by around 11% in a week. Bitcoin (BTC) and ethereum (ETH) are leading this rally, with both coins reach new all-time highs this week. However, for anyone put off by their already-high values, we've put together a list of the 5 best cryptocurrency to buy on low prices. This includes coins with good short-term potential, as well as those that could increase significantly over the next few months.
5 Best Cryptocurrency to Buy on Low Prices
1. Cardano (ADA)
ADA has come to life after several weeks of stasis. At $2.27, it's up by 12% in the past 24 hours, and by 16% in the last week. It's also up by 5.5% in the past fortnight, while being flat compared to one month ago.
ADA's 30-day moving average (red) is beginning to surge above its 200-day average. This indicates that it has begun a breakout to a new price level. At the same time, its relative strength index (purple) stands at 80, revealing strong momentum.
While ADA has languished a little compared to over major coins in the past few weeks, a rally has been on the cards for some time. It successfully rolled out smart contracts in September, following the Alonzo hard fork. And on November 5, it introduced the beta version of the Plutus Application Backend (PAB). This is a suite of tools that will enable developers to create and test dapps, which can then be launched on Cardano.
This marks a significant milestone in the #DeFi journey on Cardano, simplifying on-chain #smartcontracts integration and smoothing the route to #dApp deployment. $ADA #Cardano 2/4

— Input Output (@InputOutputHK) November 5, 2021
This suggests that the long-awaited moment when Cardano will start deploying actual applications is drawing nearer. Once it reaches this important moment, there's a very good chance that ADA will begin rising steadily. This is why it's one of our 5 best cryptocurrency to buy on low prices.
2. Polkadot (DOT)
At $53.12, DOT is basically unchanged after 24 hours. It does, however, remain up by 6% in the past week, and by 46% in the past month.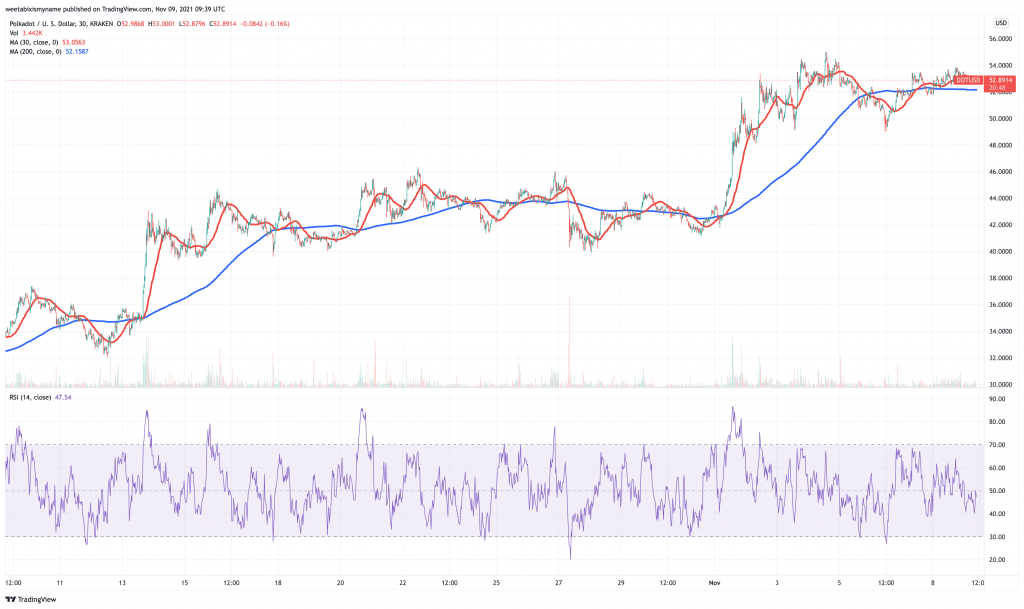 Now is a very good time to buy DOT. Its technicals are pretty mediocre, with its 30-day average only just above its 200-day. Meanwhile, its RSI is at a middling 50, indicating no great momentum. That said, this reveals a very opportune point of entry, since DOT isn't overbought or overpriced.
And soon, we can expect DOT to be priced comfortably above $53. That's because Polakdot is two days away from opening the first of its long-awaited parachain auction. These will determine which projects can join the Polkadot network. They'll run at a rate of one per week for the next few months, and will see a significant amount of DOT taken out of circulation. That's because projects need to bid DOT in order to win their auctions.
At the same time, once projects starting building dapps on Polkadot, even more DOT will be needed. This is why we can expect DOT to rise steadily higher over the next few months. And why its current price is attractively low.
3. Ripple (XRP)
Continuing with this theme of coins that are seriously underpriced compared to their long-term potential, we have XRP. At $1.26, it's flat in the past 24 hours, but up by 15% in the past week. It's also up by 8.5% in the past month.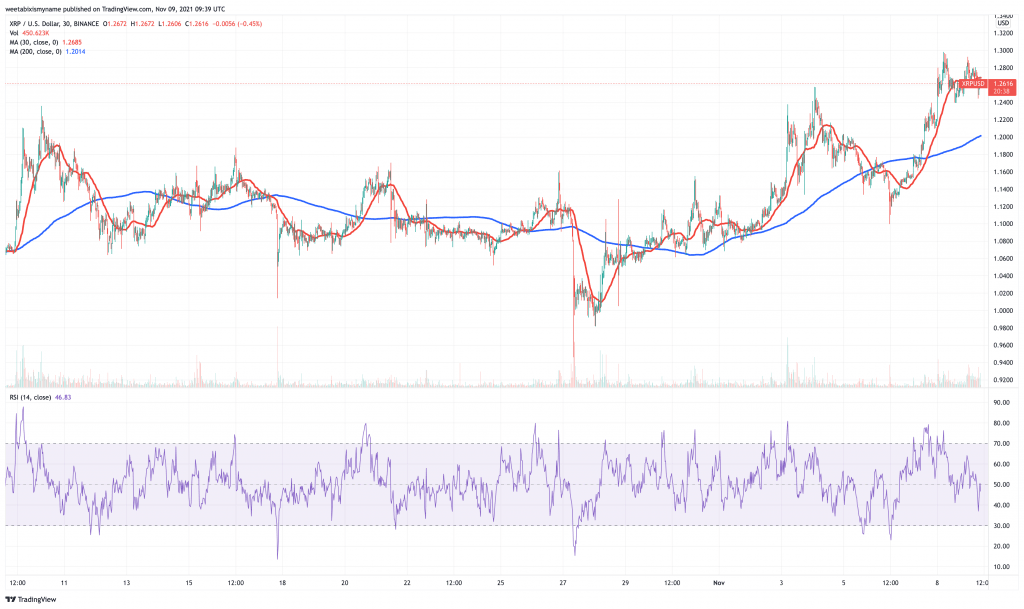 XRP's 30-day average is rising well ahead of its 200-day average. Yet its RSI, at 50, indicates that it's far from being overbought. Again, this suggests that it's still a good time to buy the cryptocurrency.
Looking at the bigger picture, XRP's prospects all hinge on Ripple's ongoing battle with the SEC. At the moment, its chances look pretty good, with a recent a ruling making things more difficult for the SEC.
"any" (typo). I'm putting my girl to sleep – a little distracted by cuteness. 🙂

I think overall you feel pretty good if you are Ripple after reading these Orders. And if you are an SEC lawyer, you are preparing to work some weekends…

— Jeremy Hogan (@attorneyjeremy1) October 22, 2021
At the same time, Ripple continues to grow in terms of its ecosystem, even with its legal battle. At the end of last month, it announced a partnership with international blockchain-based financial services company Pyypl. Together, they air will bring instant, low-cost remittances to the Middle East region, beginning with the UAE.
This goes to show just how much potential Ripple and XRP have if the battle against the SEC is eventually won. It also shows why XRP is one of our 5 best cryptocurrency to buy on low prices.
4. VeChain (VET)
VET is up by over 1% in the past hour and by over 12% in the past day, at $0.186250. This represents a 36% rise in the last week and a 57% jump in the past month.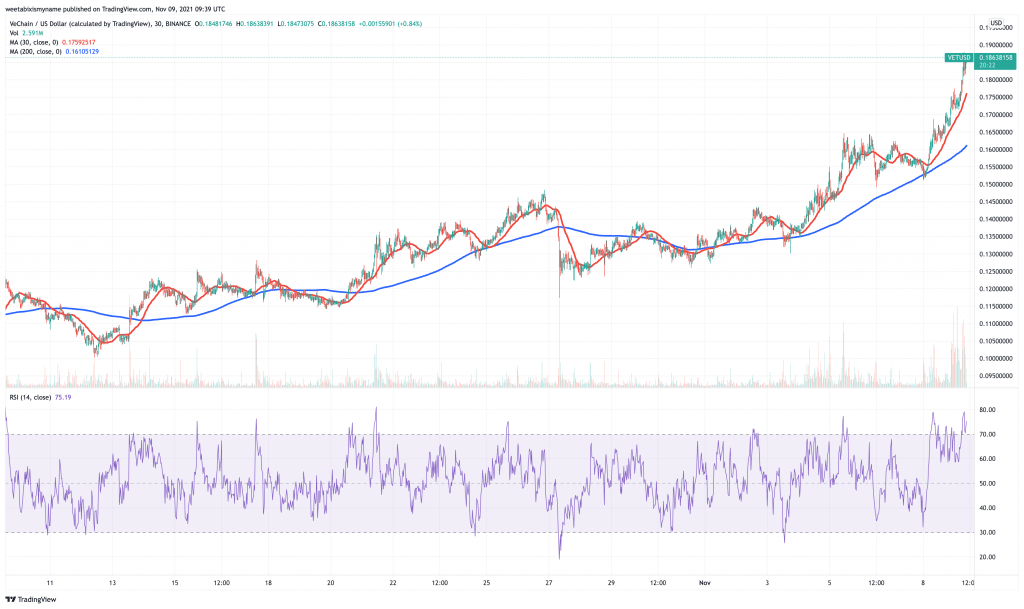 VET's 30-day continues to climb to new heights, suggesting that its rally isn't over yet. Indeed, it recently began the process of launching its chain extension, SURFACE (PoA 2.0). This will increase the security and speed of its network considerably. In turn, it will attract new projects, apps and users for VeChain's enterprise-focused blockchain.
We are proud to say POA2.0 is the first protocol of its kind in the world!

It combines the two main types of blockchain consensus mechanism (Byzantine Fault Tolerance & Nakamoto) to eliminate their weaknesses but benefit from their strengths!

What this means in practice is..👇

— VeChain Foundation (@vechainofficial) October 29, 2021
5. OMG Network (OMG)
OMG is up by 2.6% in the past 24 hours, at $16.44. It's also up by 11.5% in the past week and by 16% in the past month.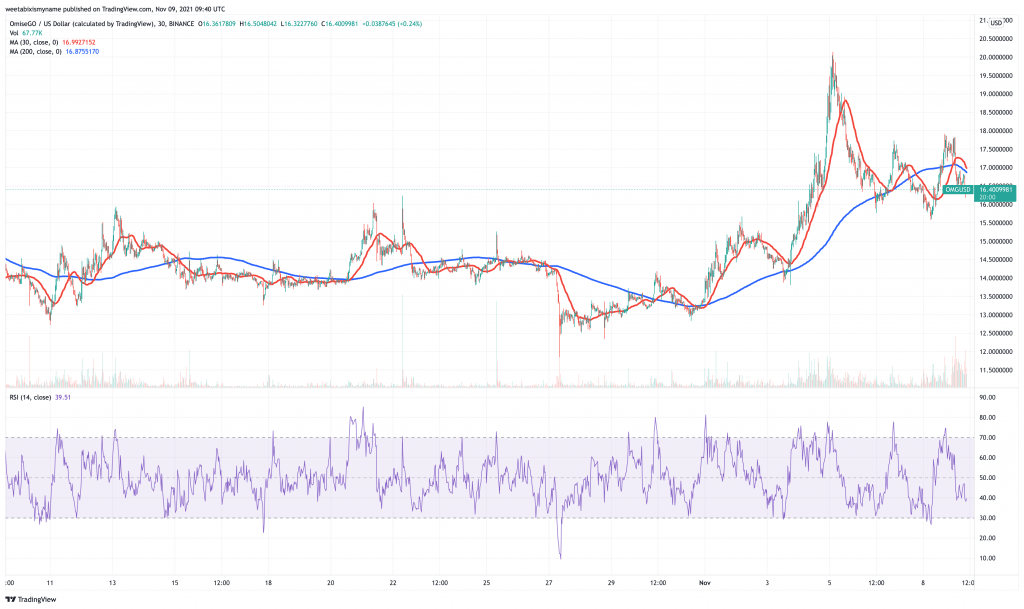 Admittedly, OMG's technicals don't look great at the moment. However, there's one important event on the near horizon for the OMG Network which indicates it could jump in the next few days. Namely, the OMG Network is in the process of launching the Boba Network, an optimistic rollup-based scaling solution for Ethereum. It's holding an airdrop for the Boba Network's BOBA token, which will be dropped on a 1:1 basis to all OMG holders.
In other words, people have been buying up OMG in order to get their hands on BOBA. The snapshot determining eligibility will take place on November 12 at 00:00 AM (UTC), meaning anyone who has OMG at this time will receive BOBA on November 19. However, you have to either hold OMG on the Boba Network, or hold it with a participating exchange.
Either way, it's possible we may soon one last price spike for OMG in the hours leading up to November 12.
Capital at risk
Read more:
How to buy cryptocurrencies
Investing in Polkadot
How to buy XRP
How to buy Cardano