5 Best Cryptocurrency To Buy On Low Prices October 2021 Week 2
The cryptocurrency market has had a strong 24 hours. Starting yesterday at around $2.1 trillion, its total value has lifted to $2.2 trillion, a rise of just over 4%. While bitcoin (BTC) has been leading the charge, most of the biggest gainers are lower cost altcoins. Consequently, we've compiled a list of the 5 best cryptocurrency to buy on low prices. This covers coins priced under $150, and much lower.
5 Best Cryptocurrency To Buy On Low Prices
1. Axie Infinity (AXS)
AXS may not be a low-priced (i.e. under $150 or $200) coin for long. While it has dropped by 6% in the past 24 hours, it has catapulted by 122% in the last week. It's also 155% up on the last 14 days, having set an all-time high of $155 yesterday. As of writing, it's currently sitting at $141.09.
AXS' 30-day moving average has jumped well ahead of its 200-day average. This indicates that it has broken through to a new, longer term level. At the same time, while traders had been overbuying the coin in the last few days, its relative strength index has calmed to a more moderate level of 52. This suggests that, having sunk over the past day, it could easily resume its climb.
Indeed, Axie Infinity's fundamentals point to continued strength. The decentralised, NFT-based game has continued to post impressive growth, recently passing $2 billion in total transaction volume to date, as well as $10 million daily volume. Not bad for a video game.
#SalamatAxie
$2B Tx Volume
$10M + Dollars 24H Vol.
Axie Esports
Ronin DEX
AXS Staking
Soulbound Axies (Free-to-Play)
Land Game Play
Software Dev Kit (SDK)
Proven Team
The Most Amazing Community pic.twitter.com/76OG6g3EZT

— Kookoo (@kookoocryptotv) September 29, 2021
More impressively, Axie Infinity now boasts 2 million daily active users. Given that it boasted only 61,125 as recently as the end of May, this makes for just over 3,000% growth in under five months. It also represents a 7.8% rise compared to last week.
So yes, it may not be cheap for long, but AXS remains one of our 5 best cryptocurrency to buy on low prices right.
2. Shiba Inu (SHIB)
SHIB is the market's strongest performer today among the top 100 coins by market cap. It has risen by 54% in the last 24 hours, to $0.0000130. This represents an 88% rise in the last 24 hours, as well as a 75% rise in the last month. Amazingly, the coin has also exploded by 10,375,791% in the past year, according to CoinGecko.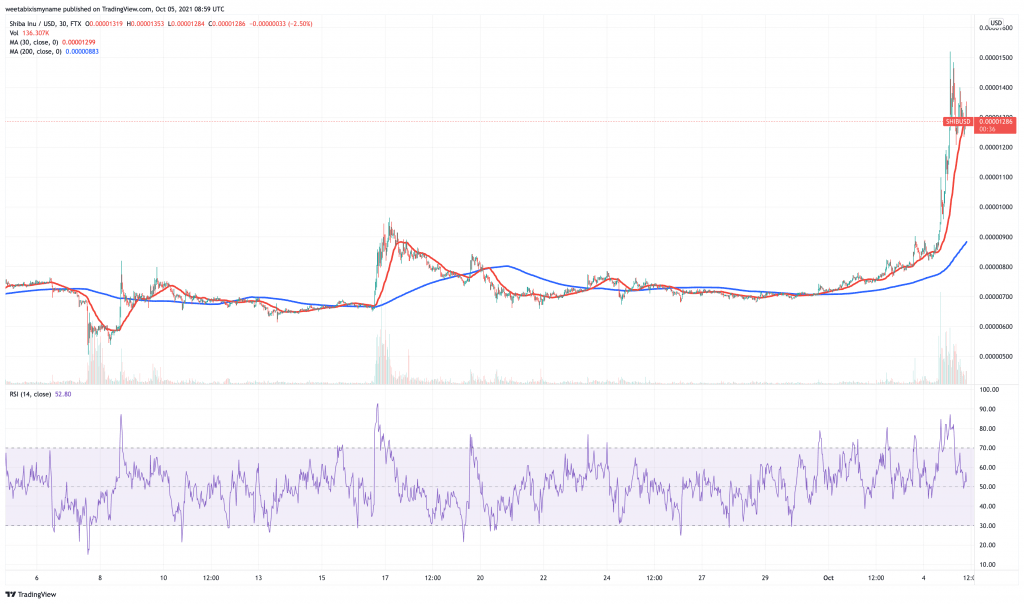 SHIB's 30-day average has broken decisively away from its 200-day average, marking perhaps a new sustainable level. And despite its RSI flying into overbought territory yesterday, it has now backtracked to more viable territory.
Elon Musk is, yet again, the reason why SHIB has jumped so noticeably in the past 24 hours or so. Yesterday, the Tesla/SpaceX honcho tweeted a picture of his puppy "Floki," which the market has taken as a massive buy signal for the coin.
Floki Frunkpuppy pic.twitter.com/xAr8T0Jfdf

— Elon Musk (@elonmusk) October 4, 2021
SHIB's fortunes have also seen a more modest upturn since Coinbase listed the coin on September 16, when it rose by 40% in a single day. However, even with yesterday's leap, SHIB remains 65% below its all-time high of $0.00003791, which it set back in May. This suggests that it still has room for more big rises in the near future.
3. Dogecoin (DOGE)
DOGE is today's best-performing top-20 cryptocurrency, having leapt by 11% in the 24 hours. At $0.238272, it's also up by 19% in the last week, while down by 20% in the past month.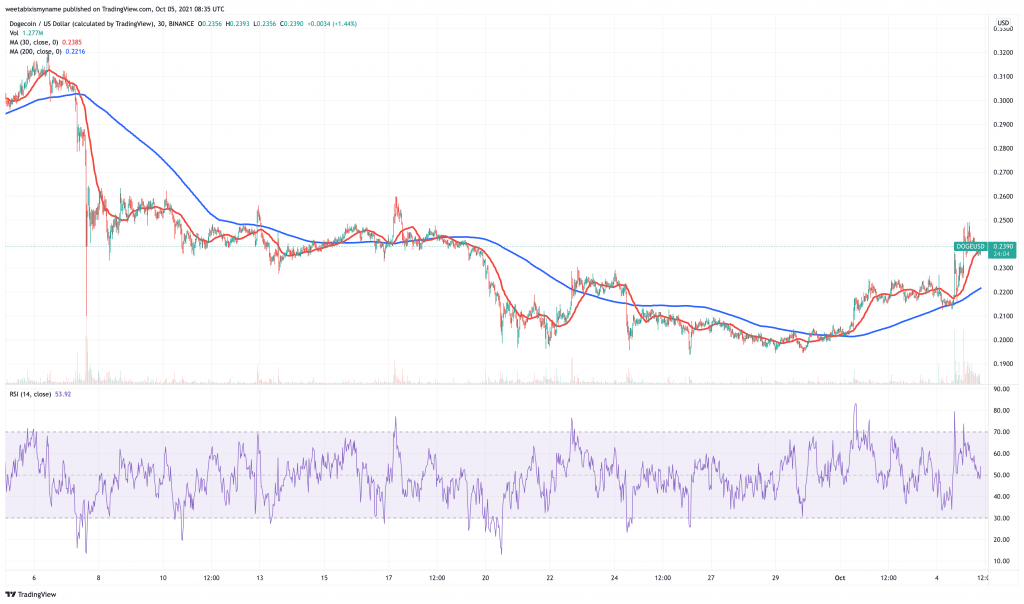 DOGE is another cryptocurrency that has its 30-day average moving ahead of its 200-day. And despite its strong surge in the last day, its RSI remains under 60, suggesting that it isn't (yet) overbought.
While nothing has changed with Dogecoin on a fundamental level, it too has benefited from the Elon Musk tweet which appears to refer to SHIB. And while it hasn't risen as strongly as SHIB, it arguably has a stronger community supporting it, giving it better long-term prospects.
For instance, its subReddit now has 2.2 million subscribers, while Shiba Inu's has only 233,000. This arguably provides it with stronger support against a potential collapse in price, while also keeping it open to big increases in the future.
4. Internet Computer (ICP)
ICP is another big riser. At $55.31, it has jumped by 14% in 24 hours. It has also risen by 30% in seven days, although it's down by 28% in the last month.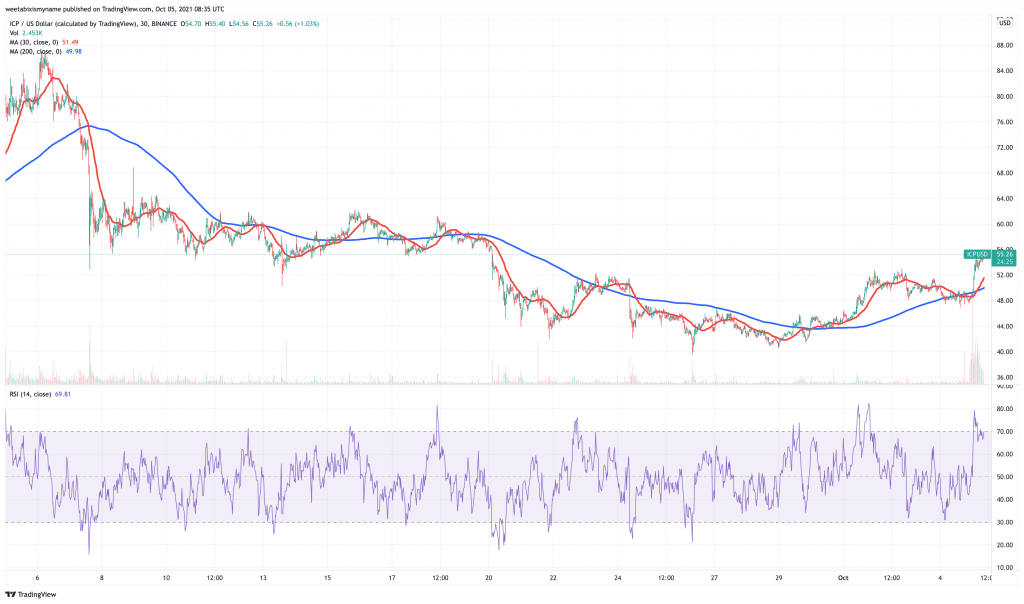 It's possible that ICP has Facebook to thank for today's movements. By going offline for around six hours (along with Instagram, Messenger and WhatsApp), Facebook has arguably highlighted the need for decentralised internet infrastructure such as that promised by Internet Computer.
Last week's Slack outage and today's Facebook outage enforce that building humanity's mission-critical software on the decentralized #InternetComputer has never been more urgent.

Apply for a grant: https://t.co/ukqv8Vs8w4
Start building: https://t.co/rfPytIMEUS

— DFINITY Foundation (@dfinity) October 4, 2021
Going back a few more days, Internet Computer's community has voted through a proposal that will see it integrate with Bitcoin. What this means is that IC will deploy smart contracts that can hold, send and receive BTC, effectively providing Bitcoin with a second layer. This provides yet another reason why ICP is one of our 5 best cryptocurrency to buy on low prices.
1/ The results are in for Proposal 20586.

Voting for the direct integration with #BTC motion proposal has ended, with 96.55% approval logged at a voting power of 301,806,620.https://t.co/t5zszkrll4

— DFINITY Foundation (@dfinity) September 17, 2021
5. Cardano (ADA)
ADA has risen by 2% in the past 24 hours, to $2.22. This is a 4% rise in the last week and a 7% rise in the past fortnight.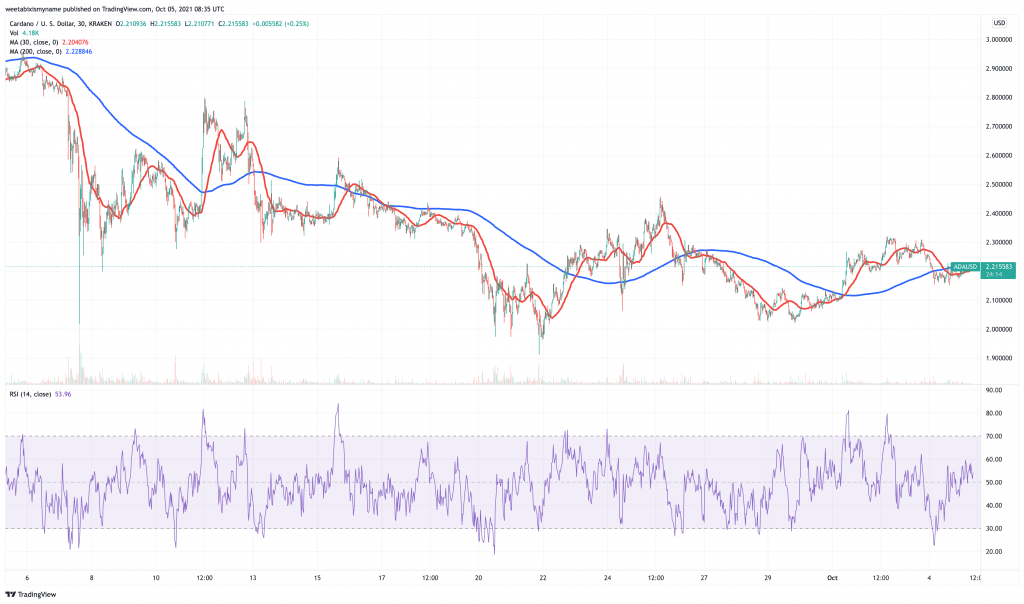 ADA's 30-day moving average is on the brink of overtaking its 200-day average. At the same time, its RSI remains close to 50, suggesting that it's far from being overbought.
While ADA is up modestly in the past few days, it hasn't shown anything like the bullish price movement some expected prior to its launch of smart contracts. However, now that Cardano has been supporting them for several weeks, we can expect a steady trickle of new apps launching on the platform. By extension, this will result in increasing upwards pressure on the price of ADA.
For instance, the Cardano-based COTI payment provider has announced the launched of new stable coin called Djed. This uses smart contracts to ensure price stability, while it will also help provide the Cardano ecosystem with greater liquidity.
ICYMI
'The #Djed stablecoin could be a game-changer in the crypto space, appealing to an entirely new audience at a time when the industry is already experiencing astronomical growth' @IOHK_Charles on Djed & collaboration with @COTInetwork https://t.co/ifm9S6WAz6

— Input Output (@InputOutputHK) October 3, 2021
Cardano has also recently announced a new partnership with US-based telecoms group Dish/Boost Mobile. Together, they will develop and trial blockchain-based services for the group's customers.
ICYMI: We've formed a strategic collaboration with @dish and @boostmobile to explore customer solutions using the #Cardano #blockchain across the Nasdaq-listed US satellite television and cellular network group. https://t.co/4upCxKnh31

— Input Output (@InputOutputHK) September 30, 2021
67% of retail investor accounts lose money when trading CFDs with this provider.
Related news:
How to buy cryptocurrencies
8 hottest NFT tokens
How to sell Shiba Inu
Buying Cardano
How to sell Dogecoin