5 Best New Cryptocurrency To Buy Now October 2021 Week 1
The cryptocurrency market has stabilised a little after yesterday's decline. It now stands at a total value of $1.96 trillion, having sunk as low as $1.8 trillion at one point within the past 24 hours. For the most part, it's the biggest coins — bitcoin (BTC), Binance coin (BNB) — that are leading this charge. However, a number of newer, relatively smaller altcoins are also contributing to the current push. We cover them in this article on the 5 best new cryptocurrency to buy now. It mainly covers platforms that launched their mainnets and/or tokens within the last year or so.
5 Best New Cryptocurrency To Buy Now
1. Axie Infinity (AXS)
After several weeks of relative underperformance, AXS has once again returned to outperforming the market. Its price currently sits at $71.79, representing a 6% jump over the past 24 hours. This price is also 42% higher than AXS' price one week ago, and 7.4% up on its level 14 days ago.
AXS has just produced a 'golden cross,' meaning that its 30-day average has climbed above its 200-day average. This indicates a positive change in momentum, an impression reinforced by the coin's relative strength index (RSI). Its RSI is now around 65, indicating considerable bullishness without (yet) veering into overbought territory.
AXS has returned to growth mostly on the back of the growth of its native platform, Axie Infinity. The decentralised, NFT-based game has continued to witness impressive growth, providing the public with a genuine viable product when more than half the rest of the market is still largely in a phase of development. For example, it recently passed $2 billion in total transaction volume to date, as well as $10 million daily volume. Not bad for a video game.
#SalamatAxie
$2B Tx Volume
$10M + Dollars 24H Vol.
Axie Esports
Ronin DEX
AXS Staking
Soulbound Axies (Free-to-Play)
Land Game Play
Software Dev Kit (SDK)
Proven Team
The Most Amazing Community pic.twitter.com/76OG6g3EZT

— Kookoo Crypt◎ TV (@kookoocryptotv) September 29, 2021
Just as impressively, Axie Infinity now claims just over 1.8 million daily active users. Given that it boasted only 61,125 as recently as the end of May, this makes for some eyebrow-raising growth.
So yes, as the coin nears its first birthday in early November, it remains one of the 5 best new cryptocurrency to buy.
2. Elrond (EGLD)
EGLD is basically flat over the past 24 hours, at $213.78. Nonetheless, this is a 7.8% rise in the past week, as well as a 50% rise in the past month. In other words, it's one of the best-performing top-50 coins in the past 30 days.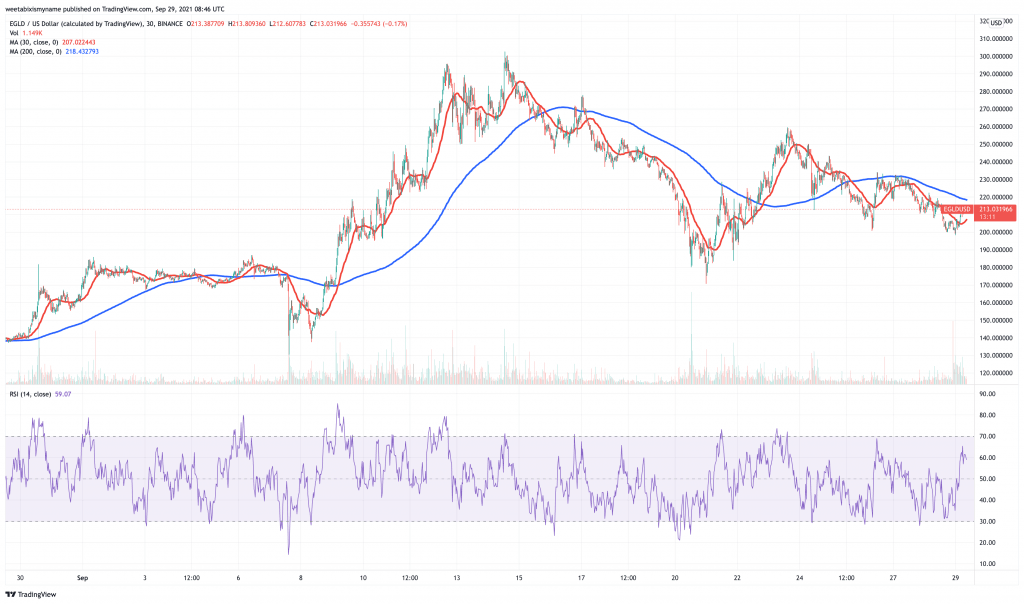 While EGLD hasn't quite broken through its 200-day average like AXS, the chart above shows that it may be on the cusp of doing so. The same goes with its RSI, which shows an uptick in positive momentum.
Available since last September, EGLD is the native token of Elrond, a platform aiming to offer an internet-scale blockchain. At a maximum capacity of around 15,000 TPS, it aims to enable internet applications and services, as well as more crypto-centric apps related to DeFi and NFTs. Within the Elron platform, EGLD is used for network fees, staking and rewarding validators. The maximum supply of EGLD can never pass 31,415,926, something which could make it deflationary, depending on demand.
Last week, Elrond boasted of processing 8.2 million transactions to date (since launching its mainnet in July 2020) and accumulating  778,000 accounts. This week, it's up to 8.4 million transactions and 793,000 accounts.
3/
Milestones achieved:
793k accounts • 8,4M transactions • 11.9M staked

Maiar stake statistics:
1.72 Million $EGLD staked
60,000+ people

— Elrond (@ElrondNetwork) September 27, 2021
3. Solana (SOL)
SOL has climbed by 3% in the past 24 hours, to $138.54. This means it has also risen by 13% in the past week, as well as by 47% in the past month.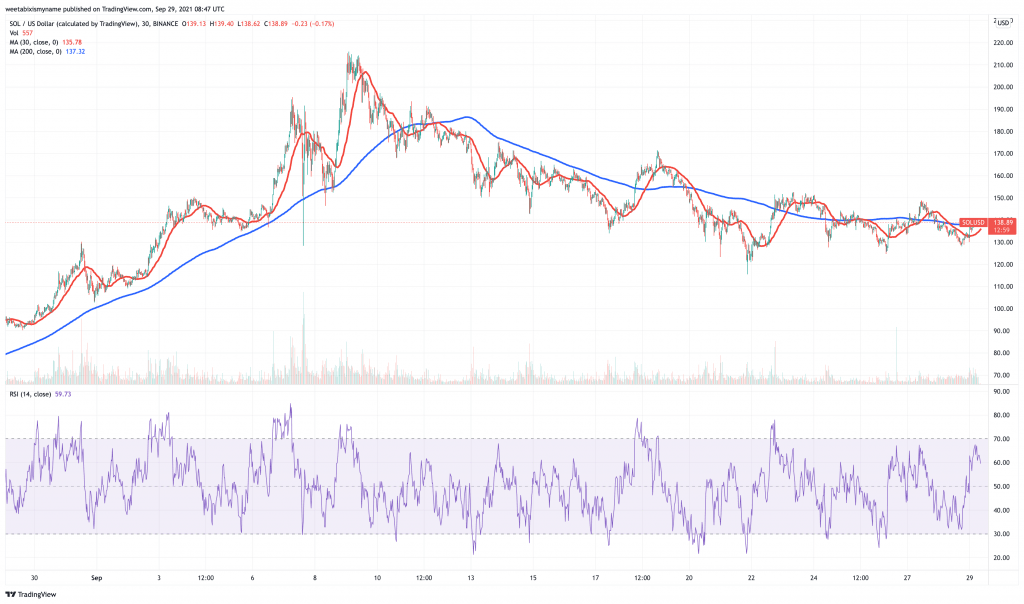 SOL is another coin with good momentum behind it. Its 30-day moving average also appears to be on the brink of passing its 200-day average, something which could help it break out of its current $140 resistance level.
Solana is yet another platform that aims to become the "world's first web-scale blockchain." Its total value locked in sits at $9 billion, having risen from only $1.3 billion at the start of August. Solana's NFT and DeFi ecosystems are the main drivers of this growth, having witnessed similarly impressive expansion in recent weeks.
For instance, the Solanart NFT platform launched only two months ago, and succeeded in passing one million SOL in volume by the end of August.
Almost two months ago, we launched https://t.co/tPritDMeeN, first #NFT marketplace on #Solana
Today, we broke 1,000,000 SOL in volume, and as $SOL breaks $100, that's over $100,000,000 traded on our platform
Thank you for making us number one
New features coming soon pic.twitter.com/wjA0EFtTqf

— Solanart – NFT Marketplace (@SolanartNFT) August 30, 2021
As an increasingly popular platform, Solanart has also witnessed some highly successful launches. This includes the recent launch of the Galactic Gecko Space Garage range of NFTs, which saw an explosion in sales volume within days of launching.
100K volume on @SolanartNFT within 5 days of launch
Less than 10% geckos up for sale
3300 unique holders & over 2600 wallets holding 1-5 geckos
Floor up 13x from mint

GGSG valiantly pushes forward to explore the depths of the Geckoverse. This is only the beginning! pic.twitter.com/2aie5djWh9

— Galactic Gecko Space Garage (@galacticgeckosg) September 28, 2021
Likewise, the DeFi- and NFT-focused wallet app Phantom has now reached 400,000 weekly active users. This highlights the kind of growth the Solana ecosystem is experiencing right now.
It's only been 6 months since we launched Phantom and we just crossed 400,000 weekly active users with no sign of slowing down! You all have been incredible and we can't wait to show you what's next! #Solana pic.twitter.com/FUqcvfAMBx

— Phantom (@phantom) September 17, 2021
This is why SOL is one of our 5 best new cryptocurrency to buy now.
4. Chainlink (LINK)
LINK has crept up by 1% in the past 24 hours, to $23.25. This represents a 9.5% rise in the last week, although LINK remains down by 10% in the past month.
LINK's RSI has risen to about 60, indicating strong momentum without being overbought. Its 30-day average is also catching up with its 200-day average, again suggesting a shift in movement. Given that it is down compared to a month ago, it could be primed for a considerable jump in price.
More generally, Chainlink continues to grow and expand as a decentralised oracle network (which feeds data to other chains). It recently announced a partnership with Cardano, which will now use Chainlink data as it grows out its DeFi and damp ecosystem.
NEW BLOG: Announced just moments ago at #CardanoSummit2021, our collab with Chainlink Labs gives #DeFi developers #BuildingOnCardano secure access to a wealth of real-world data through Chainlink's decentralized oracle networks @Chainlink @Smart_Contract https://t.co/kOWFpjhtpL

— Input Output (@InputOutputHK) September 25, 2021
Chainlink has also recently announced integrations with the likes of Fantom and decentralised lending platform AlchemixFi. If nothing else, this indicates just how much its platform and functionality is in demand throughout the wider cryptocurrency ecosystem.
.@FantomFDN has integrated #Chainlink Price Feeds into #Artion, its native #NFT marketplace, to provide fair-market exchange rates for crypto-to-crypto transactions, enabling users to purchase digital collectibles securely using various cryptocurrencies. https://t.co/SV2lO5oXD8

— Chainlink – Official Channel (@chainlink) September 24, 2021
5. Polygon (MATIC)
MATIC is pretty much flat over the past 24 hours, at $1.09. This price has resulted from a 4% rise in the past week, although the cryptocurrency remains down by 23% in the past month. On the other hand, it's up by over 5,000% in the last year.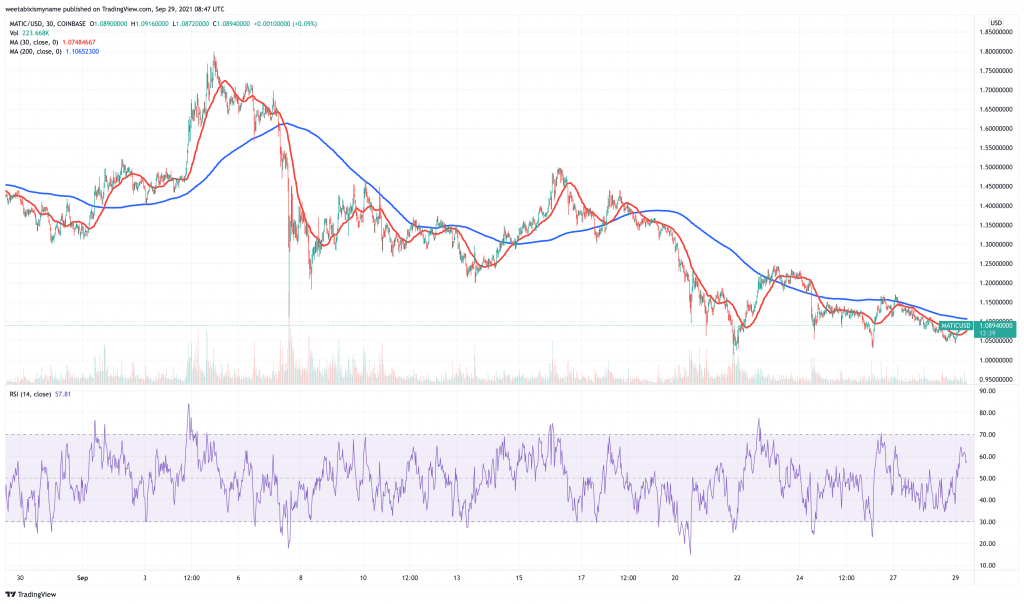 As with LINK, MATIC's disappointing performance over the past month arguably sets it up nicely for a strong recovery in the coming weeks. Looking at its user numbers (which passed those of Ethereum), you'd certainly think that its fortunes can only improve.
Yesterday $MATIC eclipsed $ETH in daily active users for the first time.@0xPolygon: 351k DAU@ethereum: 326k DAU pic.twitter.com/iJQERDzAmR

— Raphael (@RaphaelSignal) September 28, 2021
Polygon has enjoyed other encouraging news recently. On August 31, it announced that Coinbase will integrate it as the exchange's first scaling solution for Ethereum.
"We plan to integrate Polygon as our first scaling solution for Coinbase"

Polygon PoS mainnet support is coming to @coinbase https://t.co/1iXrWCpNKF pic.twitter.com/4TYxqemMbS

— sanket (@sourcex44) August 31, 2021
On September 14, Polygon also announced a partnership with EY, in which it will collaborate with the Big Four accountancy/professional services firm on "building Ethereum scaling and enterprise solutions."
1/9 Another big day for @0xPolygon!

We have started collaboration with EY, a global professional services and technology firm, on building Ethereum scaling and enterprise solutions!

As part of this collaboration, we will work on Polygon Nightfall, a privacy-focused Rollup! pic.twitter.com/HlJ6drA2kS

— Polygon | $MATIC (@0xPolygon) September 14, 2021
It's also worth pointing out that Polygon commands some $4 billion in total value locked in, up from $100m at the start of April. This is why it's one of the 5 best new cryptocurrency to buy at the moment.
67% of retail investor accounts lose money when trading CFDs with this provider.
Related news:
How to buy cryptocurrencies
8 hottest NFT tokens
Buying Ethereum
How to buy Bitcoin