5 Best NFT Crypto Tokens For July 2021 – How To Buy NFT Tokens
As the adoption of non-fungible tokens (NFTs) rises, the sector gets more attractive, driving investors to buy NFT crypto tokens. In this guide, we explore the best NFT crypto tokens to buy in July.
1.DeFi Coin (DEFC)
DeFi Coin is a recent addition to the burgeoning decentralized finance (DeFi) space and if you are on the search for a digital token with growth potential, then this is the one for you.
Primarily, DeFi Coin is not strictly an NFT token. However, DEFC's unique mission in furthering the course of DeFi and NFTs is the sole reason we recommend the asset for those who want to buy NFT crypto tokens.
According to its whitepaper, DeFi Coin enables crypto investors to trade digital currencies in a decentralized manner without any intermediary. This is facilitated by its governance token DEFC which also serves a dual role for settling transaction fees.
DEFC also rewards holders with 5% of all transaction fees. You can also provide liquidity to the promising DeFi platform with the DEFC token making it easy for anyone to swap tokens on the platform. Even though it is just a day since it launched on popular crypto exchange VinDAX yesterday, DEFC has surged by 30 percent from open day trade of $0.25 to $0.28.
VinDAX will open trading for DeFi Coin @DeFiCoin5 DEFC/BTC, DEFC/ETH, DEFC/VD, DEFC/USDT trading pairs on 2021/06/30 08:00 AM UTC.

Full news at: https://t.co/9Bi3e6uZm5 pic.twitter.com/MHwUpUMERV

— VinDAX Exchange (@VinDAXOfficial) June 28, 2021
This makes it a high-growth NFT token in the long term. DeFi Coin is also available via the homepage or by contacting support directly. Simply email support@deficoins.io and the staff will help you through the buying process.
You can find more information on buying DEFC at the DeFiCoins website.
2. Decentraland (MANA)
Boasting just $842 million in market valuation, Decentraland is not one of the top crypto dogs in the market but its unique use case has picked investors' interest. Decentraland is a virtual reality platform built on the Ethereum network. In this virtual world, users get to create, design and monetize their content and applications.
The crypto protocol has become a favorite place where creators purchase virtual plots of land and build on them before selling them off to interested parties.
Aside from real estate, users get to play interactive games, enjoy 3D scenes and many other interactive experiences.
Decentraland uses two tokens – first is MANA which is an ERC-20 token that is used to acquire LAND an ERC-721 token. MANA serves as the governance token g on Decentraland's decentralized autonomous organization (DAO).
MANA is a very important token in Decentraland as users can pay for avatars, wearables, names, and do a lot of things on the blockchain platform.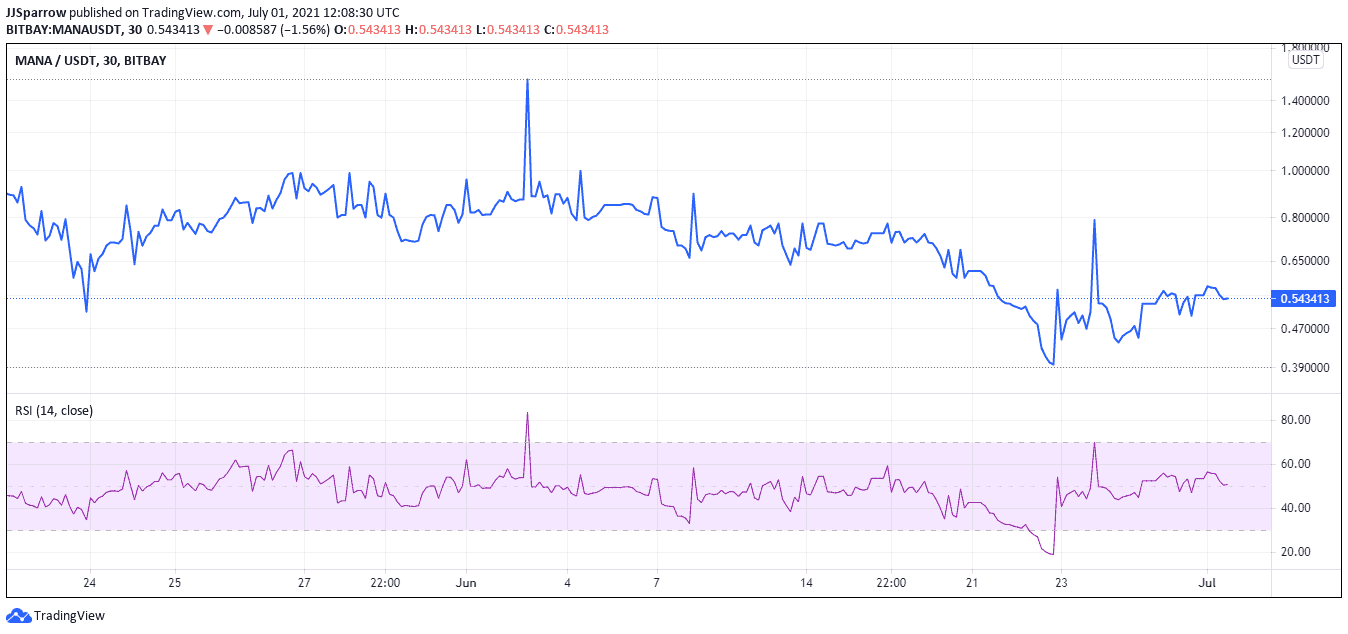 MANA has seen its value more than tripled since the beginning of the year. The token which traded less than a dollar a few years ago surged to $0.12 in the opening days of 2021. It continued its rally and peaked at $1.60 before experiencing a downtrend with the broader crypto market.
It has since struggled to rise out of its May low of $0.76 but has not been able to break above the resistance zone of $0.85 for much of June. However, with its current price peg at $0.534 MANA is up 1% on the 24-hour chart. It surged 35 percent from its June low of $0.36. Decentraland is still set for more rallies as more businesses look towards the virtual frontier to establish their presence. You can buy it on the social trading platform eToro.
3. Tezos (XTZ)
If you plan to buy NFT crypto tokens for cheap, then Tezos should interest you. Tezos is a blockchain protocol that aims to build the blockchain of the future. It plans to do this by creating a blockchain network that can scale with any major blockchain modifications that come up later on.
This way, it will be able to incorporate new innovations without needing to rely on a hard fork that could lead to the division of its community.
Built from the ground up as a blockchain in its own right, Tezos uses the XTZ token for settling transaction fees on the network. Tezos uses a modified proof-of-stake (PoS) consensus algorithm called Liquid PoS which allows miners (bakers) to verify transactions without consuming much energy.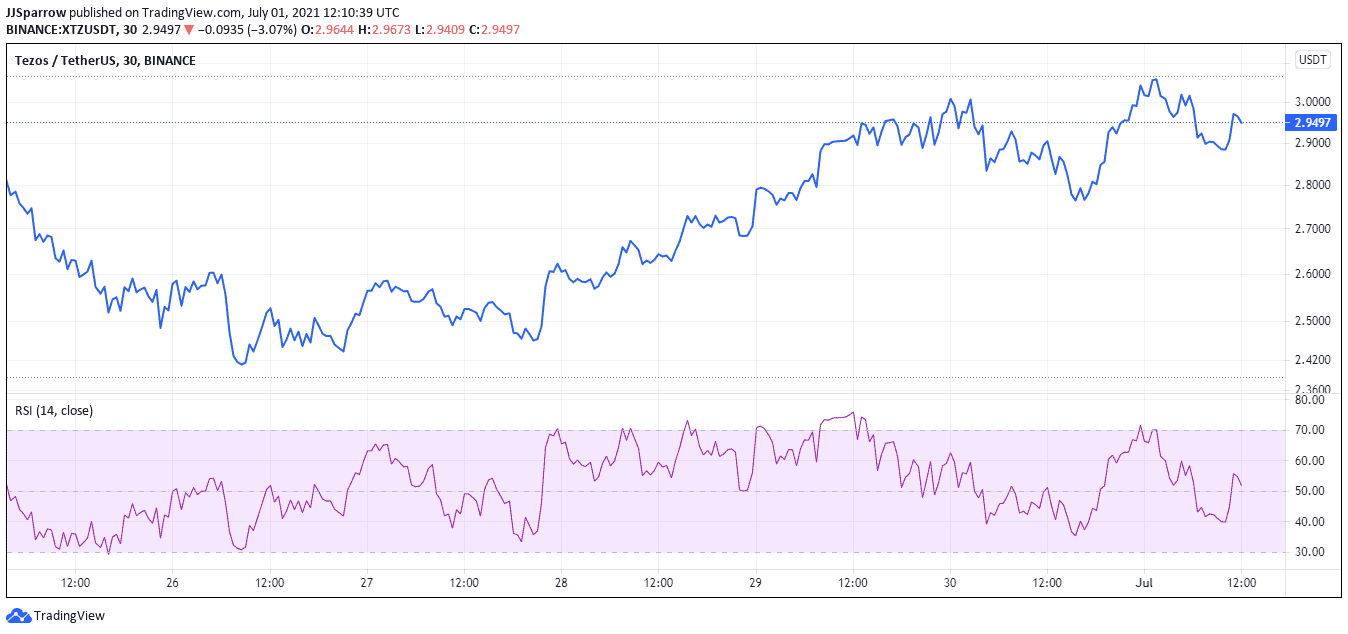 Like Ethereum, the Tezos network supports smart contracts which are designed to be scalable, secure and future-proof. Even though it does not boast of a large market cap, it has a growing number of institutional adopters with the Societe Generale issuing a security token on the Tezos blockchain.
XTZ has seen remarkable growth in the first five months of 2021 rising to $7.56 before the May crypto market crash. It has not been able to recover as the bears forced it to trade at a low of $2.40 on June 29. However, it is rallying above the 20-day MA support at $2.94 and currently trading at $3.01 reflecting a 1.05% increase.
4. Chiliz (CHZ)
Chiliz is popular in the sporting world. This is because it enables sports fans to connect with the teams they support through its Socios Fan app. Built on the Ethereum network,
Chiliz is using blockchain technology to enable users to have a say in what goes on in their teams. Fans get to purchase and trade branded Fan tokens and participate, influence, and vote in club-focused surveys and activities.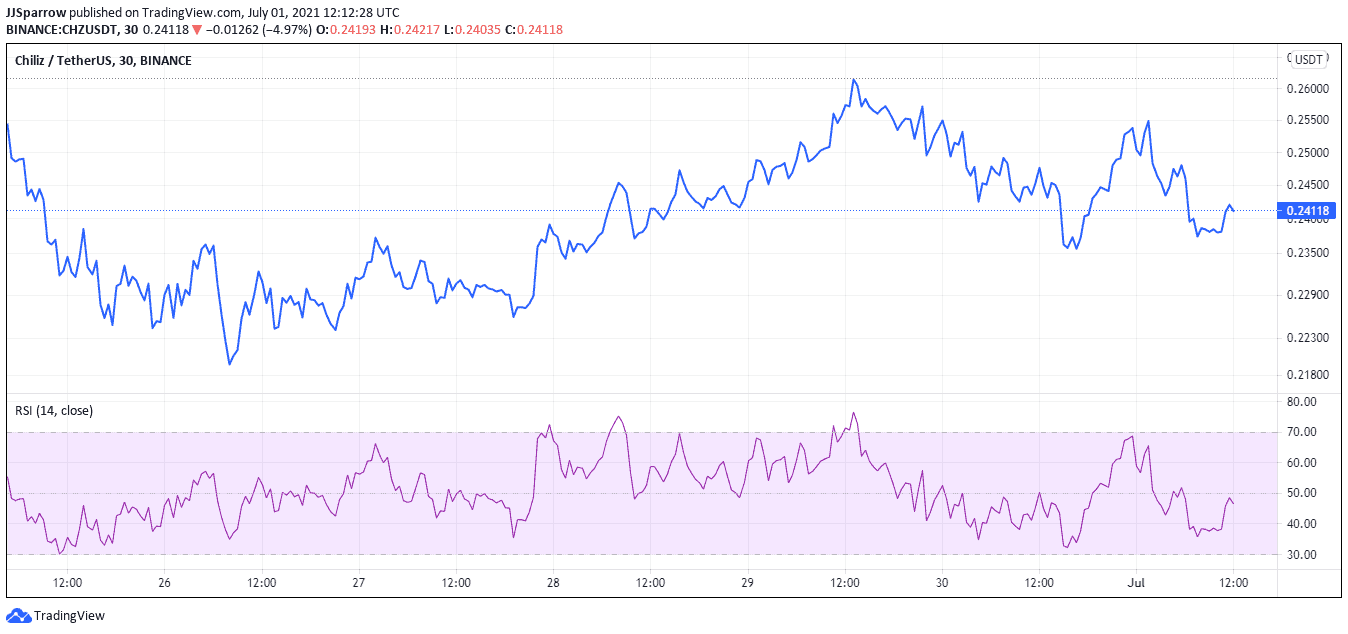 Chiliz uses CHZ as its governance token and many sporting organizations are signing up with the sports-focused blockchain company. At the moment of writing, over 25 football teams and sports businesses have personalized Fan Tokens on the Chiliz network.
Its CHZ token is currently trading for a bargain at $0.24 and if you want to buy NFT crypto tokens this should fit right up your alley. However, this has not been CHZ's best price action as it surged to $0.77 in mid-April but struggled to maintain this price action during the May downtrend.
5. Enjin (ENJ)
Last on our list is the popular social gaming platform Enjin network. Enjin allows game developers to tokenize their in-game items on the network. Built on the Ethereum network, Enjin provides an interconnected blockchain-based gaming product and users can create websites, chat, and host virtual stores for items.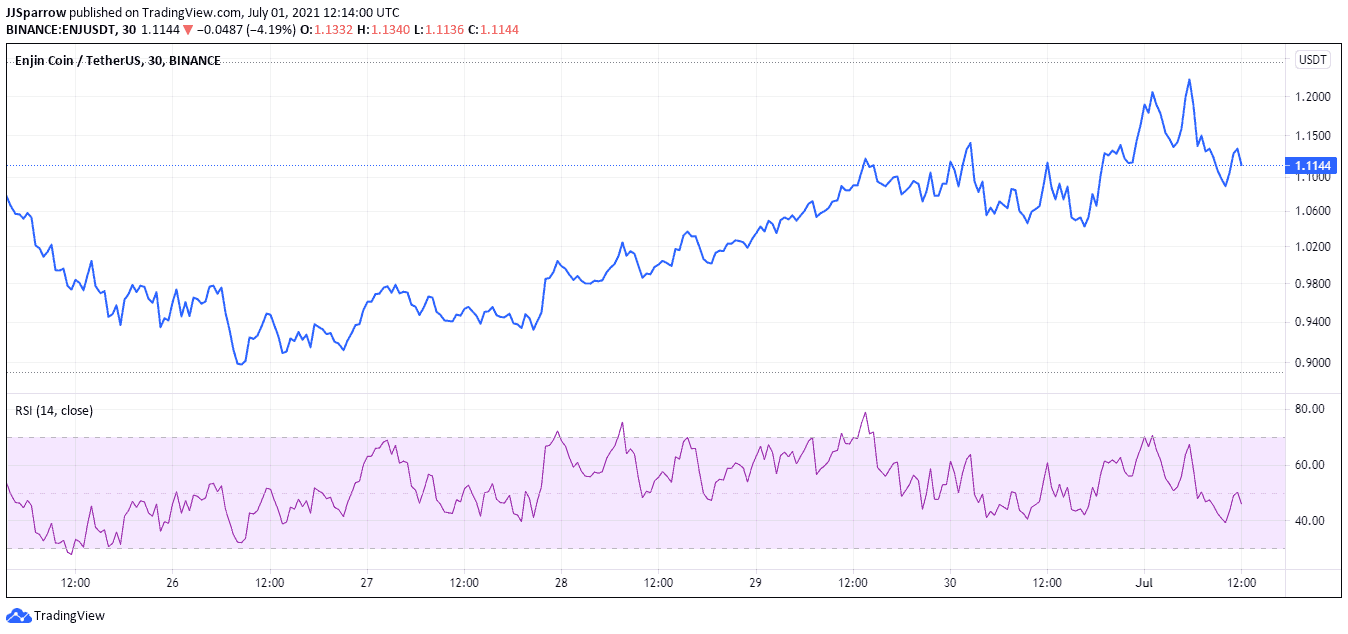 Enjin is also a popular blockchain platform that has over 20 million active users who use it to back the value of NFTs. Its ENJ coin surged to an ATH of $3.4 before the May downtrend which saw it drop to $$0.93. It currently trades at $1.119 increasing 45.7% on the daily chart.
Its relative strength index (RSI) is also solid standing at 45.67. You can buy NFT crypto tokens like MANA, CHZ, XTZ on the eToro platform.