5 Best NFT Games for Play to Earn and Token Crypto Profits
NFT games are on a roll. Gaming has long been identified as a key zone for the likely emergence of crypto killer apps, but up until last year that was more about promise than reality.
However, in crypto things move fast, and now i addition to the likes of trailblazers like
Since news of the game emerged in January this year, Star Atlas has won plaudits for the look and feel of its metaverse, with a vision of bringing movie-quality graphics quality. The game brings to life an immersive multi-player interplanetary adventure world but with a Play to Earn focus. Built using Unreal Engine 5 technology, the game runs on the Solana blockchain.
The Play to Earn mechanism is based, as you might expect, on the time a player spends playing the game, with an option of classes for earning to choose from.
A key USP of the game is the meta-poster collectible which also acts as an entry route into the game. The meta-poster can be traded right now on the game website.  The game itself sees players divided into three factions. Jump in your spaceship and explore and conquer new worlds, collecting NFTs as you go.
The game marketplace also allows trading of in-game resources and services outside of the game.
Your capital is at risk
2. MOBOX (MBOX)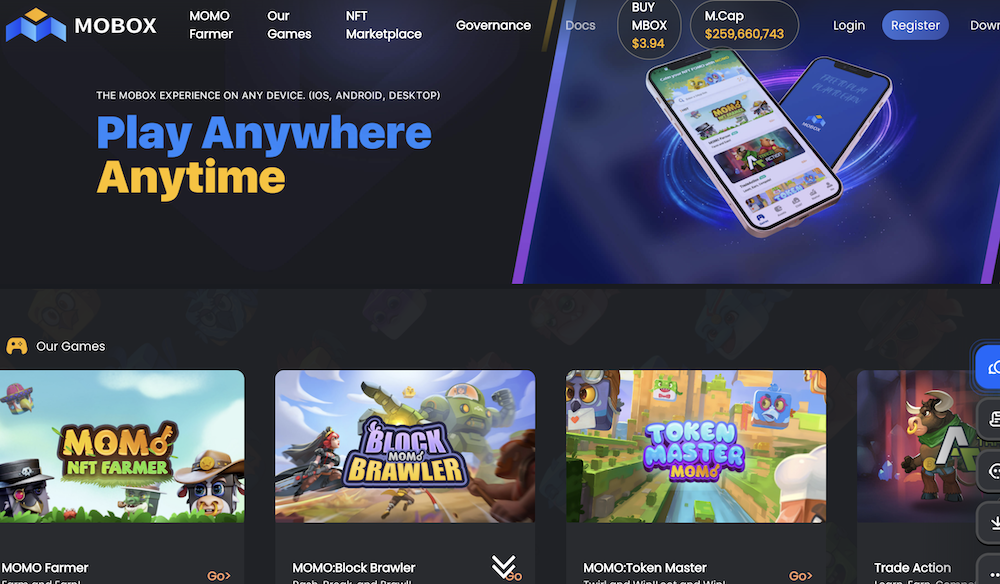 MOBOX is a very good example of the gamification of DeFi that we mentioned in the introduction. This protocol combines the pros of yield farming DeFi with Gaming NFTs to come up with free to play and play to earn ecosystem.
Gaming should be fun. Rather than having to think about every single penny you spend and taking up all your time, wouldn't it be great to play to earn?
Through the deployment of Liquidity Pools, Yield Farming and NFTs, the game will help you to discover the best yields strategies and in the process it generates NFTs. These NFTs can then be used in a variety of games. MOBOX describes its "free to play to earn" (F2P2E) experience as one singular process.
Players provide liquidity to certain CRATES (pools) and CRATE contracts automatically deliver the best yield for users.
"Imagine a series of games where you don't actually spend your hard earned money to purchase in-game resources or heroes, but rather a saving's account where the more you save the more resources you earn and the more heroes you can summon," explains the MOBOX team.
Your capital is at risk
3. Splinterlands (SPS)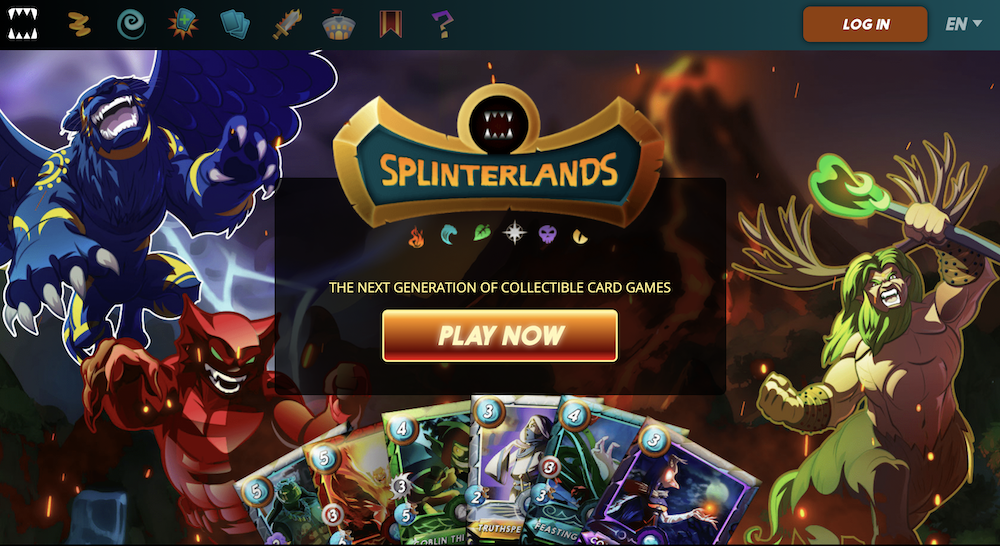 Splinterlands is a trading card game and according to dappradar is the No.1 blockchain game with 321,000 active addresses in the past 24 hours. This NFT game runs on the Hive blockchain.
It began life in 2018 when it was called Steem Monsters.  The game exhibits well developed storytelling based around a mystical world.
The team says to think of the game as "a symbiosis between pokemon card games and World of Warcraft characters". It has become one of the most active decentralised applications (dApps). In the past 30 days its has had 56 million transactions.
The object of the game is to amass a collection of cards, each sporting different characteristics and attributes, and to then use these cards – which are all NFTs owned by a player – to join battle with other players.
Splinterlands is built on the Steem Blockchain, leveraging the fast transactions it offers.
Your capital is at risk
4. Axie Infinity (AXS and SLP)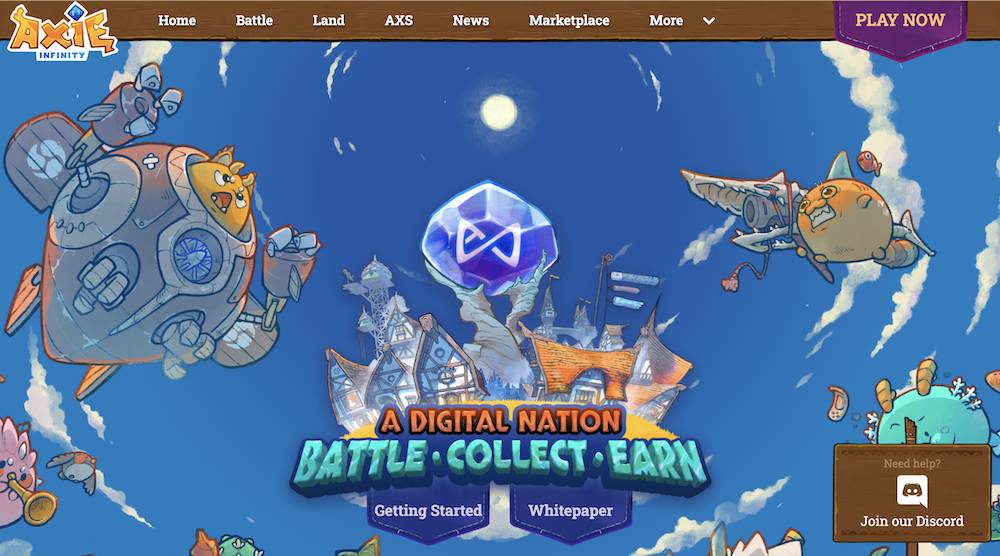 Axie Infinity is another trading and battling game. It began life in 2018, which makes it quite old by crypto standards. But this year it has really taken off.
Governance of the game is partly in the hands of the players who collect, breed, raise, battle and trade creatures, called Axies – these are the NFT tokens. The AXS governance token is currently trading over $66.26.
The player-owned economy as helped to popularise the game. Players earn Smooth Love Potion (SLP) tokens when they play the game and is currently priced at $0.064569, giving the token a market cap of $137 million.
Axie Infinity has generated 401,000 transactions in the past 30 days. Over the same period incoming value to contracts was $386 million.
Your capital is at risk
5. SOlife (SLFT)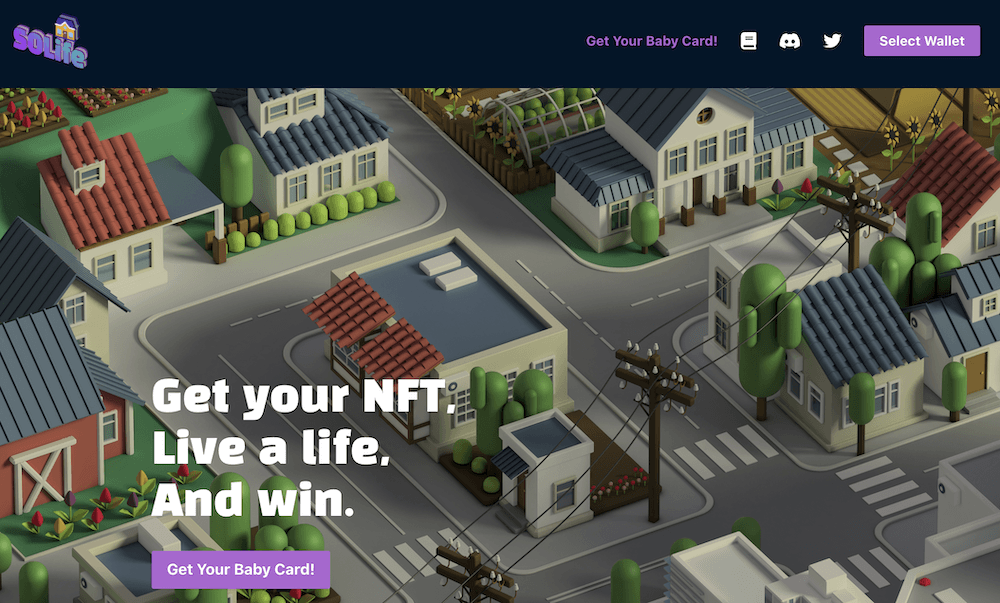 SOLife is the first NFT strategy Game built on Solana. It is loosely based on classic board game The Game of Life centred on a birth to death lifespan.
Players have baby cards that are used to perform tasks and set paths for future development as they go one to chart a path forward in their lives. All NFT resources and assets exist on-chain.
Game time is divided into seasons, with bonus criteria and distribution set at the beginning of each, with prize money dependent on the number of game players involved in the season.
The player who gets the most in-game merchandise before the end of the season is rewarded by level and prizes paid in SOL and SLFT.
A total of 10,000 baby packs are on sale, split evenly between boys and girls, each costing 3.99 SOL.
Not all Baby cards are the same. Some are to be used for in-game promotions or paid for through airdrops and differ from those made available to buy by connecting your wallet on the website. All SOLife cards are NFTs, which makes them all tradeable once the game has launched.
Anyone who bought before 31 July earned 100 SLFT in an airdrops. All subsequent buyers are to receive 50 SLFT.  SLFT token public offering starts in October.
Looking to buy or trade crypto now? Invest at eToro!
Your capital is at risk
Related news:
How to buy cryptocurrencies
Buying Ethereum
How to buy Bitcoin