5 Next Cryptocurrency To Explode October 2021 Week 2
The cryptocurrency market has retraced its steps a little after a jump yesterday. Its total value now stands at $2.24 trillion, having reached almost $2.3 trillion earlier this morning. This means most major coins have shaved anything from 1% to 10% off their prices in the last 24 hours. However, with the market still up compared to a week ago, there remains good potential for another surge in the next few days. Accordingly, we've created a list of the 5 next cryptocurrency to explode. This covers coins with good short- and long-term potential.
5 Next Cryptocurrency To Explode
1. Bitcoin (BTC)
BTC led yesterday's spike, and it's likely to lead tomorrow's. At $50,700, it's up by half a percent today, having climbed as high as $52,000 within the past 24 hours. Its current level represents a 24% jump over the past week, as well as a 25% in the last fortnight. It is, however, around 21% down from its all-time high of $64,804, set back in April.
BTC's 30-day moving average (red) has clearly broken away from its 200-day average (blue), indicating that it has reached a new level. And while it did verge into overbought territory yesterday, its relative strength index (purple) has relaxed to a more moderate level.
There are plenty of reasons to believe that bitcoin could be on the cusp of surging. On a technical level, the stock-to-flow model indicates an end-of-year price of around $100,000. This would mean that the coin is on the brink of a strong bull rally.
On-chain analyses finished tonight: IMO we are midway, no sign of weakness (red) yet. Note color overlay is not months to halving but an on-chain signal. My guess: this 2nd leg of the bull market will have at least 6 more months to go. pic.twitter.com/HAEMYfQ1pT

— PlanB (@100trillionUSD) October 2, 2021
More fundamentally, bitcoin continues to witness a steady growth in adoption. Not only do we have other nations lining up to follow El Salvador's example, but banks continue to rollout BTC-related services.
What's most interesting about this is that, as more people and institutions enter bitcoin, the cryptocurrency's circulating supply continues to shrink. In other words, expect a supply squeeze soon. This is why we've listed BTC as one of our 5 next cryptocurrency to explode.
#Bitcoin supply on exchanges has been falling for 22 months – since March 2020. pic.twitter.com/yl55IfjaxR

— Bitcoin Archive 🗄🚀🌔 (@BTC_Archive) October 6, 2021
2. Ethereum (ETH)
ETH has dropped by 2.5% in the past 24 hours, to $3,391. This is 21% increase in the past week, as well as a 23% jump in the past fortnight.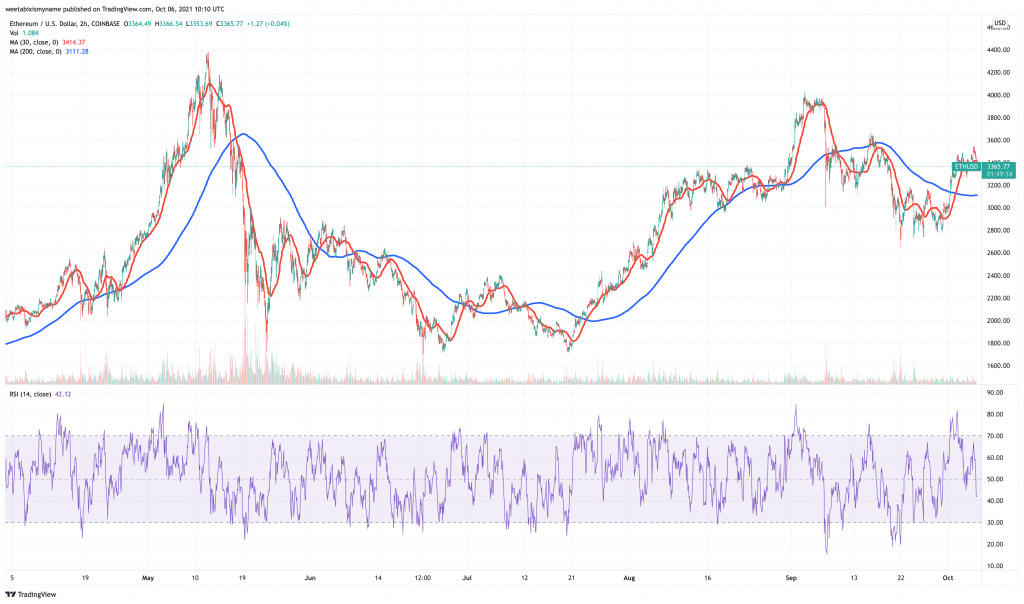 Despite ETH's 30-day average crossing its 200-day, today's downwards price movement means that the coin is verging towards underbought territory. Basically, now is a good time to buy it.
On a fundamental level, last week's Visa news was especially bullish for ETH. Because while the payments giant is developing a network for multiple stablecoins and digital assets, it has conducted initial tests for this channel on Ethereum. And if it continues with the platform, this would result in much greater Ethereum adoption and use over time. By extension, we'd see a bigger ETH price.
Visa just announced that they are building an Ethereum-based layer 2 payment channel network.

— sassal.eth 🦇🔊 (@sassal0x) September 30, 2021
Investors have also become more bullish about ETH ever since its London hard fork of August 5. Since then, Ethereum has been burning a portion of transaction fees, and has burned just over 340,000 ETH to date.
9.17k $ETH were burned yesterday 👀

Since the deployment of EIP-1559, a total of 342.9k ETH has been burned.

Check out the new #Ethereum supply metricshttps://t.co/Kk7UslZUPc pic.twitter.com/ySoIfpb8bu

— IntoTheBlock (@intotheblock) September 22, 2021
Because of this, ETH's daily issuance has already dropped below bitcoin's. And the more popular the DeFi and NFT sectors become, the more deflationary it will become. This is why it's one of our 5 next cryptocurrency to explode.
Update: First full day of $ETH being deflationary 👀

More ETH was burned in the past 24 hours than issued pic.twitter.com/mhY7NA69kd

— Lucas Outumuro (@LucasOutumuro) September 4, 2021
3. Axie Infinity (AXS)
AXS has climbed down by 18% since setting a new ATH of $155.88 two days ago. At $125, its current price makes for a 10% drop in the last 24 hours. On the other hand, this is an 82% rise in the past week, as well as a 150% increase in the last fortnight.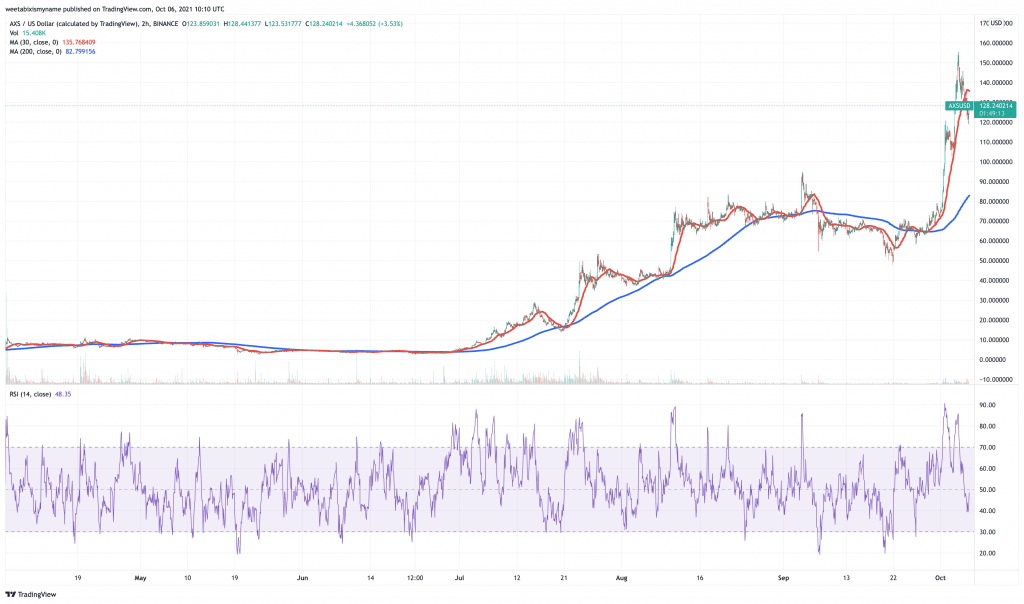 Put simply, AXS remains in a bull cycle, even with yesterday's correction. This is given away by the fact that its 30-day average remains far beyond its 200-day. But what's good for would-be investors looking to enter its market is that its RSI has dropped below 50, indicating space for new entrants.
And importantly for new entrants, Axie Infinity's fundamentals suggest continued growth. For instance, the NFT-based game recently passed $2 billion in total transaction volume to date, as well as $10 million daily volume. Its token went public only as recently as November 2020.
#SalamatAxie
✅ $2B Tx Volume
✅ $10M + Dollars 24H Vol.
✅ Axie Esports
✅ Ronin DEX
✅ AXS Staking
✅ Soulbound Axies (Free-to-Play)
✅ Land Game Play
✅ Software Dev Kit (SDK)
✅ Proven Team
✅ The Most Amazing Community pic.twitter.com/76OG6g3EZT

— Kookoo✨ (@kookoocryptotv) September 29, 2021
Axie Infinity also boasts 2 million daily active users, having stood at only 61,125 as recently as the end of May. This equals over 3,000% growth in under five months, as well as 7.8% growth in the past week alone. So even if its token is correcting downwards for now, we suspect it will surge again in the not-too distant future.
3. Avalanche (AVAX)
As with AXS, AVAX is down in the past 24 hours. Nonetheless, its current level of $60.47 is a 2% increase in the past hour, as well as a 4.4% rise in the last fortnight. It's also 26% up in the past month.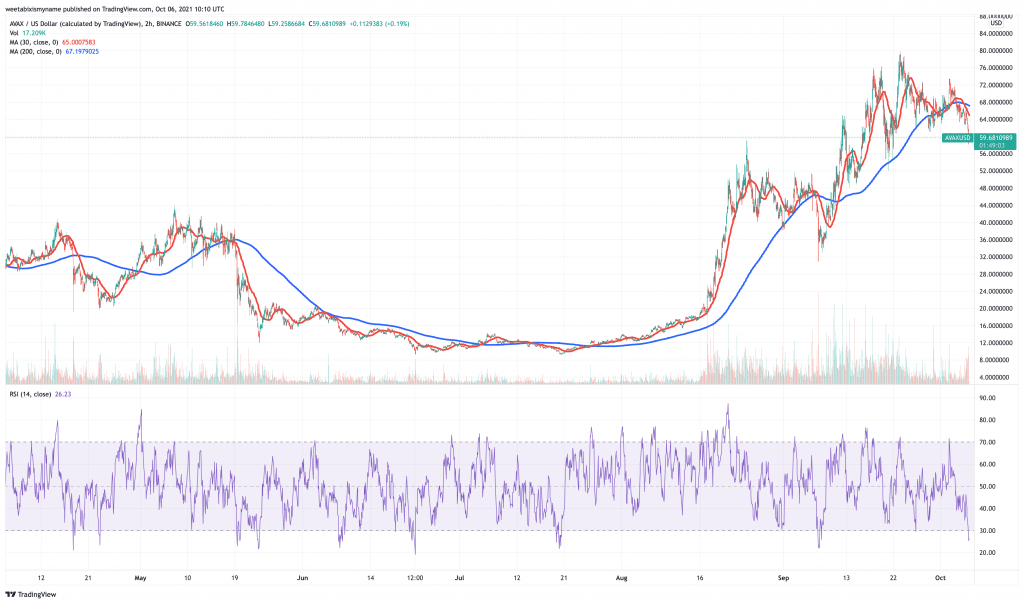 While AVAX is down in the past week, its continued strong fundamentals suggest that this only gives it the opportunity for a bigger rebound. Indeed, AVAX's RSI indicates that the coin has officially entered 'underbought' territory, suggesting that now is the time to get it cheap.
There's little doubt that the token's native platform, Avalanche, is likely to grow strongly in the near future. Last month it announced a $230 million investment led by Polychain and Three Arrows Capital, suggesting significant belief in the blockchain.
📢 BIG News 📢@Polychaincap and Three Arrows Capital led a $230M investment in the #Avalanche ecosystem to support growth of the platform.https://t.co/T141NFEoIG

— Avalanche 🔺 (@avalancheavax) September 16, 2021
It's worth pointing out that Avalanche's total value locked in has now reached $4.55 billion. As the tweet below shows, its TVL was $2.6 billion as recently as mid-September.
1/ Couple of quick stats on the Avax ecosystem:

– TVL has just peaked ATH at $2.6b since the parabolic run-up when Avalanche Rush was announced
– TVL has increased ~10x since the announcement and continues to climb. pic.twitter.com/WMyZ2h4Csl

— Wangarian 🔺 (@0xWangarian) September 16, 2021
And as we've noted before, Avalanche burns its transaction fees, while it has a fixed maximum supply of 720 million,. This is why it will likely continue to grow impressively, and why we've included it with our 5 next cryptocurrency to explode.
5. Cardano (ADA)
Interestingly, yesterday's market rally appears to have forgotten Cardano. ADA currently stands at $2.16, having fallen by 3.5% in the past 24 hours. That said, it's up by 6% in the past week and by 9% in the past fortnight.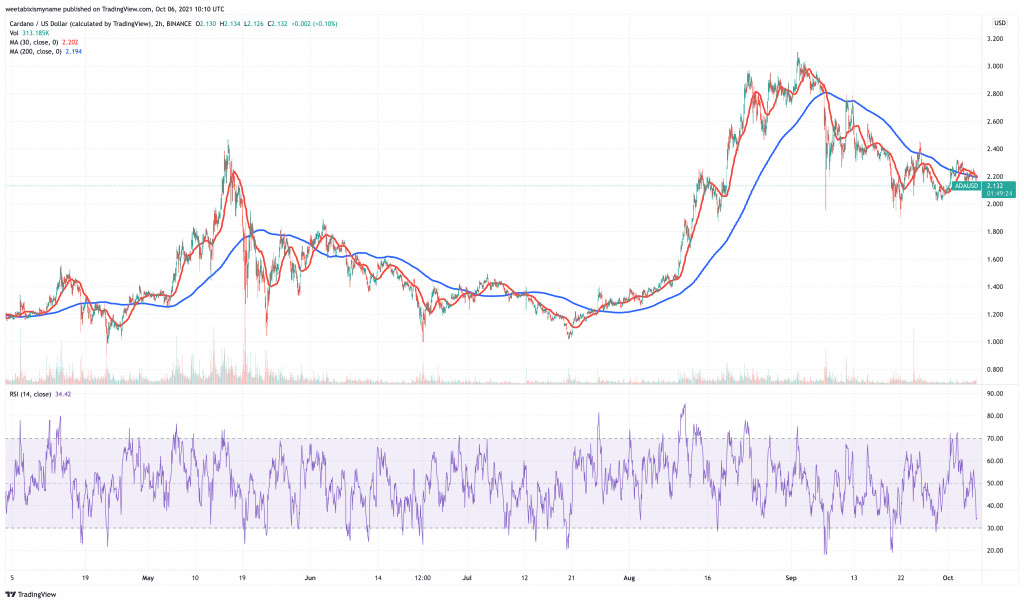 ADA has begun to overtake its 200-day average. Promisingly, its RSI shows that it's very close to being underbought, indicating room for growth.
What also indicates growth is the fact that Cardano has smart contracts now. Launched on September 12, these will allow the blockchain platform to support dapps and other decentralized services. In turn, they will increase demand for ADA, which will fuel such contracts and the applications built on top of them.
And even since launching smart contracts, Cardano has announced a number of new partnerships and projects. For instance, the Cardano-based COTI payment provider has announced the launch of new stable coin called Djed. Djed uses smart contracts to ensure the stability of its price. On top of this, it will provide the Cardano ecosystem with greater liquidity, which should translate into more trading activity and a higher price for ADA.
ICYMI 👇
'The #Djed stablecoin could be a game-changer in the crypto space, appealing to an entirely new audience at a time when the industry is already experiencing astronomical growth' @IOHK_Charles on Djed & collaboration with @COTInetwork https://t.co/ifm9S6WAz6

— Input Output (@InputOutputHK) October 3, 2021
At the end of last month, Cardano also announced a deal with US-based telecoms group Dish/Boost Mobile, with which it will develop and trial blockchain-based services for the group's customers. Taken together with the continued growth of its ecosystem, this all suggest very good things to come for Cardano in the not-too distant future.
ICYMI: We've formed a strategic collaboration with @dish and @boostmobile to explore customer solutions using the #Cardano #blockchain across the Nasdaq-listed US satellite television and cellular network group. https://t.co/4upCxKnh31

— Input Output (@InputOutputHK) September 30, 2021
67% of retail investor accounts lose money when trading CFDs with this provider.
Related news:
How to buy cryptocurrencies
8 hottest NFT tokens
How to buy Bitcoin
Buying Cardano
How to buy Ethereum