5 Top Crypto to Buy This Week [BTC, ETH, SOL, ADA, AXS] October 2021 Week 1
The crypto market is on a rebound after stuttering through much of September. The current market rally has seen several investors search for the top crypto to buy in the new bullish season.
This article highlights five top crypto to buy as we enter another phenomenal season of returns.
1. Bitcoin (BTC)
Bitcoin has been the centrepiece of the nascent industry and has played a fundamental role in the emerging industry's growth. The digital asset is the most adopted, recognized, and most traded virtual currency in the world. This has largely been due to its deflationary tendencies. Bitcoin has a unique monetary policy. Only 21 million coins will ever be mined. This hard-cap limit has made crypto enthusiasts dub it the 'digital gold.'
With growing adoption, Bitcoin price has surged and the crypto bellwether hit a record value of $65,000 in the April crypto boom. However, a combination of its energy demands and regulatory action saw the virtual asset lose more than 50% of its value. Despite this, Bitcoin has continued to lead the nascent space, while trading in the $40,000 price bracket.
Bitcoin currently leads our list of the top crypto to buy given its mainstream adoption and integral role in the crypto revolution. New Zealand-based digital assets firm Vault International Bitcoin Fund recently enabled retail investors to gain exposure to the digital asset without necessarily own the tokens themselves. Bitcoin has regained most of its losses since the beginning of August and has been on a rebound following the dip to $33,000 in May. At press time, the landmark cryptocurrency is down 0.52% and trades at $47,762.65 after surging to $49,100 24 hours earlier. Weekly gains of 9.51% and growing market confidence shows that Bitcoin is top crypto to buy.
2. Ethereum (ETH)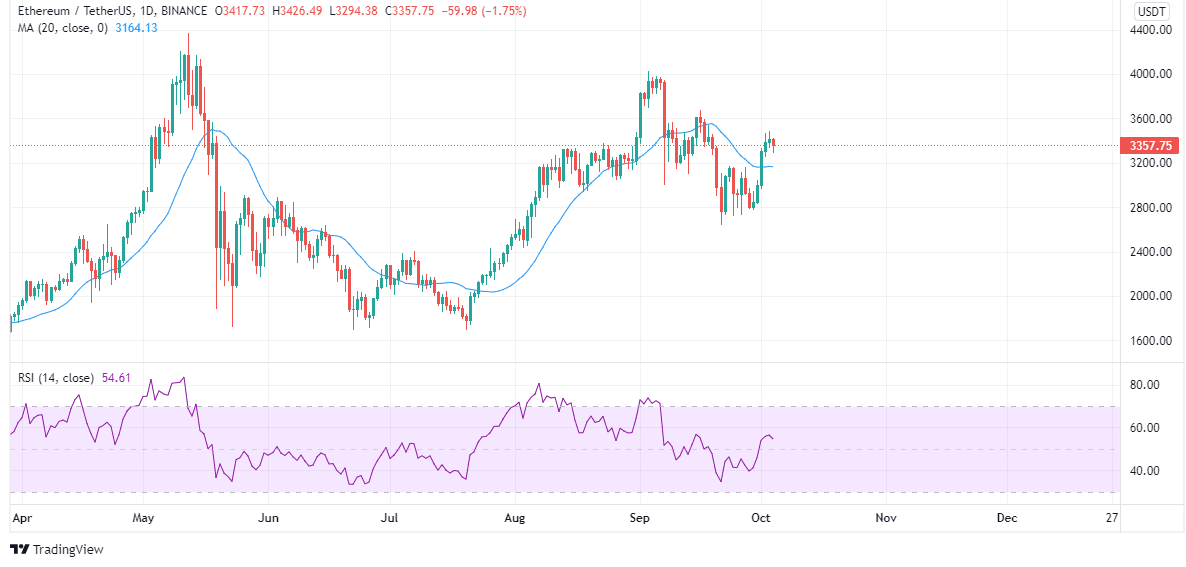 Seen as the rightful heir to the Bitcoin dynasty, the Ethereum blockchain is another top crypto to buy. Founded in 2015 by a group of developers, the Ethereum network is a key player in the fast-rising decentralized finance (DeFi) ecosystem.
This is because Ethereum allows the building of smart contracts which are useful in developing decentralized applications (dApps). The Ethereum network is second on the ranks of the most valuable crypto asset with an 18.6% share of the crypto space.
Given its popularity as the top dApps platform, top-rated protocols are based on the platform with over 3,000 currently building on it. The Ethereum network is viewed by many as a front-runner for the Web 3.0 future and all the accompanying features and this has seen its payment token ETH become a top-ranking digital asset. Used for settling network fees on most dApps, ETH surged to an all-time high (ATH) of $4,350 in April increasing more than 1,000% in the process.
Similar to Bitcoin, ETH has continued to rack up adoptions with theatre exhibition giant AMC announcing support for the digital asset by the end of the year. Likewise BTC, ETH is regaining its feet and is down by 1.47%. Weekly gains of 8.98% make up for this slight loss and 1 ETH is changing hands for $3,357.75 at press time.
3. Solana (SOL)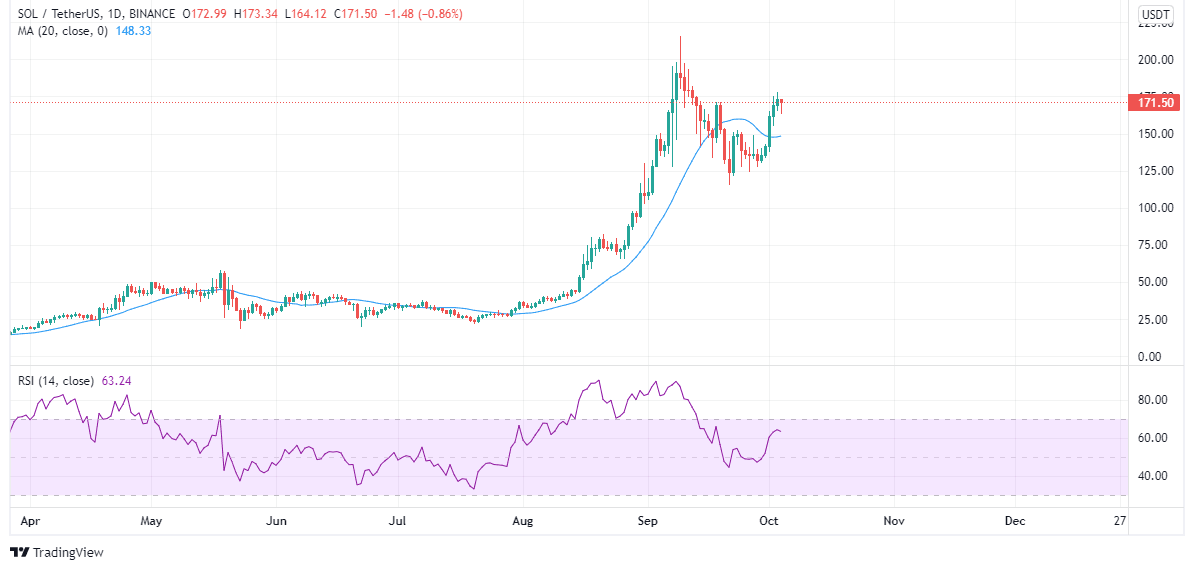 Seen as a viable successor to the Ethereum network, Solana is top crypto to buy this month. The popular 'Ethereum killer' has been breaking up the older network's monopoly of the DeFi sub-sector by seeing a slew of integrations with dApp protocols.
At its core, Solana aims to provide the same services as Ethereum. However, it does this in a much better way. Sporting a combination of proof-of-stake (PoS) consensus algorithm and proof-of-history (PoH) timing mechanism, Solana is one of the fastest and most scalable blockchain platforms in the crypto space at the moment. It also has a low carbon emission footprint as it consumes less energy and costs less to build on the network.
This slew of features has attracted several protocols with the Bancambios DeFi project choosing to launch on the protocol. The blockchain-based application will mint its BX token on the Solana blockchain and foster DeFi adoption. Solana's SOL has been red-hot in the past few weeks hitting a value above $200. However, a market slump saw it dip to $147 at the close of September. Meanwhile, SOL is back to winning ways and currently trades at $171.50, down 1.24% on the daily chart. Its seven-day performance is up 18.24%.
4. Cardano (ADA)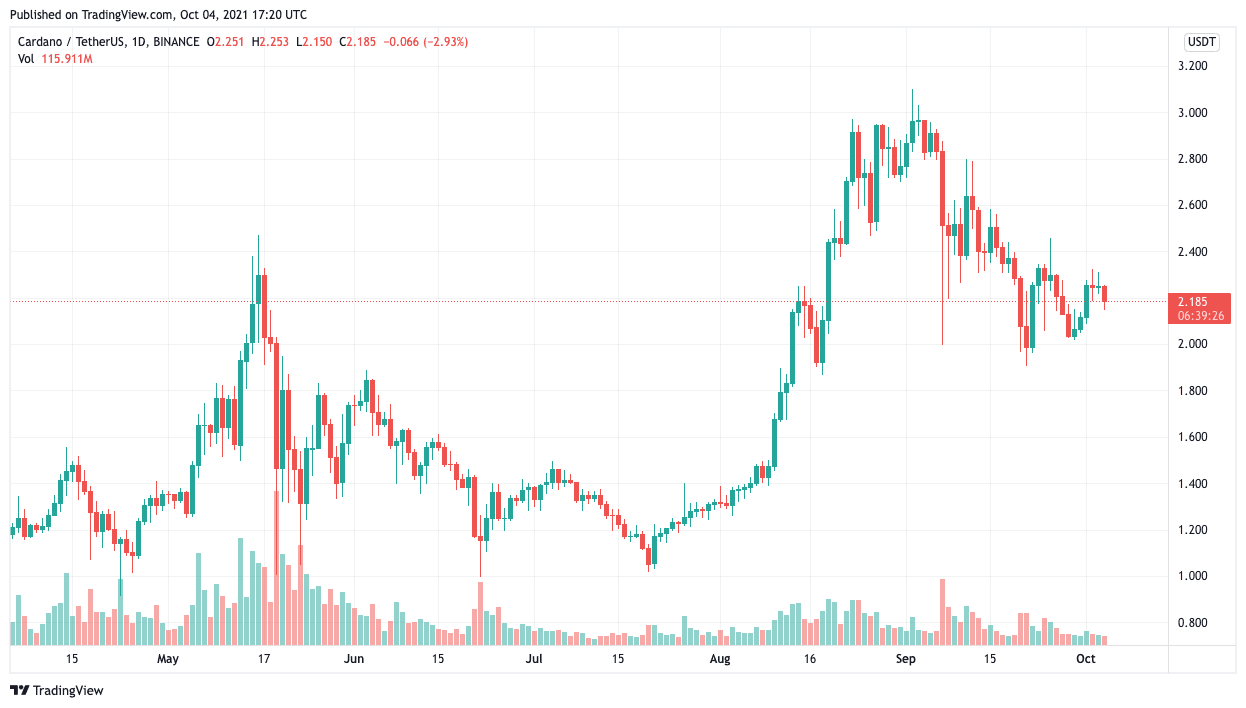 Another popular 'Ethereum killer,' the Cardano protocol is top crypto to buy this month. Cardano was founded by former co-founder Charles Hoskinson and has since proven itself as a major contender for the control of the DeFi sub-sector. Operating on a PoS consensus algorithm called Ouroboros, Cardano is more energy-efficient, faster, and cost-effective than the Ethereum and Bitcoin networks. It dubs itself the third generation of blockchain protocols.
Although still in the development stage, the Cardano network is one of the most anticipated blockchain protocols in the crypto space and it ranks first on the most staked digital asset.
Cardano employs a unique method in building out its blockchain infrastructure. Each network upgrade and functionality is scientifically and logically proven before being integrated. In fact, it is the only peer-reviewed blockchain platform in the space.
The Cardano network has been consistent in the fleshing out of its protocol and recently deployed smart contracts capability. This saw ADA surge to a record high of $3.10 in mid-September before dipping. Occupying the fourth spot on the crypto market chart, ADA is trading at $2.193, down 3.87%. This low price could be a bargain as the bulls return to the market.
5. Axie Infinity (AXS)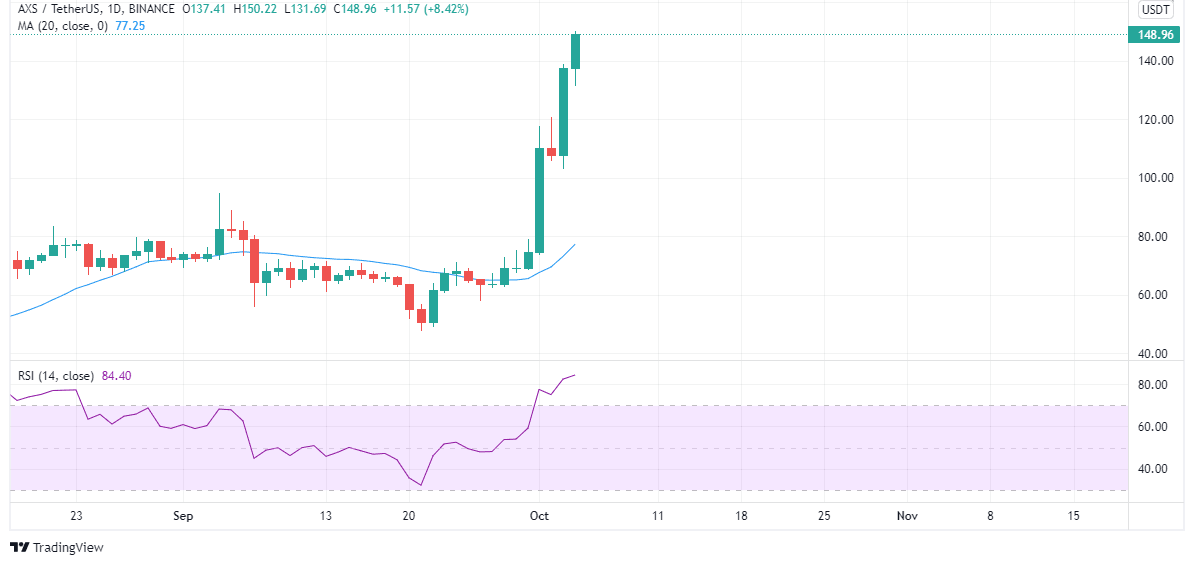 Although a gaming platform, Axie Infinity has quickly endeared itself to crypto enthusiasts. The protocol is a play-to-earn game that enables users to become partial owners of the protocol.
Gamers are able to do this by collecting, raising, breeding, and battling tokenized characters called Axies. Each Axie is a non-fungible token (NFT), which are super-rare digital collectibles that have taken the crypto space by storm in recent times.
Players can choose from 500 different pairs and face off in a 3v3 battle. The winning team gets experience points (XPs) which can be used to upgrade or evolve the Axies' body parts.
Axie Infinity has since become a top favourite gaming platform and its governance token AXS has been on a tear lately. Following the announcement of staking service for AXS token holders, AXS surged more than 500% in the last few weeks. AXS has continued its remarkable run of form and is currently up 35.84% in the last 24 hours. It is trading at $146.32 which makes it top crypto to buy for the long term.
Read more:
How to buy Cryptocurrencies
How to buy Cardano
How to buy Ethereum