Best NFT Art and Games Marketplaces September 2021
NFTs are an interesting piece of the crypto industry. Today, some of the best NFT art and games marketplaces process millions in transactions and facilitate the trading of non-fungible tokens (NFTs) globally. In 2021 H1 alone, trading volumes for NFTs
Your Capital is at risk.
2. Axie Marketplace
Axie Marketplace is the NFT marketplace for Axie Infinity – an online NFT game that is now the buzz of the crypto industry. The Axie network grew into the limelight this year, becoming one of the best NFT art and games marketplaces in the world. Axie marketplace is a sprawling collection of tokens, ranging from art to games and more.
The Axie Marketplace allows you to create new Axies – cute digital pets that are raised and used in the Axie Infinity game. These pets can be traded on the Axie Marketplace or sold on popular exchanges like UniSwap. Axies are used mainly for in-game battles against other players in-game monsters. With the game getting more adoption, you have a pretty broad market to sell to.
One major blip with this platform is that the Axie Marketplace only sells items and characters from the Axie Infinity ecosystem. The Axie platform charges a pretty low 4.25 percent fee on trades, which the seller has to pony up. Buyers pay gas fees. To buy your first Axie you will need to own Ether. If you already own ETH, you can simply connect your wallet to the marketplace to get started.
Pros
A large market to sell to
Create your own Axies for cheap
Competitive marketplace fees
[/one_half]
Your Capital is at risk.
3. Rarible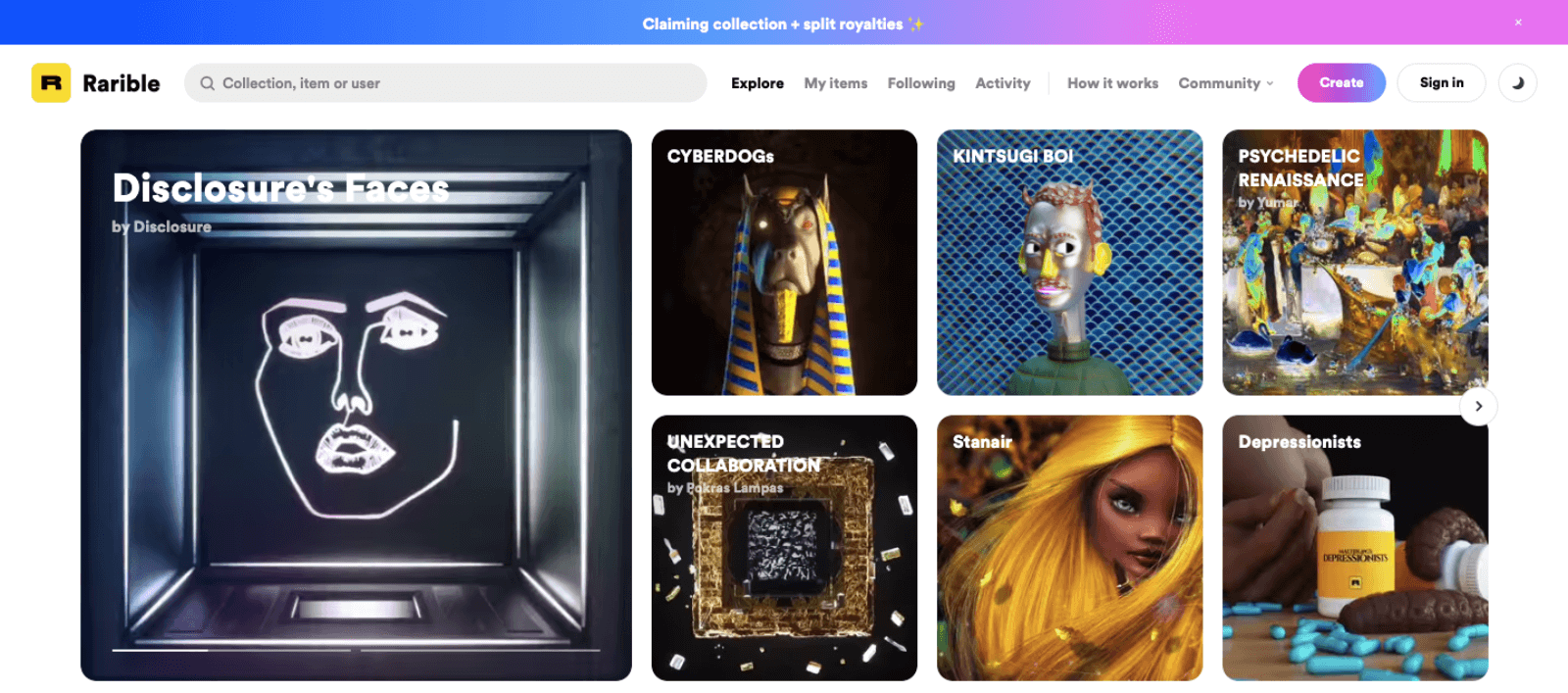 Rarible is another great option among the top NFT marketplaces that has seen significant adoption. Many view the Rarible platform as the biggest competitor to OpenSea. It's also an Etheruem-based marketplace on the rise.
Launched in 2020, Rarible is a community-owned platform that facilitates NFT minting and sales. It focuses on collectibles and art. Rarible features a simple minting process that lets people create NFTs without coding knowledge. Sellers can even create more than one NFT for a single image. If it's a really hot commodity, they will be able to sell the image more than once and maximize their earnings. Are you bothered about third-party sales? Rarible sorts that issue out. Creators can program royalties to the Rarible platform, ensuring that they get a cut if their work gets sold off by the buyer at a future date.
Interestingly, Rarible also offers the ability to buy NFT games. The platform is tapping further into the gaming space thanks to a partnership with MyCryptoHeroes (MCH) – an accelerator program for blockchain game developers. This collaboration opens the door to game developers in the MCH ecosystem to sell their tokens on Rarible.
Pros
Offers both art and gaming NFTs
Vast fund top-up options
Open-source, non-custodial marketplace
[/one_half]
Cons
Charges both the seller and the buyer
Your Capital is at risk.
4. Nifty Gateway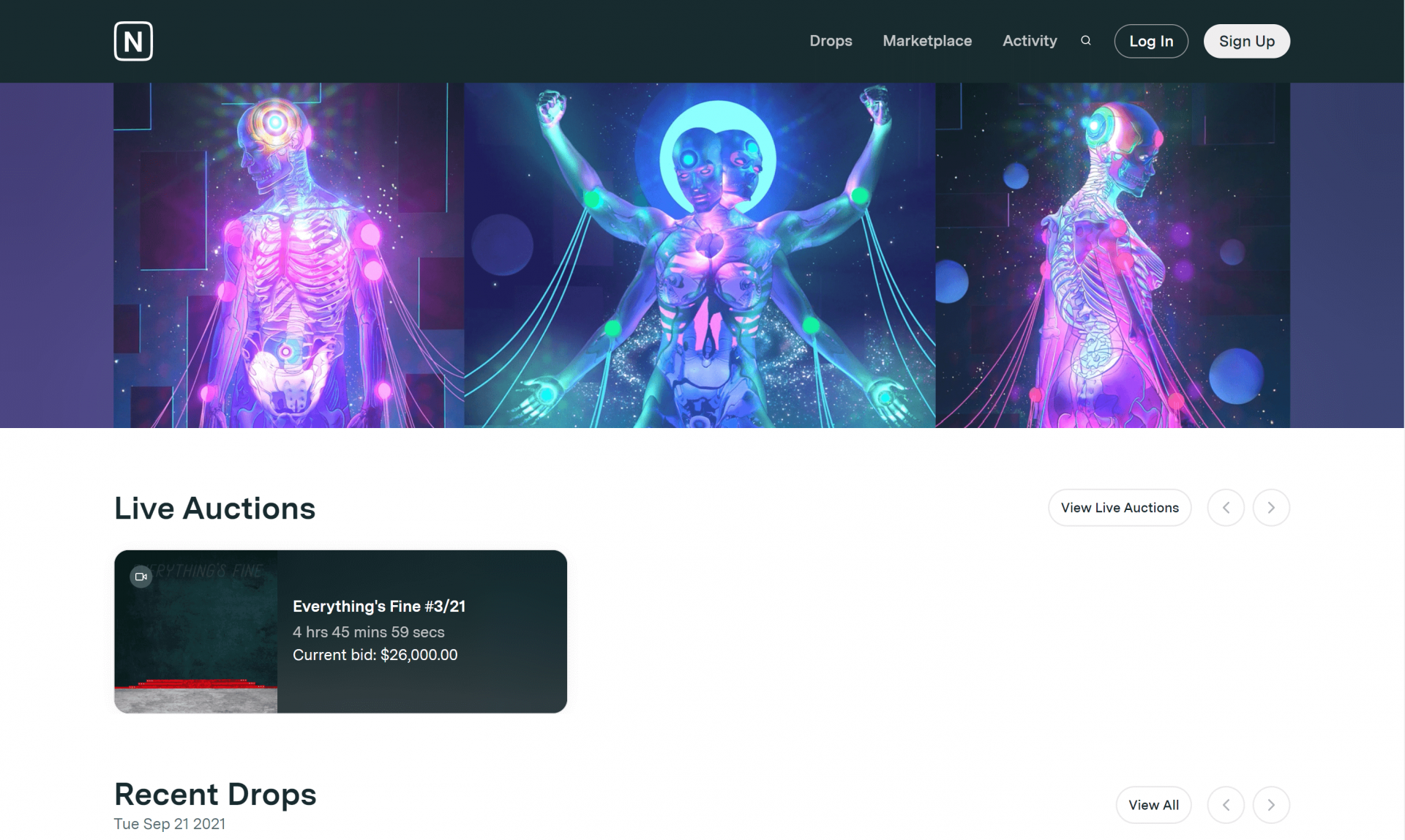 While it might not be as popular as names like OpenSea and Rarible, Nifty Gateway is another of the top NFT marketplaces. Owned by the Winklevoss brothers' Gemini LLC, Nifty Gateway focuses more on music and art-related NFTs. Nifty Gateway has been known to partner with several creators in the past to launch NFTs in "drops." There's an insane demand for drops, as they are often only available for a limited period, and they tend to sell out due to FOMO. Artists can decide on how much they want from secondary sales, and their wallets will be credited accordingly.
Nifty Gateway is also popular because it allows you to buy your NFTs using USD directly. So, it reduces the stress of having to always convert your funds to ETH. However, its marketplace fee of 5 percent is quite high.
Pros
Buy NFTs using USD
Access to exclusive digital art
Seamless user interface
[/one_half]
Your Capital is at risk.