Bitcoin (BTC) Price Prediction: BTC/USD Fluctuates Between $54,000 And $58,000,unable To Push Above $58,000 Resistance
Bitcoin (BTC) Price Prediction – April 20, 2021
Bitcoin has been in a downward correction after the breakdown on April 18. For the past three days, BTC/USD is confined between $54,000 and $58,000 price levels. The candlesticks are displacing long tails at the support levels of the market.
Resistance Levels: $65,000, $70,000, $75,000
Support Levels: $50,000, $45,000, $40,000
For the past three days, buyers have been unable to push Bitcoin above the $57,000 resistance. On April 19, the bulls push the BTC price to the high of $57,476 and were subsequently repelled. The rejection compelled the king coin to decline to the low of $54,000. Subsequent upward moves have been restricted below the $57,000 resistance level. Nonetheless, the price action contains some candlesticks with long tails above the current support. These long tails indicate that there is strong buying pressure above the current support level. Because of this, the market is fluctuating between $54,000 and $58,000. On the upside, if the bulls break the resistances at $57,000 and $58,000, Bitcoin will face stiffer resistance at $60,000 and $61,825. Bitcoin can equally decline if the bears break below the current support.
South Korea Plans To Crackdown On Illegal Crypto Transactions
Last week South Korea's top financial regulator has established committed crypto investigation teams across the country. The financial authorities are planning to join forces to combat illegal operations involving cryptocurrencies like Bitcoin. According to Koo Yun-Cheol, head of the Office for Government Policy Coordination, he said: "There is a need to pay special attention to the occurrence of illegal activities using virtual assets,". The crackdown is expected to continue until June. The Financial Services Commission will require local financial institutions to strengthen the monitoring of cryptocurrency withdrawals. Any doubtful activity should be reported to the state-run Financial Intelligence Unit, an agency responsible for investigating financial crimes.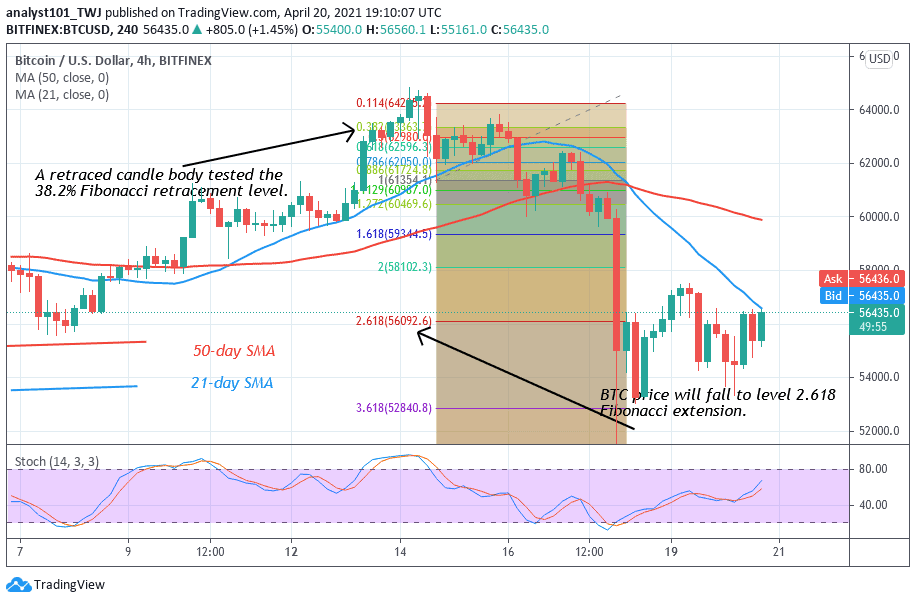 Bitcoin is fluctuating between $54,000 and $58,000 as bulls fail to break the resistance level. Meanwhile, on April 14 downtrend; a retraced candle body tested the 38.2% Fibonacci retracement level. The retracement implies that Bitcoin will fall to level 2.618 Fibonacci extension or the low of $56,092.60. From the price action, BTC price fell beyond the Fibonacci level and pulled back.