Bitcoin Price Boosted by Twitter Integration News, ETH, LUNA CELR, Sep. 27
BTC
Bitcoin was trading above $43,500 on Monday after recovering from early week losses below the $40k level.
Early week fears over debt default contagion at the Chinese company Evergrande Group aligned with news that China was looking to make all cryptocurrency transactions illegal in the country. This is a predictable move as the country gets closer to the launch of its own digital version of the Yuan.
SEC chairman Gary Gensler also testified to the House Financial Committee recently and last week he gave an interview to the Washington Post where he outlined a "path forward" to regulation in the cryptocurrency industry. The comments from Gensler highlight that he is uncomfortable with the idea of "5-6,000 projects" having their own financial ecosystem that operates outside of the SEC's consumer protection.
Bitcoin's price was saved later in the week by news that Twitter was moving towards adoption of Bitcoin as a tipping service using third-party app support. The new feature will also integrate founder Jack Dorsey's Square app and the likes of Paypal's Venmo so the potential for sending money is also there.
Twitter was also said to be looking at the Non-Fungible Token (NFT) space and one area could be authentication, as many users already use NFTs for their Twitter avatar.
Twitter will integrate the Strike bitcoin lighting wallet to allow creators to receive bitcoin tips. The company will also allow users to add their bitcoin address to send and receive cryptocurrency tips.
ETH
Ethereum's price has followed the fluctuations of Bitcoin over the last week but there was a boost for the coin with investment bank JP Morgan saying that institutional investors have been pivoting towards ETH futures over BTC.
This is a setback for bitcoin and a reflection of weak demand by institutional investors that tend to use regulated Chicago Mercantile Exchange (CME) futures contracts to gain exposure to bitcoin.
The bank's analysts pointed to evidence that bitcoin futures on the CME exchange traded below the bitcoin spot price though September.
Researchers big investors are dropping bitcoin futures, pivoting instead to ethereum as the number two cryptocurrency by value gains momentum thanks to the ongoing non-fungible token (NFT) craze and expectations that decentralized finance (DeFi) will continue to rival traditional finance. 
"This points to much healthier demand for ethereum vs. bitcoin by institutional investors," the analysts wrote.
There was also further praise from Ark investments' founder Cathie Wood who said that her confidence in Ethereum "has gone up dramatically".
I'm fascinated with what's going on in DeFi, which is collapsing the cost of the infrastructure for financial services in a way that I know that the traditional financial industry does not appreciate right now.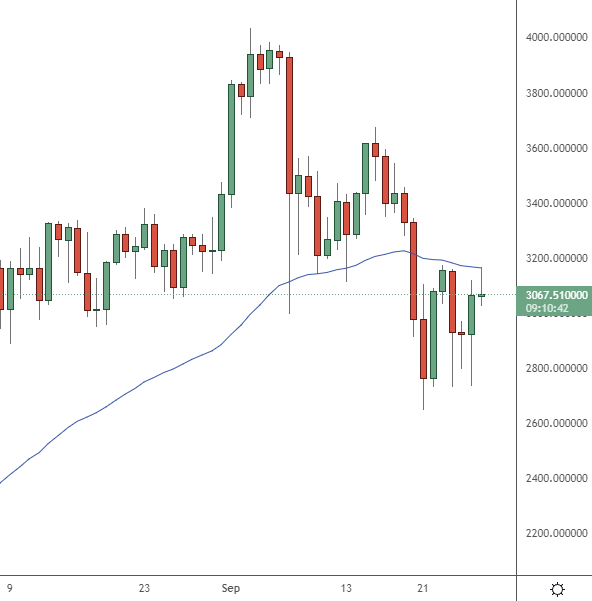 The Ethereum price traded back above the $3,000 level on Monday but the coin is vulnerable to another pullback in risk assets this week.
LUNA
Terra's LUNA token was one of the better performing coins in a bearish week with a 25% gain. 
LUNA has been supported over the last month due to gains in its total value locked. Both AVAX and LUNA displayed good growth trajectories over the last month. The distribution of total value locked (TVL) in DeFi, worldwide across various blockchains as of September 17th showed Terra accounted for 4.7% of the TVL.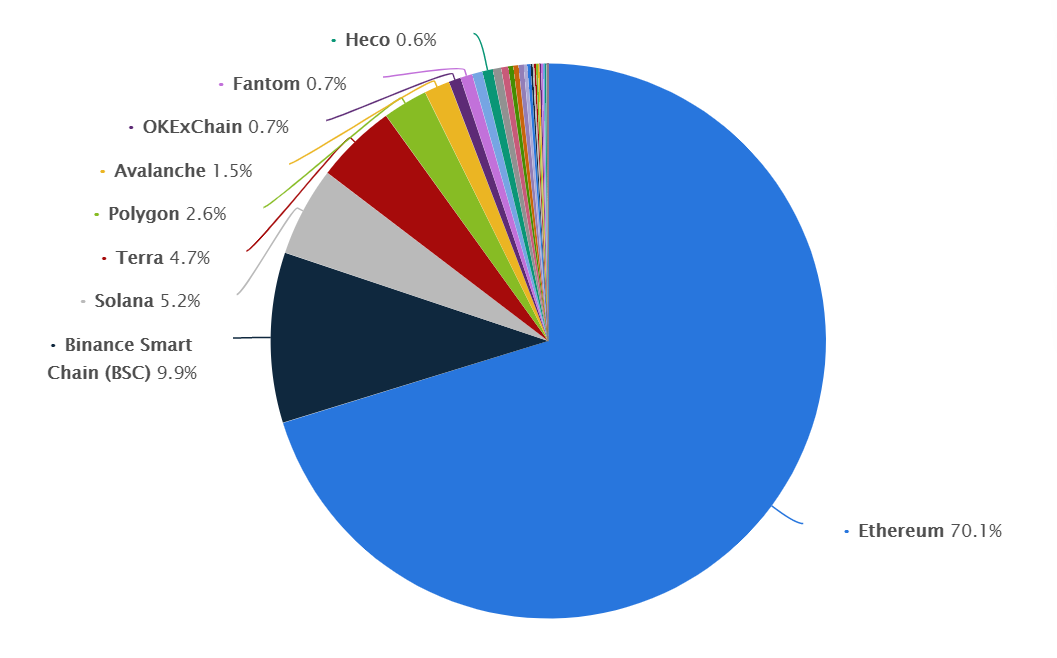 Recent developments for the project also saw Pantera Capital and Arrington XRP committing to investing $150 million on products tied to the Terra ecosystem, which will be deployed over several years. The Singapore-based project has growing in popularity in Asia with merchants in South Korea by shortening settlement time from days to seconds, often without e-commerce customers knowing that their online transaction involved a blockchain.
It's been doing so well, according to investor Mike Arrington, that it launched an e-commerce wallet called Chai that's become popular in Asia. It also launched Mirror Protocol, which creates fungible assets, or "synthetics," that track the price of real world assets.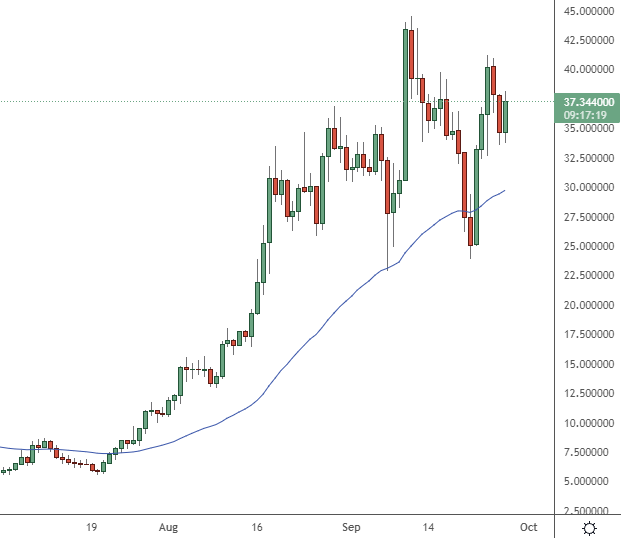 LUNA now trades at $36.80 with the project having a market capitalization of $14.6bn and is ranked at number 12 in the list of coins. The coin has soared from its lows near the $5.50 level back in June.
CELR
The best-performing coin of the week was CELR with a gain of 85% which saw the coin bursting into the top 100 projects by market cap with a valuation of $1 billion.
Celer Network is a layer-two scaling solution that uses off-chain transaction handling to increase the scalability and the transaction throughput of its network.
The Ethereum layer-two scaling solution has been gaining momentum in recent weeks thanks to its ability to lower transaction costs through the use of these off-chain transactions.
The increase in price for CELR followed the launch of its cBridge 2.0 cross-chain token bridge that facilitates the transfer of assets between multiple blockchain protocols, including Ethereum, Binance Smart Chain and Arbitrum.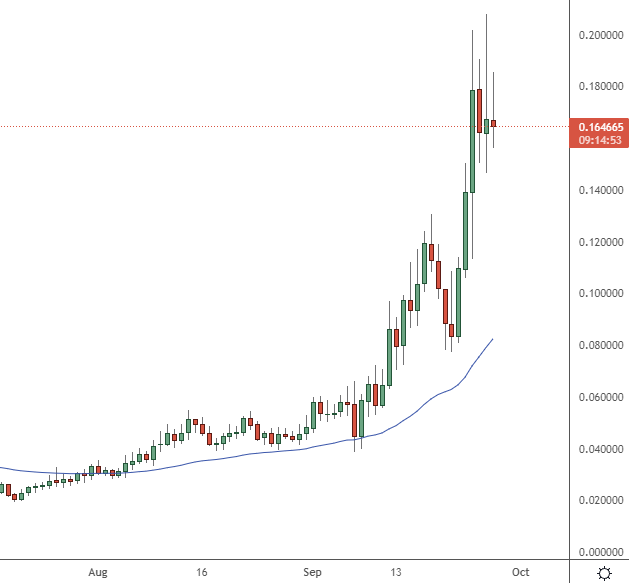 The price of CELR hit $0.20 recently which has marked a big return from the $0.02 lows in July.