Bitcoin Price Soars Above $57k as Investors Seek Inflation Hedge, BCH, BSV, SHIB, Oct
BTC
The Bitcoin price soared again as the coin headed for $57,500 on Monday. With a 5% gain to start the week, BTC is now eyeing the $60k level and a potential run to the all-time highs around $64k. 
Bitcoin is getting a boost with the surge in commodity prices as oil tops $80, aluminum hits a thirteen-year high and rising gas prices pressure European countries. 
The CEO of trading exchange Bitmex has also suggested that other developing countries could follow El Salvador into Bitcoin adoption. Alexander Höptner said: 
My prediction is that by the end of next year, we'll have at least five countries that accept Bitcoin as legal tender. All of them will be developing countries.
According to Höptner, these nations will adopt Bitcoin faster due to three factors: the growing need for cheaper and faster international remittances, high inflation, and politics.
Consumers in developing economies are also more affected by issues relating to cross-border payments and inflation, Höptner said.
The CEO noted that remittances were 20% of El Salvador's gross domestic product in 2020, while the World Bank said that low- and middle-income countries receive about 75% of total global remittances. Hoptner also pointed to inflation, where countries such as Turkey are adopting the crypto theme amid a 19.2% inflation rate.
BTC will see resistance around the $60k level as it looks to retest the all-time highs.
BCH
The Bitcoin Cash price got a boost from the gains in BTC as all of the related coins tracked the strength of the world's most valuable crypto project.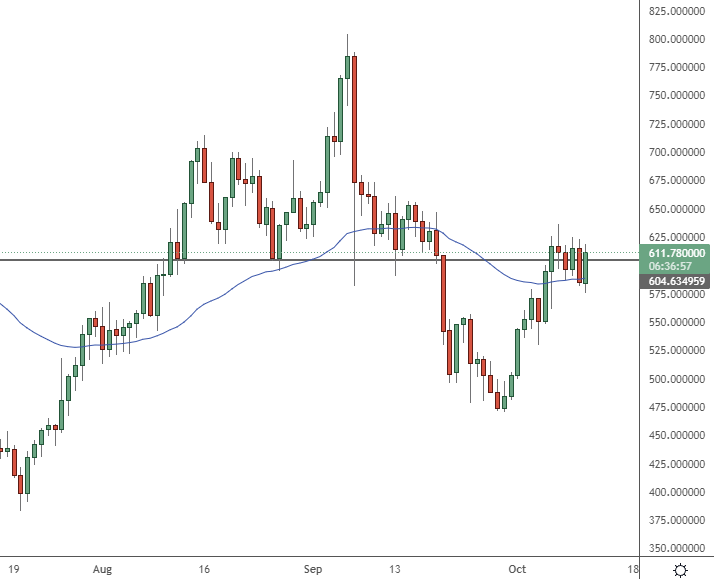 BCH recovered from some Sunday selling and has tracked the 5% gains in BTC to trade at $612. Bitcoin Cash saw highs at $800 back in May but is looking to recover some of the pullback. The coin was previously weighed down by a high-profile spat between the founders of Bitcoin SV over which hard fork of Bitcoin is more relevant. That seems to have settled down recently and may help the coins find further investor support.
But one investor, billionaire Bill Miller was more skeptical of altcoins due to Bitcoin's maturity. He said:
Bitcoin is a lot less risky at $43,000 than it was at $300. It's now established, huge amounts of venture-capital money have gone into it, and all the big banks are getting involved.
The investor added:
There are 10,000 various tokens and stuff floating out there. The chances of more than a handful of them being worthwhile is very, very small. Bitcoin, ethereum, and a few others are probably going to be around for a while.
Miller also spoke about the Coinbase exchange and said that the business could exceed the valuation of Tesla one day due to its dominance in a "rapidly growing, changing industry".
Bitcoin Cash is now ranked at number 19 in the list of coins with a market cap of $11.5 billion.
BSV
Bitcoin SV also rose 22% on the week as the hard forked coins tracked the performance of BTC. 
The price of BSV will be helped by news recently that Robinhood is rolling out a cryptocurrency wallet in October with support for some of the most popular coins with BSV and BCH included. 
Robinhood is said to be testing a digital wallet feature on its app that will enable users to send and receive cryptocurrencies in October. The move may encourage more Robinhood users to use the trading app for cryptocurrencies as it currently only allows them to buy crypto with US dollars but users can't deposit or withdraw in crypto.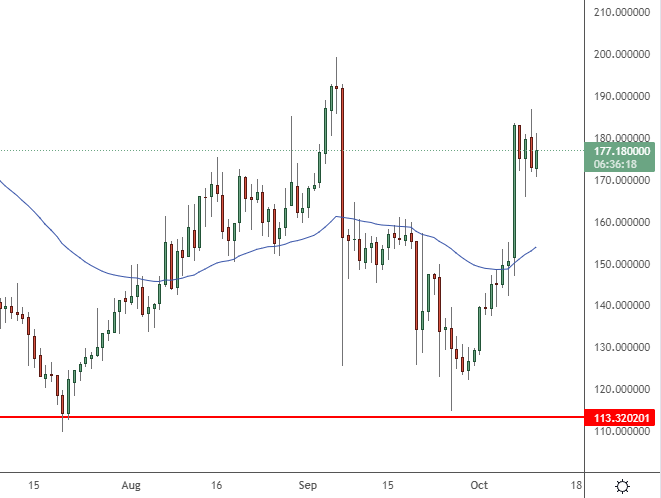 Bitcoin SV now ranks at number 48 in the list of coins with a market cap of $3.35 billion. The price action of the coin has been subdued due to the situation with BCH and the coin lags in valuation and price at $117.
SHIB
The best-performing coin of the week was SHIB after the project drew further attention from entrepreneur Elon Musk.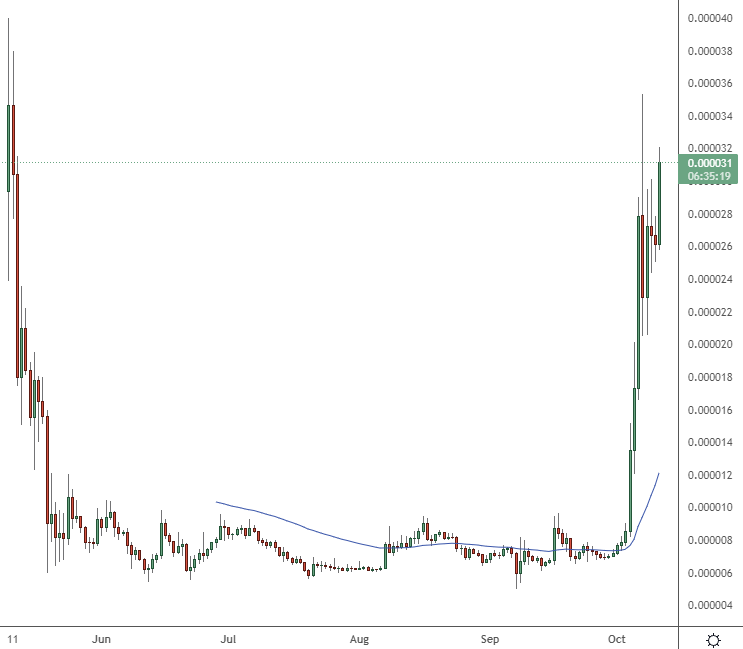 The coin saw a massive pump, followed by a 31 billion coin dump as whale investors took advantage of another speculative move in the DOGE-related meme theme. News that Robinhood may list SHIB was another driver of the week's gains.
Santiment data showed that whale addresses with 1 million to 10 million $SHIB in their wallet collectively dumped 31.07 billion tokens on the market. The market did see a rebound from that move with a 200% gain over the last seven days.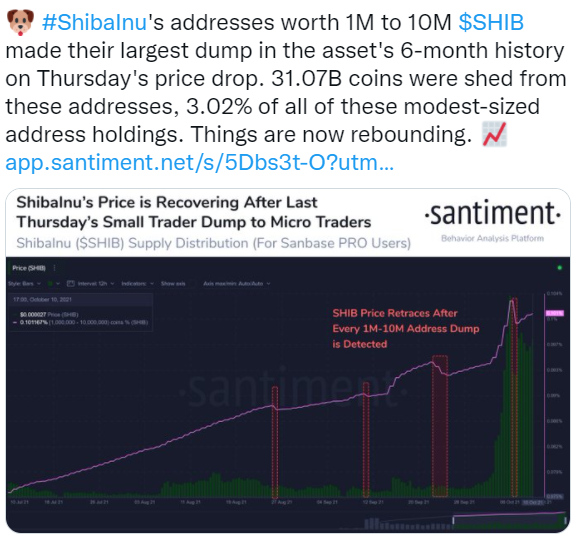 Some of the rise in in the coin has oddly been attributed to Tesla founder Musk buying a Shiba Inu puppy. Some investors have thought this to mean that Musk supports the coin as it hopes to reach its target of $1.
David Hsiao, CEO of Block Journal, said the coin has a significant community that could support it, with more than 585,000 community members, but that may not be enough. 
Speaking to Fortune magazine, Mr Hsiao said the "dog-coin hype" is now losing steam. Coins with "far more substance", will likely take over, leaving SHIB lagging behind.
Mr Hsiao added: "The price effect from hype and rumour can only last so long."
SHIB is now ranked at number 16 in the list of coins by market cap with a market cap of $12 billion, but the fully diluted market cap is $31 billion as only 394 coins out of a trillion are currently circulating.