This Cryptocurrency Could Rocket 200% June 2021 – Where to Buy Kusama
While the crypto space continues to fight to get out of the hole created in May, seriously good projects – and assets – have continued to attract headlines. Several have shown substantial potential despite the downturn in the market.  
One such project is Kusama – the scalable blockchain network developed by Polkadot. Last month, Gavin Wood, the creator of both platforms, announced that Polkadot was entering the final stage of its rollout – a stage that involves deploying parachains on the Kusama network. 
Kusama Progress With Parachains and Secured Funding
KSM, the native token of the Kusama network, has seen significant moves in the past two days. The asset began this month on a bit of a downturn, starting at $366. However, it jumped by an impressive 33 percent in two days, hitting a high of $489.
Kusama announced on June 2 that its network council had successfully voted to upgrade Shell – Kusama's first common good parachain – to Statemine. 
The shell parachain is primarily there to run tests on the entire Kusama ecosystem's functionality. With the upgrade, the parachain will now be able to support different functions – including minting fungible and non-fungible tokens – on the Kusama network. The Kusama team added that once the upgrade is successful, it will release details about its parachain auction – which will enable projects to bid on slots to launch their solutions. 
Parachains are layer-1 blockchains that run in tandem within the Polkadot ecosystem. Each parachain is connected to and secured by a Central Relay Chain, which offers the security, interoperability, scalability, and governance of the Polkadot chain. 
With Polkadot's cross-chain functionality, assets can be sent between parachains. These parachains will also be able to connect with external blockchain networks like Ethereum and Bitcoin, thanks to cross-network bridges. 
On the same day, Master Ventures, an Asian venture capitalist and blockchain incubator, announced a $30 million VC fund called the "Master Ventures Polkadot VC Fund." Per the announcement, the fund will support parachain bids for tier-1 blockchain projects looking to win slots on the Polkadot Relay Chain. 
Early-stage projects looking to launch on the Polkadot and Kusama ecosystems will get funding as well. 
Market Reacts Favorably – KSM Price Pops
With an impressive one-two punch, the Kusama value (KSM) – as well as that of Polkadot (DOT) – immediately went on an upsurge. KSM was particularly impressive, hitting a high of $480 on the day. 
KSM already did pretty well, considering that it started the year trading at $69.5. Even with the market downturn, the Kusama value has surged by 589% since the year began – according to its value at press time. 
Why the Kusama Value Could Rise Even More
Developers bidding for parachain slots on Kusama will need to use KSM in their efforts. With many already searching for viable Ethereum alternatives, the Kusama value seems poised to jump even higher. 
Now, thanks to Master Ventures' $30 million fund, these developers are set to get more support and financing in their efforts. This means that the venture capital firm itself will have to buy KSM tokens to back the auction bids. In turn, Kusama will lock the tokens for as long as the developers would like to run their projects on its parachain – usually between six months and two years.   
It is worth noting that KSM seems to be on a downtrend for now. The Relative Strength Index (RSI) stands at 43.2, showing that bulls are still fighting to take control of the market.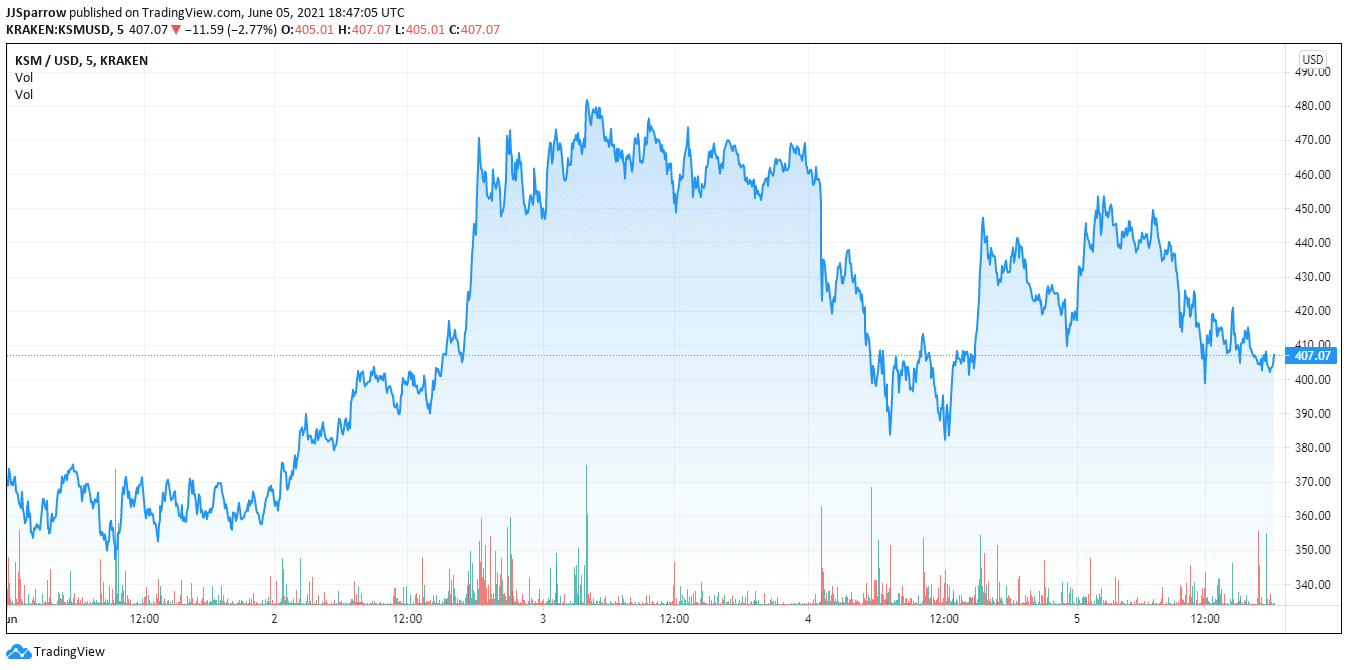 KSM has also managed to stay above the 7-day moving average of $397 and the 99-day moving average of $390. This shows bullish signs for the asset, indicating even greater uptrends.
Where to Buy Kusama
With the Kusama value on the rise and expectations of even greater jumps, investors are rightly looking to get their hands on it. Here are some platforms that can help
1. eToro
While eToro started as a stockbroker app, it has grown into a top crypto trading service as well. The platform provides access to some of the most popular assets, with Kusama rumoured to be listing soon. eToro users enjoy zero-commission trading, a secure crypto wallet, and several funding options. It is undoubtedly the top choice in this regard. 
2. Binance
Binance is the world's largest cryptocurrency exchange. So, it comes as no surprise that KSM is available on the platform. Binance offers one of the lowest fee structure in the market and the liquidity is quite high too.
Looking to buy or trade Crypto now? Invest at eToro!
75% of retail investor accounts lose money when trading CFDs with this provider