XRP Higher as Analyst Sees a Further Breakout Against BTC, MIOTA, IOST, SOL, Sep. 6
XRP
The price of XRP was higher again as the rally in crypto continued for another week. 
One analyst sees a big breakout potential for XRP against Bitcoin, but whale activity warns of a potential dump. 
As September began, the so-called "whales" moved tens of millions of XRP between unknown wallets, Bittrex, Binance, and Ripple. This could signal a potential dump of coins coming. 
One of the smallest transfers saw 10 million XRP sent from Ripple to an unknown wallet, but the largest transfer was 218,682,488 XRP (more than $280 million) sent from an unknown wallet to Ripple, according to Whale Alert. 
However, crypto strategist and trader Michaël van de Poppe is keeping an eye on XRP as he says the sixth-largest crypto token is gathering momentum.
He told his 120,000 YouTube subscribers that XRP is threatening to launch a 46% rally from its current price of $1.26.
Looking at XRP, we do see that we are having this beautiful [support] flip at $1.06. I've also marked the level around $1 as that is a very good entry point. But we can see that the very important, significant level at $1.06 is providing support here. Some consolidation, sideways action and most likely we're going to have a new breakout to the upside for XRP.
The analyst also predicted a move higher in the Bitcoin pair (XRP/BTC). He said that XRP/BTC is one resistance away from starting a potential 140% surge from its current value of 0.000025 BTC or $1.25.
MIOTA
IOTA was the strongest-performing coin this week with a move of almost 100%. 
The IOTA project developers say that they have "re-engineered distributed ledger technology, enabling the secure exchange of both value and data, without any fees."
In the early stages, the coin was targeted at being an Internet of Things (IoT) and saw early partnerships with automobile makers which sparked hopes of adoption in some of the major carmakers. 
The vision in 2015 for the coin was to create the current model of a fully decentralized network with no fees or miners. The project launched this with the IOTA 2.0 DevNet back in June this year.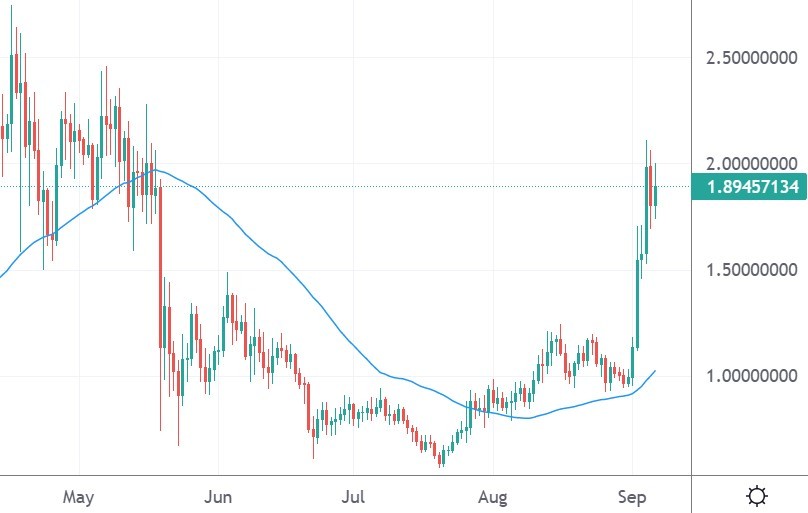 The IOTA token traded at $0.50 back in June but has vaulted back to $1,89 after seeing an all-time high above $2.50 back in April. The IOTA token is ranked at number 34 on the list of coins with a market cap of $5.2 billion.
IOST
The IOST token has been quiet in the current recovery bounce, but the coin was higher by 45% this week.
IOST is an "ultra-fast decentralized blockchain" that operates using the Proof-of-Believability (PoB) consensus which is seen as a next-generation algorithm.
The project is operating under the radar but is moving more and more into the decentralized finance (DeFi) space and into NFTs. The project was set to auction NFT art from Japan's leading manga artist on Revival, which is the first multi-chain NFT aggregator marketplace on IOST.
Activity for the blockchain has been rising thanks to an ongoing staking competition done in conjunction with Moonstake that offers a top prize of 15,500 IOST tokens.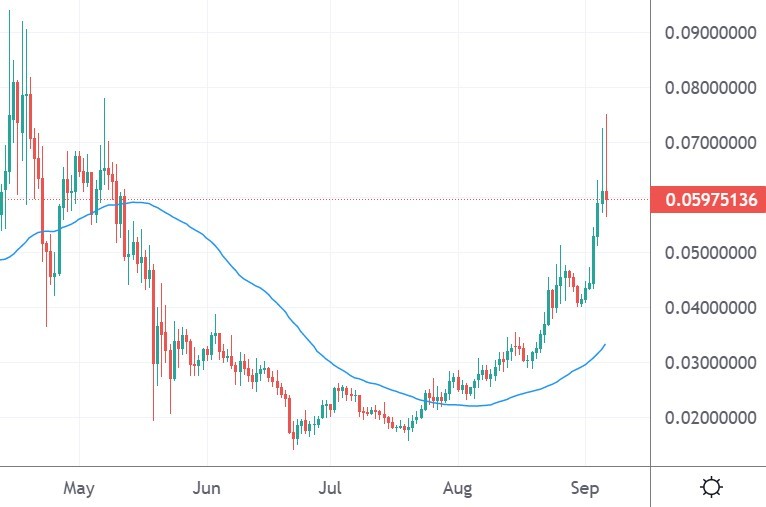 IOST now trades at $0.06 versus the US dollar after seeing lows under the $0.02 mark back in July.
SOL
Solana continues its march into the big-time with a move to $145 over the last week.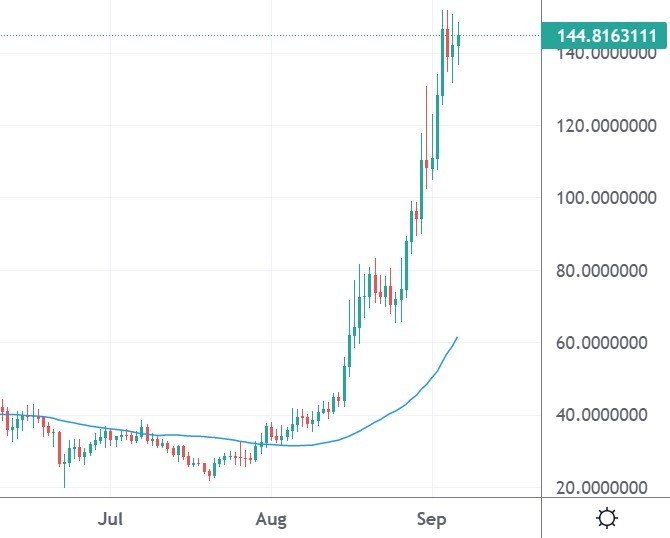 The coin is now ranked at number 7 in the list of coins but trails behind XRP by $20 billion in valuation.
US investment bank JP Morgan poured some cold water on the recent gains and said that the cryptocurrency market was looking "frothy". 
"Cryptocurrency markets are looking frothy again," wrote the bank analysts in a note to clients.  
The share of altcoins looks rather elevated by historical standards and in our opinion, it is more likely to be a reflection of froth and retail investor 'mania' rather than a reflection of a structural uptrend.
According to the bank, the record interest in stocks in August also helped boost altcoin markets as the stock-buying frenzy spilled over into the cryptocurrency market. The greatest beneficiaries of this spillover, according to the bank's analysts were the NFT and DeFi tokens.
The NFT market has seen more than $2 billion in sales in the last month according to data from NonFungible, and DeFi has witnessed over $20 billion during the same period according to DeFi Pulse. 
The price of Solana's SOL token has been on a relentless charge higher since the lows near $20 back in July.