5 Best Cryptocurrency To Buy On Low Prices October 2021 Week 1
The cryptocurrency market has had a rough 24 hours. Its total value stands at $1.9 trillion, having dropped by nearly 5% in the past day. This has effected nearly every major cryptocurrency across the board, from bitcoin (BTC) to dogecoin (DOGE). However, not only does a market-wide drop provide ample opportunity to purchase coins at a discount, but a few altcoins have escaped today's haircut. As such, we've put together a list of the 5 best cryptocurrency to buy on low prices. This covers coins priced under $100.
5 Best Cryptocurrency To Buy On Low Prices
1. Axie Infinity (AXS)
AXS is one of the few top-50 coins to have risen during the past 24 hours. At $67.13, it's up by nearly 6% in the past hour, as well as by 3.5% in the last day. Its current price also represents a 23% jump across the last week and a nearly 4% rise in the past fortnight. However, compared to its all-time high of $93.68, it has declined by 30%.
Despite comparing unfavourably to its record high, AXS has plenty going for it. For one, its native platform — the decentralised video game Axie Infinity — is arguably one of the few blockchains enjoying real-world (as opposed to crypto-only) adoption right now.
In fact, the Pokémon-like NFT-based game now boasts just over 1.8 million daily active users. This is highly impressive, given that it boasted only 61,125 as recently as the end of May. Indeed, the jump from 61,125 to 1.8 million is a 2,844% jump, one completed in around four months.
Needless to say, the more users Axie Infinity has, the more demand there will be for AXS (which you need to play the game). This is why AXS is one of our 5 best cryptocurrency to buy on low prices. Although it may not have a low price for too long.
2. Avalanche (AVAX)
AVAX hasn't escaped yesterday's selloff, although it has done considerably better than most major coins over the past week. It's currently priced at $66.54, which is 3.5% down on 24 hours ago. That said, this price is based on a 16% rise in the past seven days, and a 32% rise in the last month.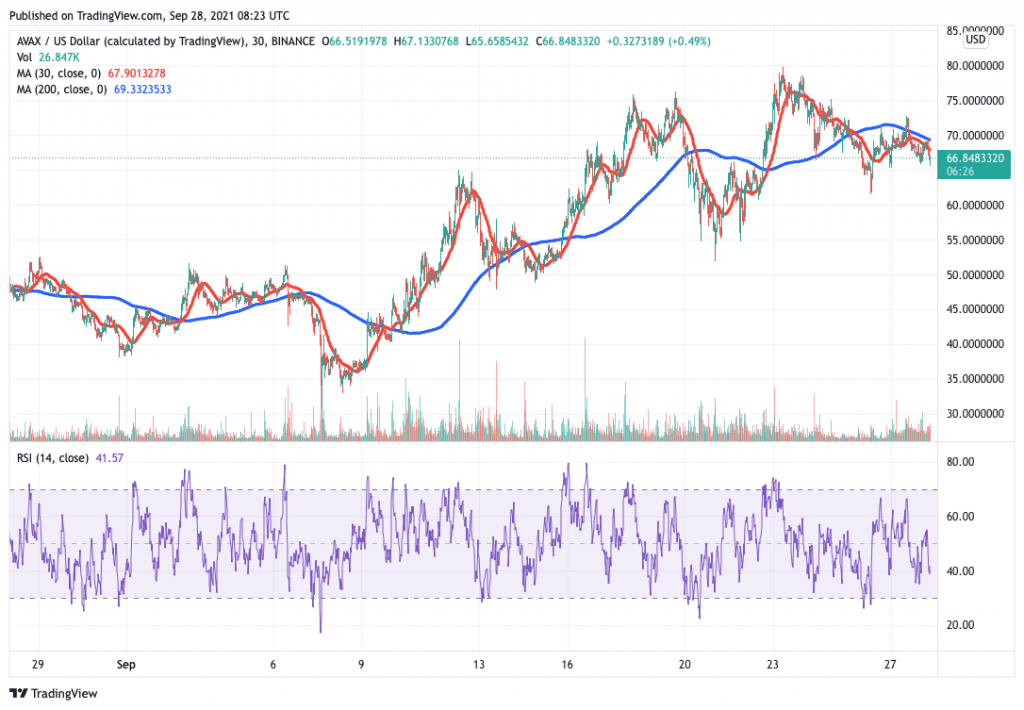 Some solid momentum is starting to build behind AVAX. On the one hand, this is simply a function of Avalanche's fundamentals as a highly scalable (and customisable) proof-of-stake blockchain, one with a deflationary native token. On the other, the platform has enjoyed some good news in recent weeks.
For instance, it recently announced a $230 million investment led by Polychain and Three Arrows Capital last week. Such an injection of capital will be used to support the platform's growth, yet it's also an indication of how much big institutional money believes in Avalanche.
10/ And finally, the Avalanche Foundation announced the $230M investment in the #Avalanche ecosystem to support and accelerate growth of the platform, led by @Polychaincap and Three Arrows Capital. https://t.co/T141NFEoIG

— Avalanche (@avalancheavax) September 21, 2021
More generally, Avalanche has witnessed very promising growth. Its total value locked in has risen to $3.65 billion in recent weeks, having been under $200 million as recently as the start of August. In other words, its ecosystem has expanded by around 1,700 in a couple of months.
3. Terra (LUNA)
LUNA is another relatively low-cost coin that has done well while much of the market has struggled. At $35.80, it may be down by 2.5% in the past 24 hours. Yet it's up by 30% in the last week, while it has also risen by 2.5% in the past month and by more than 11,000% in the past year.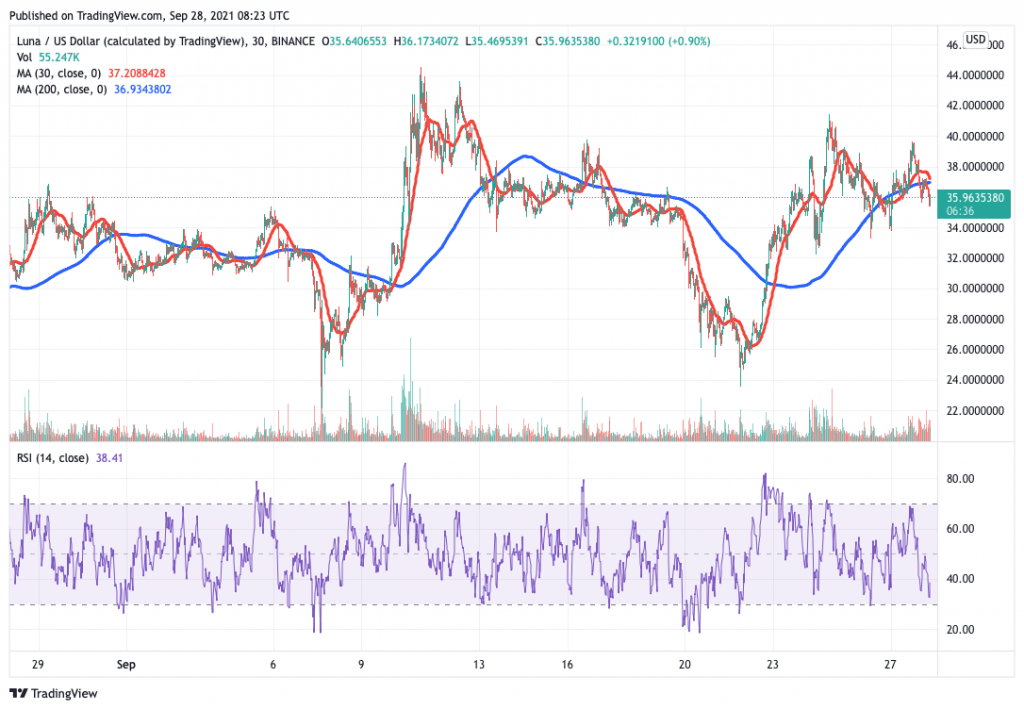 Notably, LUNA's 30-day moving average has just overtaken its 200-day average, indicating a positive shift in momentum. At the same time, its relative strength index (RSI) shows that it isn't overbought.
More fundamentally, Terra has witnessed very encouraging growth over the past few couple of months. This has largely been driven by the launch of the Wormhole protocol on August 9. This is a bridge enabling transfer of tokens between Terra and Ethereum, Binance Smart Chain and Solana.
1/Today we're incredibly excited to announce Wormhole: a generic cross-chain messaging protocol. Wormhole will launch with support for the thriving @Ethereum, @Solana, @Terra_money, @binancechain ecosystems. https://t.co/pEKdeOW821

— Wormhole (@wormholecrypto) August 9, 2021
Terra has also been expanding on its own account. It hosts stablecoins pegged to different national currencies, with its largest UST token expanding its supply from $2 billion to $2.66 billion in a couple of months. This is bullish for LUNA, since Terra burns LUNA in proportion to the quantity of UST it produces.
#Lunatics – biweeky updates for ecosystem map are out @ https://t.co/HUhAAx5ZMn

updates:
@CoinbasePro lists $UST $wluna
@krakenfx lists $Luna
@CoinMetro on/off ramp
@terraworld_work new project on Terra
@TerraRoll – new project/live (use caution/likely unaudited) pic.twitter.com/KAJty6LwPk

— Smart Stake (@SmartStake) August 22, 2021
At the same time, Terra's total value locked in now stands at $8.36 billion. It had been just under $3 billion at the start of June, indicating a 178% rise in just over three months.
Given this growth, LUNA is certainly one of our 5 best cryptocurrency to buy on low prices.
4. Cardano (ADA)
ADA has dropped by 5% in the last 24 hours, to $2.12. It is up by 2% in the past week, while also being 31% down compared to its all-time high of $3.09, which it set on September 2.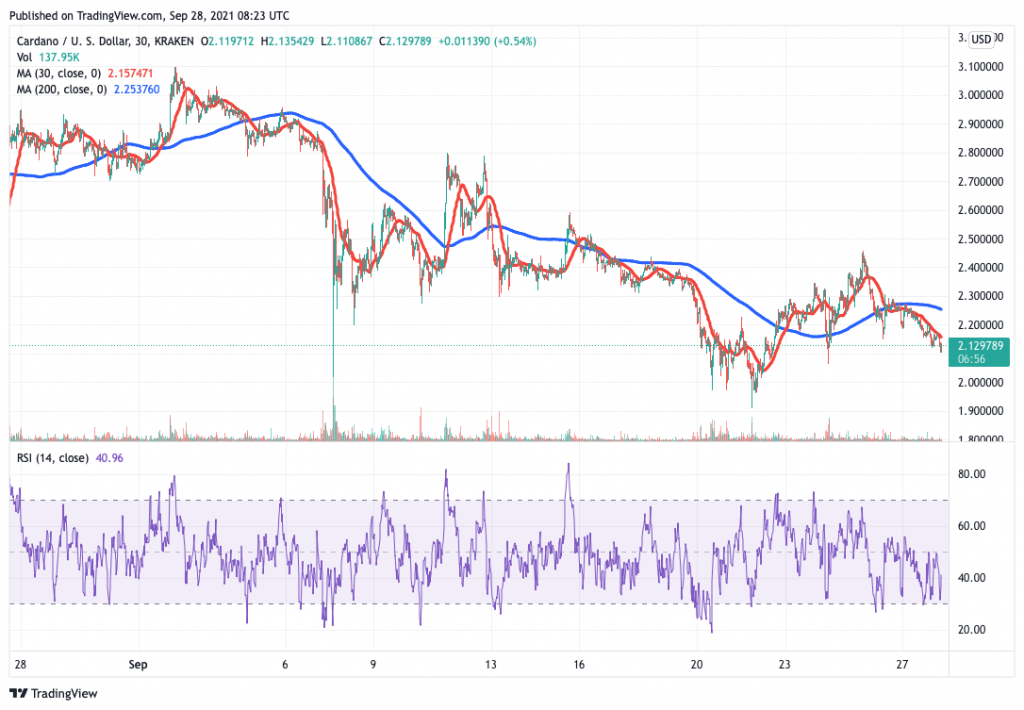 Probably the most noteworthy aspect of ADA's fundamentals is that its RSI is enticingly low. At just over 20, it indicates that ADA is oversold (and undervalued). As such, now may be the perfect time to buy it, while it's still comparatively cheap.
There are numerous good reasons to think that ADA will grow substantially in the longer term. Most notably, it rolled out smart contracts on September 12, something which will enable it to host DeFi and other applications, which in turn will increase demand for ADA.
Cardano smart contracts arrival means that decentralized applications (DApps) can now be launched on the platform.

Top Five Most Promising dApps that is Sundaeswap, Arian, Meld, NFT and Empowa#FLAN #FlanoSwap #ADA #Cardano #AlonzoWhiteNetwork #CardanoPrice #Crypto pic.twitter.com/oTMhzQhMwG

— FlanoSwap #ADA (@FlanoSwap) September 23, 2021
Also, blockchain technology firm Emurgo recently announced an investment in Cardano worth $100m, which will be used to further its development.
Just announced EMURGO to invest $100M in @Cardano ecosystem to accelerate #DeFi, #NFT solutions and #blockchain education! – EMURGO CEO, @KenKodama_Biz @emurgo_io#CardanoSummit2021 $ADA pic.twitter.com/Gx4fbw556x

— EMURGO (@emurgo_io) September 26, 2021
Looking at the bigger picture, a recent update found that 100 projects had joined the Cardano ecosystem in the three months leading to August 31. As more projects build on the Cardano blockchain, ADA will be subject to more demand.
#Ecosystem

Aug 2021 VS May 2021

In just 3 months, Cardano has integrated 100 more projects spanning from DeFi to NFT.

Next target for $ADA should be $10

Retweet if u believe Cardano ecosystem will bomb like Big Bang explosion! #Cardano #ADA $ADA pic.twitter.com/zMLPF1LfVS

— Cardians (@Cardians_) August 31, 2021
5. Polygon (MATIC)
MATIC may be having a difficult time as of late, but its undersold status makes it a prime candidate for a discounted investment. Its current price is $1.08, which represents a 5% fall over 24 hours. It's also a 5% fall across the past week, as well as a 26% rise in the last month.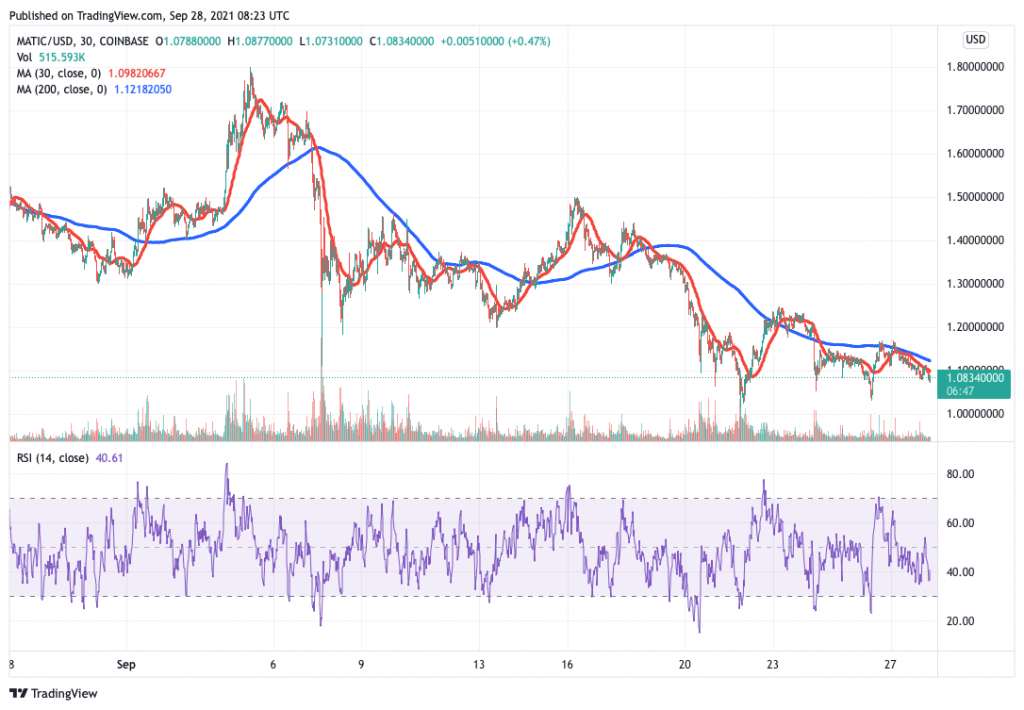 Nonetheless, MATIC has risen by over 5,000% in the past year, and it has a good chance of continuing its recent growth. Most notably, it announced on August 31 that Coinbase will integrate it as the exchange's first scaling solution for Ethereum.
"We plan to integrate Polygon as our first scaling solution for Coinbase"

Polygon PoS mainnet support is coming to @coinbase https://t.co/1iXrWCpNKF pic.twitter.com/4TYxqemMbS

— sanket (@sourcex44) August 31, 2021
Neither is Polygon short of recent announcements. On September 14, it announced a partnership with Big Four professional services/accountancy firm EY, with the pair collaborating on "building Ethereum scaling and enterprise solutions."
1/9 Another big day for @0xPolygon!

We have started collaboration with EY, a global professional services and technology firm, on building Ethereum scaling and enterprise solutions!

As part of this collaboration, we will work on Polygon Nightfall, a privacy-focused Rollup! pic.twitter.com/HlJ6drA2kS

— Polygon | $MATIC (@0xPolygon) September 14, 2021
As of writing, Polygon boasts around $7.3 billion in total value locked in, up from only $1 billion at the start of April. This is why it's one of the 5 best cryptocurrency to buy on low prices right now.
67% of retail investor accounts lose money when trading CFDs with this provider.
Related news:
How to buy cryptocurrencies
8 hottest NFT tokens
Buying Ethereum
How to buy Bitcoin